10 Places to Visit in New York at Night
Posted by Aaron
There's a reason New York is considered the city that never sleeps. If you thought it was beautiful during the day, just wait until the sun dips below the horizon. This is when the Manhattan skyline truly awakens.
If you're on the lookout for great places to visit in New York at night, we've got you covered with this top 10 list. As always, we recommend visiting these incredible places on foot. When it comes to exploring the Big Apple, nothing quite beats the personal feel of a walking tour.
Catch the ferry across the water
If you're looking to escape the city for a quiet night out in New York, you could always catch a ferry to Governors Island. Situated just off the mainland, it has plenty of attractions despite being a modest 172 acres in size. With plenty of art installations and a 2-mile biking route on offer, this is a great place to visit in New York at night. Though, if all you want to do is relax beneath the stars, the island has plenty of picnic parks for just that purpose.
A round trip to Governors Island won't cost you much – but if you're visiting New York on a budget, there's an even better option: the Staten Island Ferry! Tickets for this 25-minute ferry to Staten Island won't cost a cent, making it one of the best free things to do in New York.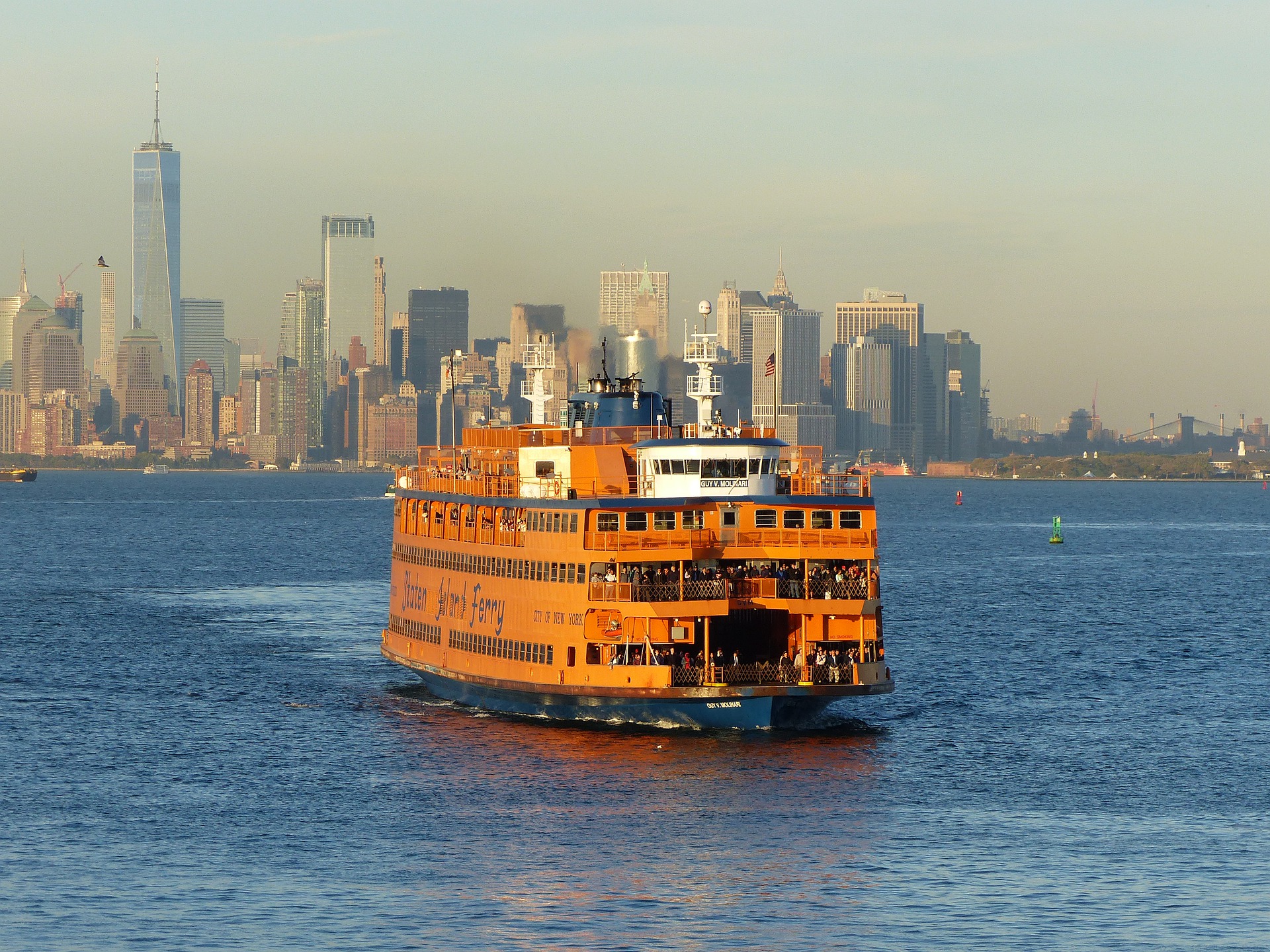 Explore a museum at night.
In a city known for its incredible museums, there was no way we'd leave this off our list. Many of New York's museums are open late into the evening, making them perfect choices for a late-night trip out.
One favourite of ours is the Whitney Museum of American Art. This unique museum is home to one of the largest collections of modern and contemporary art in the world, with an impressive 21,000 pieces of art from over 3,000 artists. Best of all, this museum boasts a beautiful rooftop space with panoramic views of the city – perfect for sightseeing! With this museum staying open until 10pm, this is one of the best quiet places to visit in New York at night.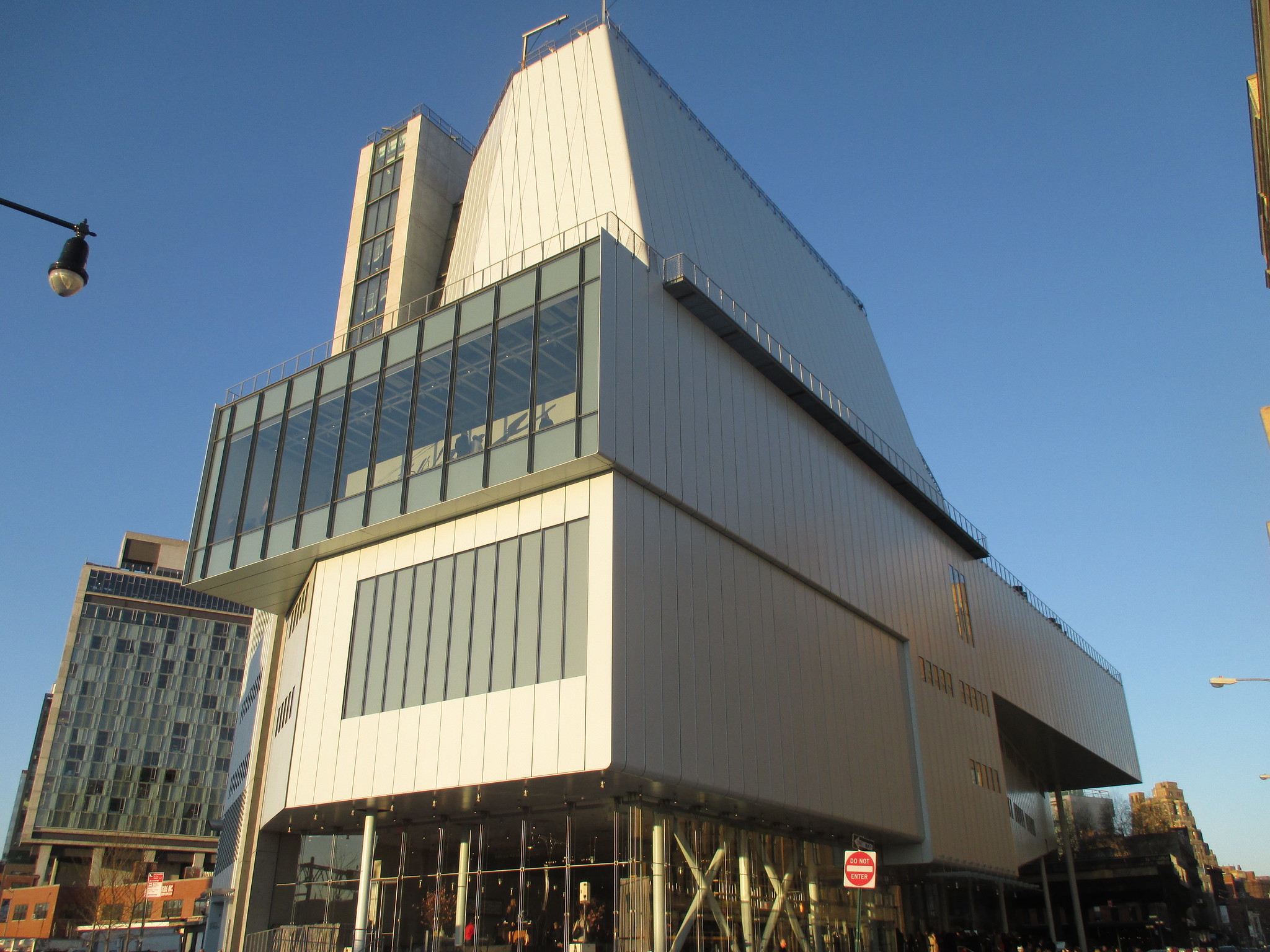 Credit: Gryffindor
Spend the evening at a jazz club.
Whether you're already a dedicated lover of jazz or are in need of a relaxing venue to visit in New York at night, there's something uniquely tranquil about a jazz club. Across the dozens open across the city, these venues have become an inseparable part of New York's musical soul.
It's easy to spend hours getting lost in the intimate atmosphere of a good jazz bar. After a long day of sightseeing and walking tours, it's the perfect way to unwind. You'll be spoilt for choice with everything from the lesser-known Rum House to the 1930s-era classic Village Vanguard based in the heart of Greenwich Village.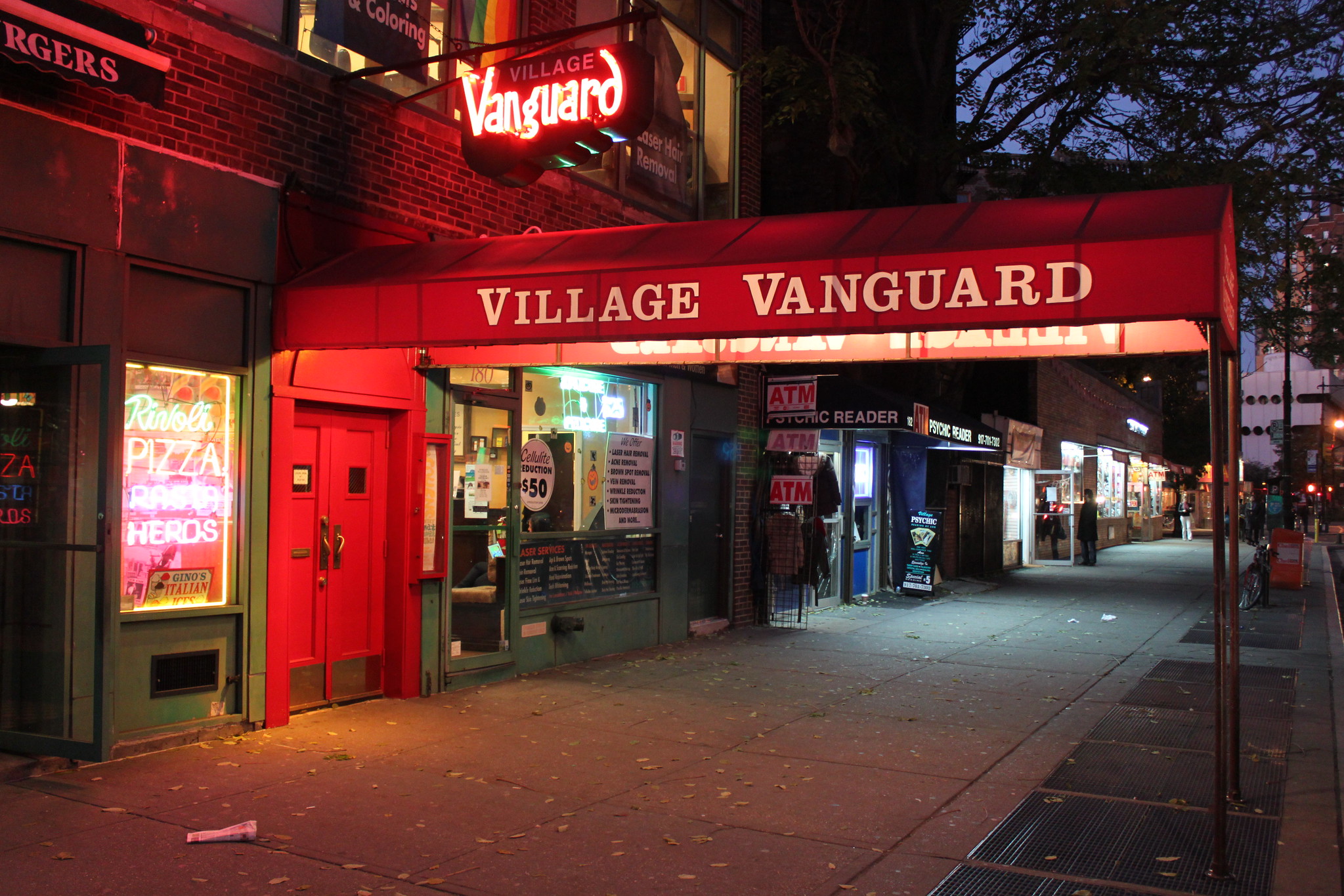 Credit: Joseph
Go sightseeing on a walking tour.
If all you want to do is visit some beautiful locations and do some sightseeing, you can never go wrong with a walking tour. And the best part is all you need is your smart phone (and optionally some friends or family to bring along). With no need to rely on a tour guide, you're free to wander the streets at your own pace and at any time, making it the perfect thing to do in New York at night.
Whatever you've got planned for your trip to the big city, consider making the visit on foot. Whether you fancy a journey around the city's most iconic architecture, or to learn more about the mafia in New York, there's something for everyone on a city walking tour.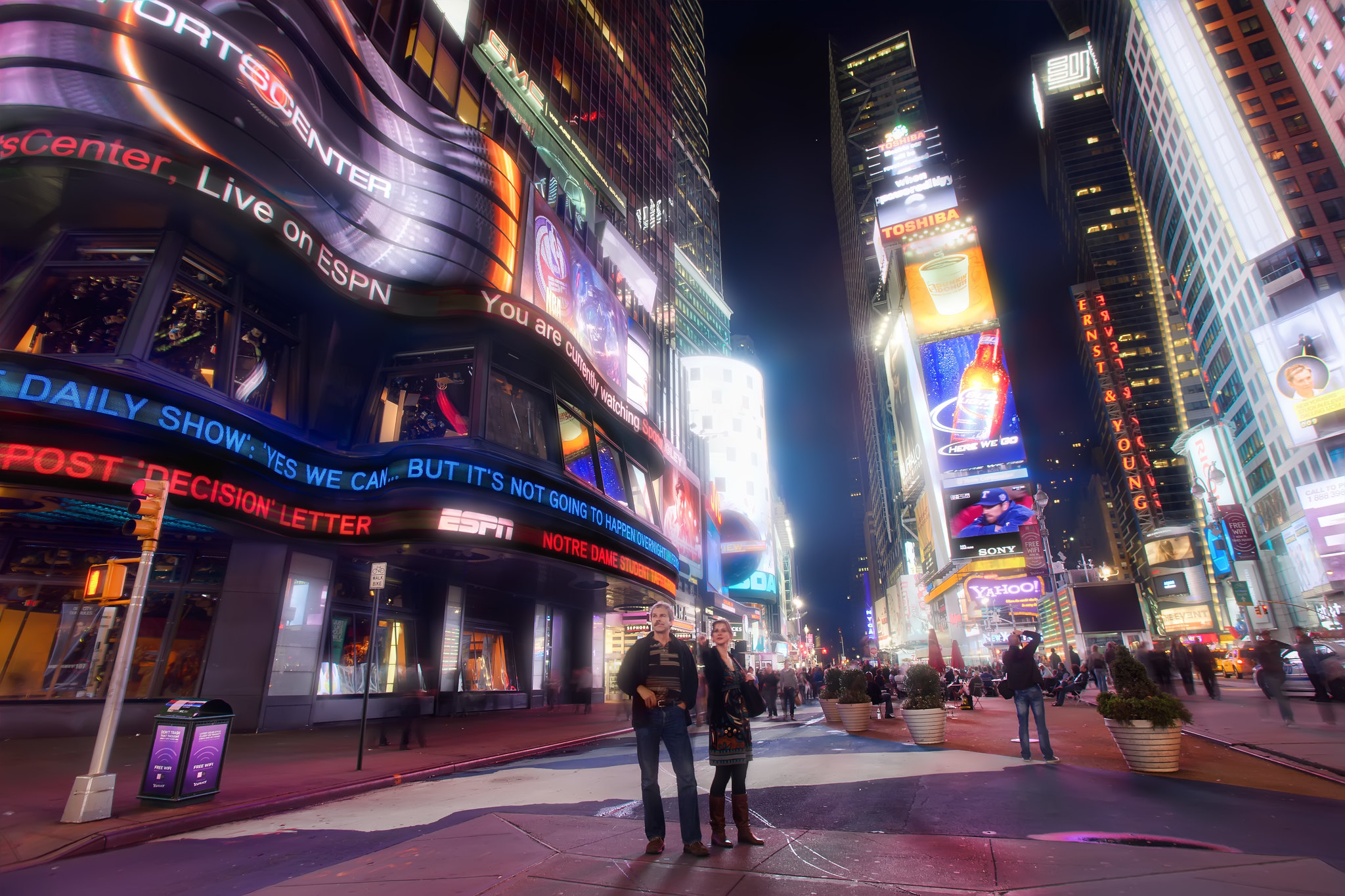 Credit: Chris Ford
Climb to the top of the Empire State Building.
Reaching an astonishing 102 stories into the air, the Empire State Building was once the tallest in the world. Though it no longer holds the title, it is reported to be one of the most-photographed buildings in the world to this day.
On most trips to New York, the average tourist will add the Empire State Building to their day-time list of attractions. But you're not the average tourist, are you? There's a side to this iconic landmark that not everyone gets to see. With several of its observation decks open until 2 am, this is one of the most beautiful places to visit in New York at night. Climb to the top levels and enjoy panoramic views of the city – a perfect opportunity for sightseeing!
Unfortunately, admission can cost a pretty penny. So, if you're on a budget, don't worry – you can just as easily appreciate the view from the ground floor on one of our many walking tours.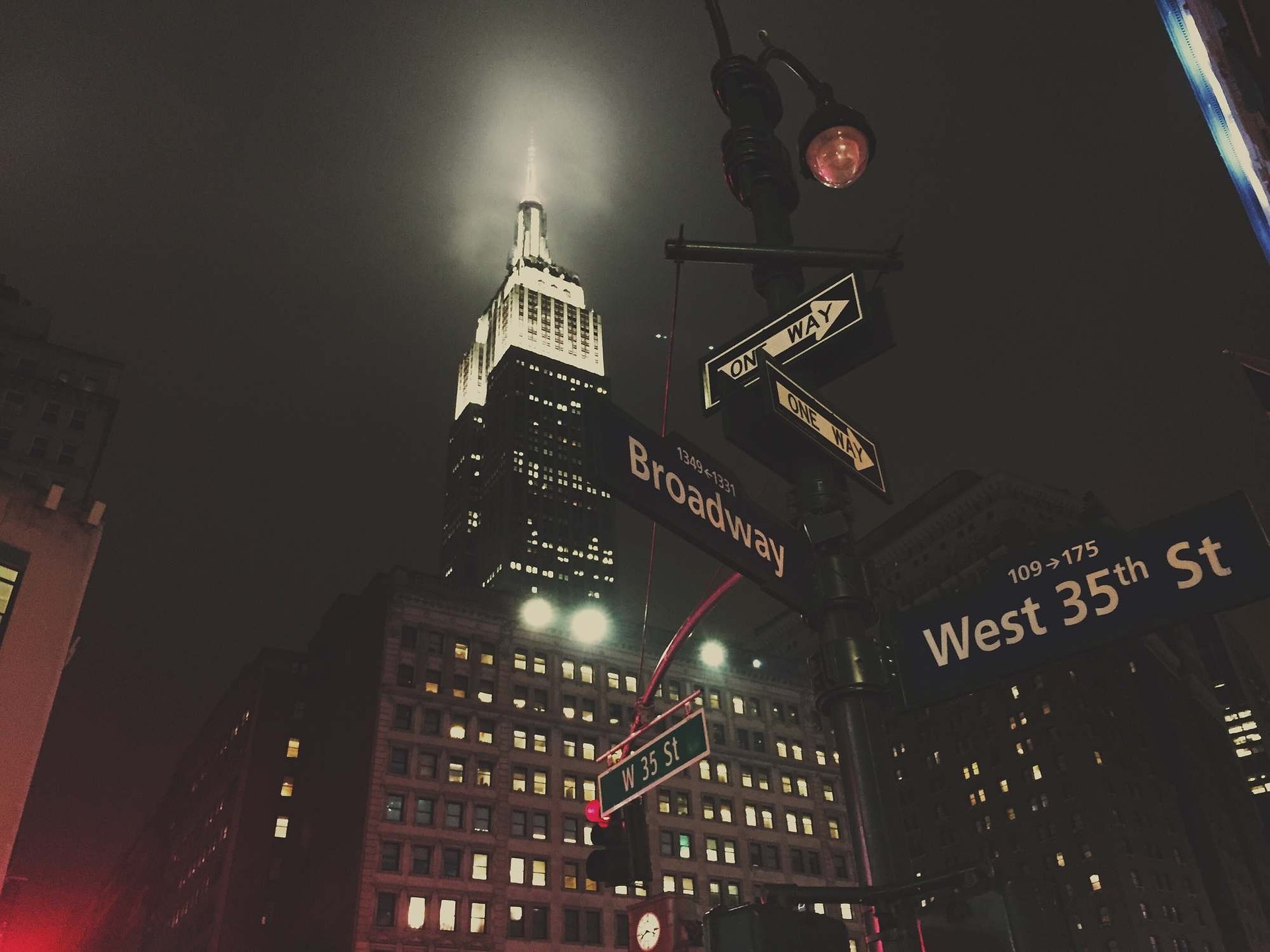 Grab a drink at one of the many NYC speakeasy bars.
If there's one thing New York has in overwhelming abundance, it's speakeasies. With many of them having retained their authentic look over the years, thousands flock to these quiet corners for the chance to see what life was like in decades past.
A personal favourite of ours is Employees Only, a speakeasy located in the city's West Village. Not only is it one of the best places to visit in New York at night, it often ranks highly amongst the best bars in the world. If you're searching for your next evening trip out, step inside any one of NYC's speakeasies and get nostalgic for the Roaring Twenties.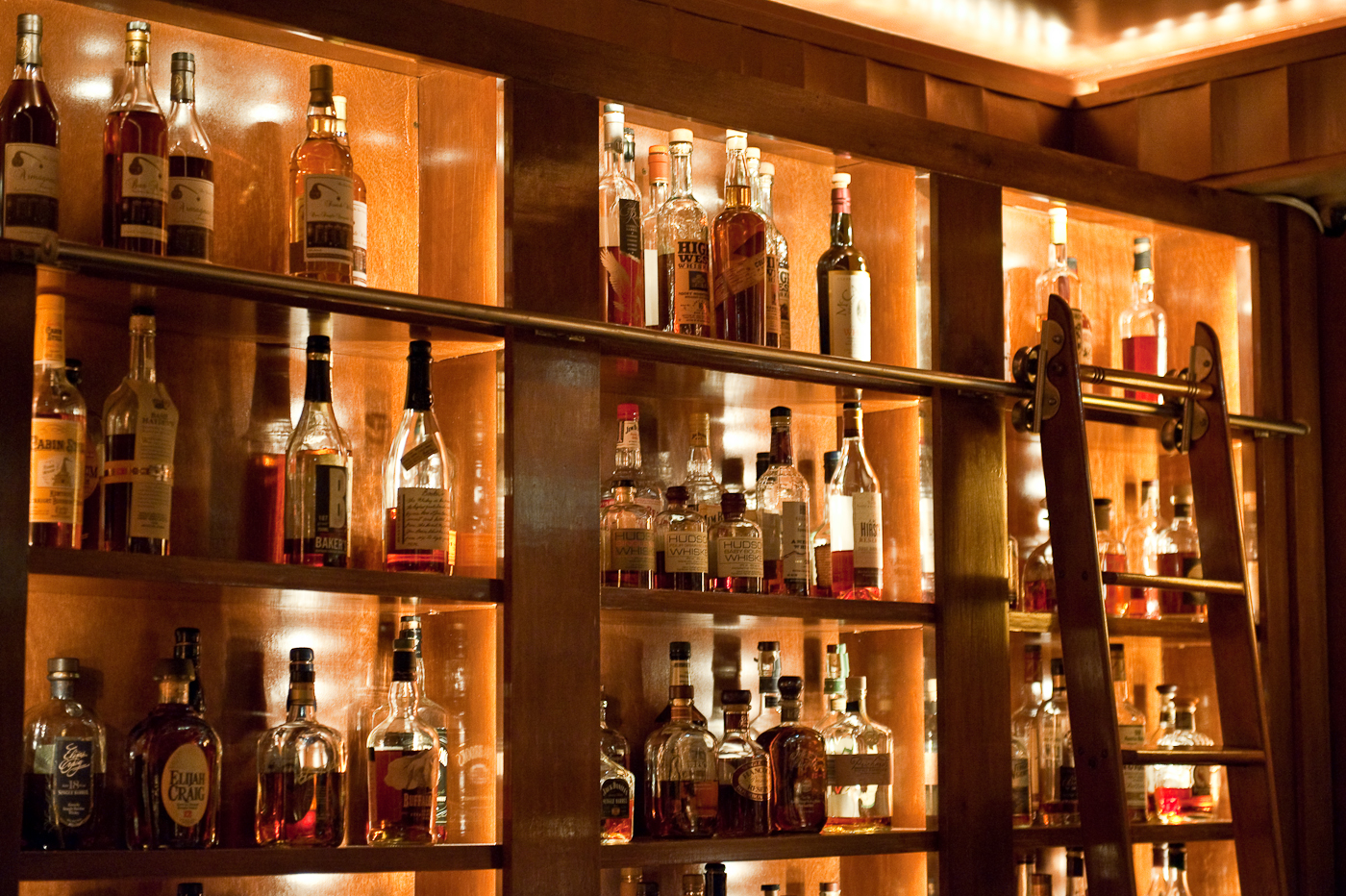 Credit: Jazz Guy
Visit Times Square.
No list of places to visit in New York at night would be complete without Times Square. This iconic landmark is a regular feature of many movies and TV shows. As beautiful as it is during the day, however, the square truly comes alive at night. As the sun sets, the square lights up with dozens of luminescent billboards, allowing visitors to experience the real magic of this place.
Given that it's a public street, it doesn't cost anything to wander Times Square, making it one of the best free places to visit in New York. If visiting at night, be sure not to miss the Midnight Moment at 11:57 pm. This event, held every night at the square, is the world's largest digital art exhibition. For any art lovers, this isn't one to miss on your sightseeing trip to New York.
Get lost in a Broadway show.
Of the many things to do in New York at night, seeing a show on Broadway has to be up there with the best experiences you'll have. It's on most people's bucket lists for the Big Apple. With the timeless popularity of shows like Hamilton, the heart of Broadway is a vibrant and welcoming place to be.
After a long day exploring the city, consider treating yourself to a night of world-class entertainment at one of 41 theatres that make up Broadway. With so many options available, you'll be sure to find something that matches your tastes.
See the main attractions on a late-night tour bus.
As much as we love walking tours, we realise they're not for everybody. Maybe you're just in a rush, but still want to visit as many highlights as possible. Either way, a bus tour is one of the best alternative things to do in New York at night.
Though it might seem cliché at first, there's an undeniable joy to be found in travelling the city streets in an open-top double-decker. Sit back and visit some of the greatest attractions in New York, from Times Square to the Empire State Building. That said, you can't ask to stop in an interesting place or choose your own path (or destination). We always advise travellers to reconsider walking tours and to take their time. Optionally, many cities feature cheap electric bicycles and scooters to use by the hour.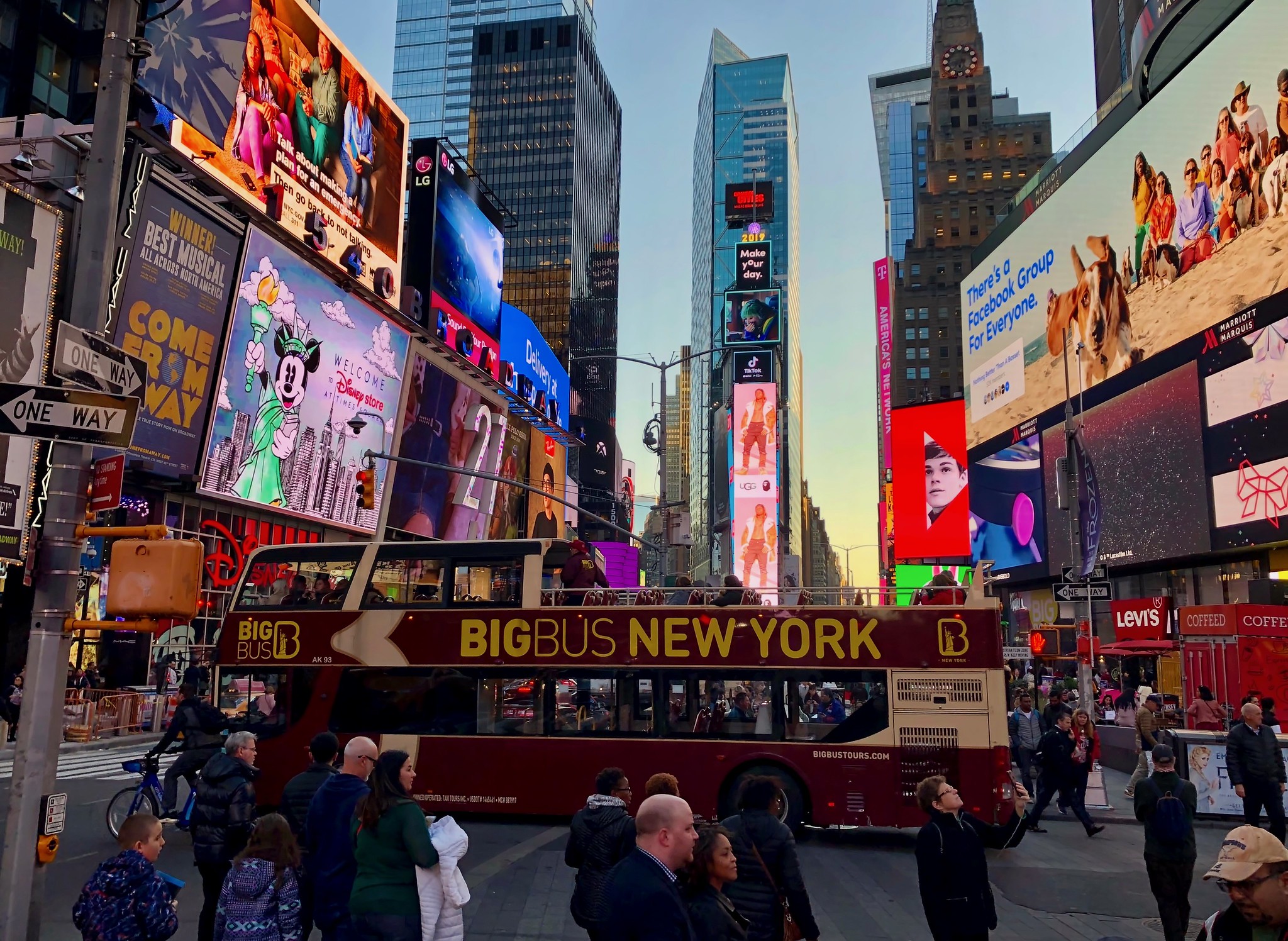 Credit: Andreas Komodromos
Walk the Brooklyn Bridge.
Of the 21 bridges connecting Manhattan to the mainland, few are as iconic and memorable as Brooklyn Bridge. This is thanks in part to it featuring in countless movies and TV shows.
Brooklyn Bridge is steeped in history – admittedly with its fair share of horror stories thrown in as well. After its completion in 1883, it was the longest bridge in the world. But this achievement came at a price, as a reported 27 lives were lost during its construction.
With unbeatable views of the Manhattan skyline, a walking tour along this iconic bridge is one of the best free things to do in New York at night.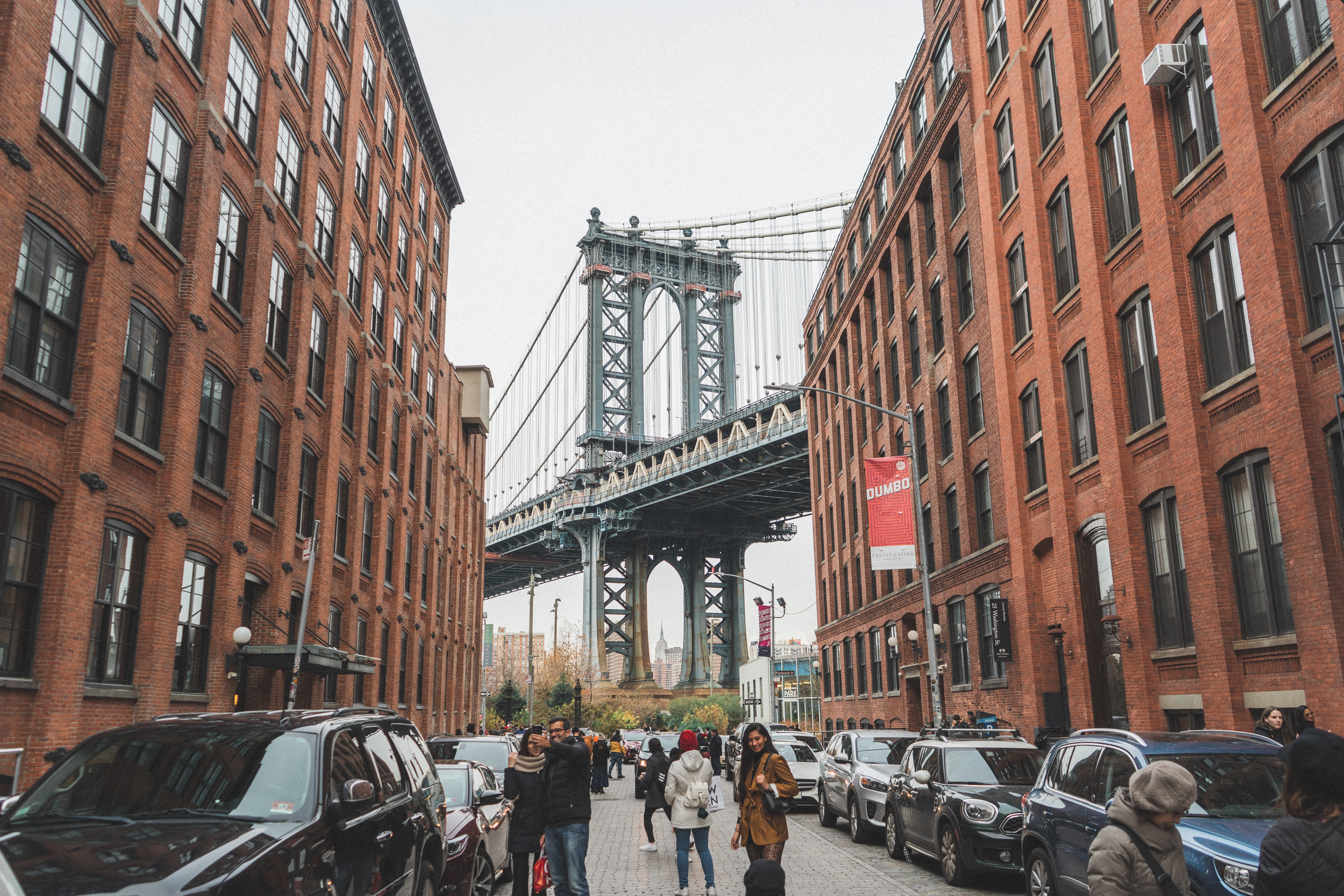 Like the look of something? Visit these locations – and many more like them – on one of our city walking tours. Wander the streets at your own pace, uncover hidden gems and discover the best places to visit in New York at night!