Where to go in January for sun 
Posted by Iulia
We all know January can cause some serious winter blues, what with Blue Monday being on the third week of the month. If Vitamin D supplements are not doing it for you and you require a serious sunshine boost, we're here to help you pick where to go in January for sun with a list of the 10 best places.
Where to go in January for sun if you want warmth close to home
Tenerife
Average temperature 20 degrees
It's no surprise that Tenerife features on this list. What makes it such a popular destination all year round is the warm temperature and close proximity to the rest of Europe. January is a great month to visit the island since the rainy period is long gone and you'll be getting around six hours of sunshine per day.
If you don't know where in Tenerife to go, we recommend Costa Adeje, at the western end near Playa del Duque. This is one of the best vacation spots for couples, and great if you want somewhere a bit quieter than other parts of Costa Adeje, while still being a stone throw's distance from something livelier.
Bear in mind that in January New Year's Day and Three King's Day are celebrated on the island. Many restaurants and attractions will be closed on those dates so it may be wise to travel after the first week in January.
Gran Canaria
Average temperature 20 degrees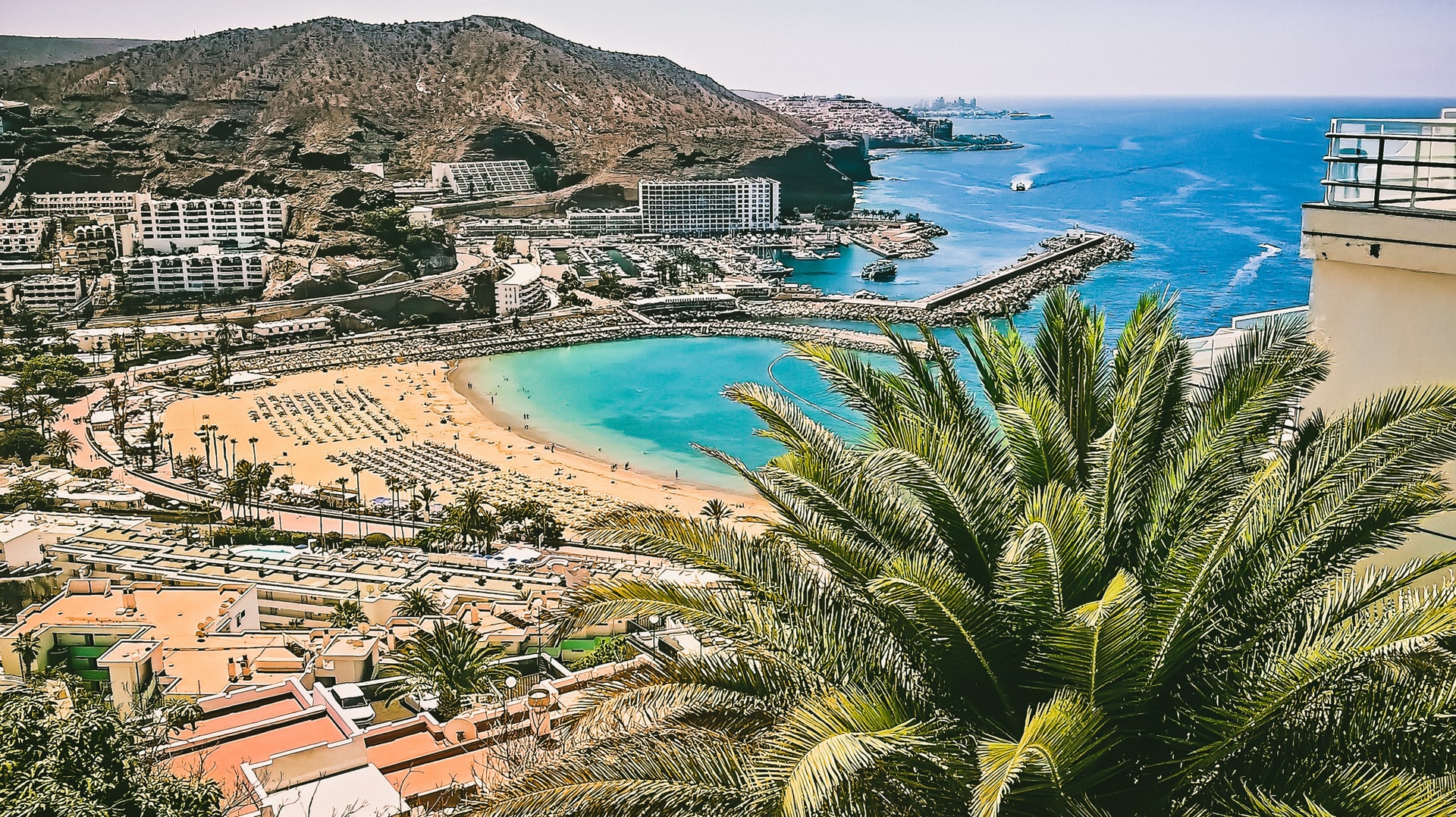 While Tenerife is where to go if you're looking for a popular holiday destination filled with restaurants and nightlife, Gran Canaria is your best bet if you want to explore the breathtaking landscapes and outstanding beaches.
Winter is actually considered high season on the island, being one of the hottest places in the Canary Islands - if you go to the south. The north of the island sees a lot of clouds and rain during winter, so if you want to escape the gloom of January and catch some vitamin D, you might want to stick to a one-day trip to the north rather than spending the whole holiday there.
Anywhere from San Agustin, Playa del Ingles, Maspalomas or Puerto Mogan is a good pick for where to go in January for sun in Gran Canaria. San Agustin is a great pick if you want to go to a quieter beach, while Puerto Morgan is a cozy fishing village sheltered by a steep rock.
Cyprus
Average temperature 17 degrees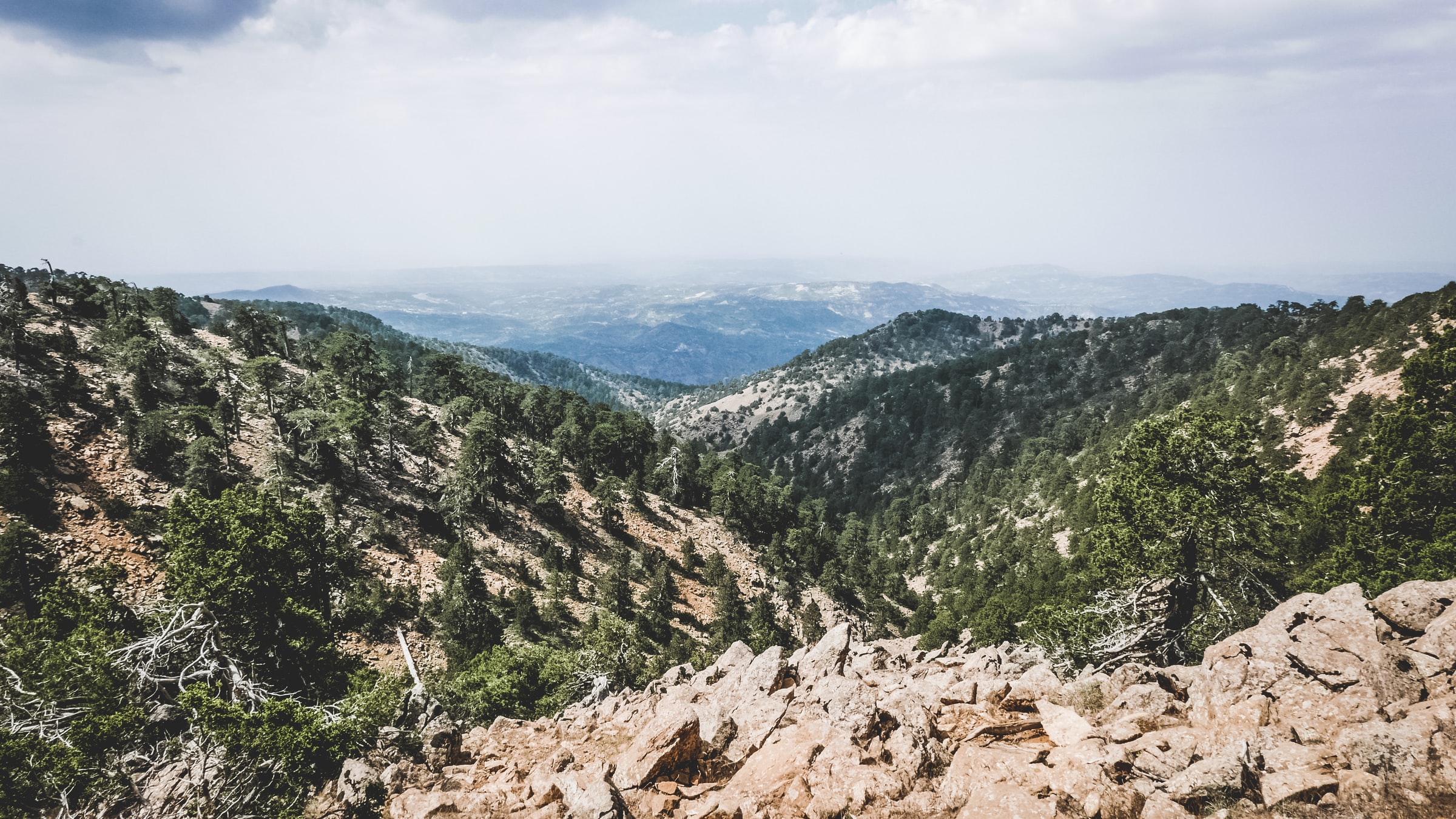 Winter is a great time to visit Cyprus, and not only because of fewer crowds and better accommodation prices.
Visiting Cyprus in January can offer you the best of both worlds - until mid-January, there is a chance of snow on the Troodos mountains, so you can enjoy skiing one minute, and then one hour later, hit the coast and bask in the sunshine.
During January pink flamingos are seen on the island! They gather on the salt lakes of Larnaca and Limassol, and the sight of them brings flocks of tourists (pun intended).
Paphos is another great place where to go in January for sun - right by the sea, but also very close to many tourist attractions and historical sites. Due to being off-season, you won't encounter crowds and can take your time to explore places such as Paphos Castle, Kourion, Choirokoitia Village, and the Tombs of the Kings.
Spain
Average temperature 20 degrees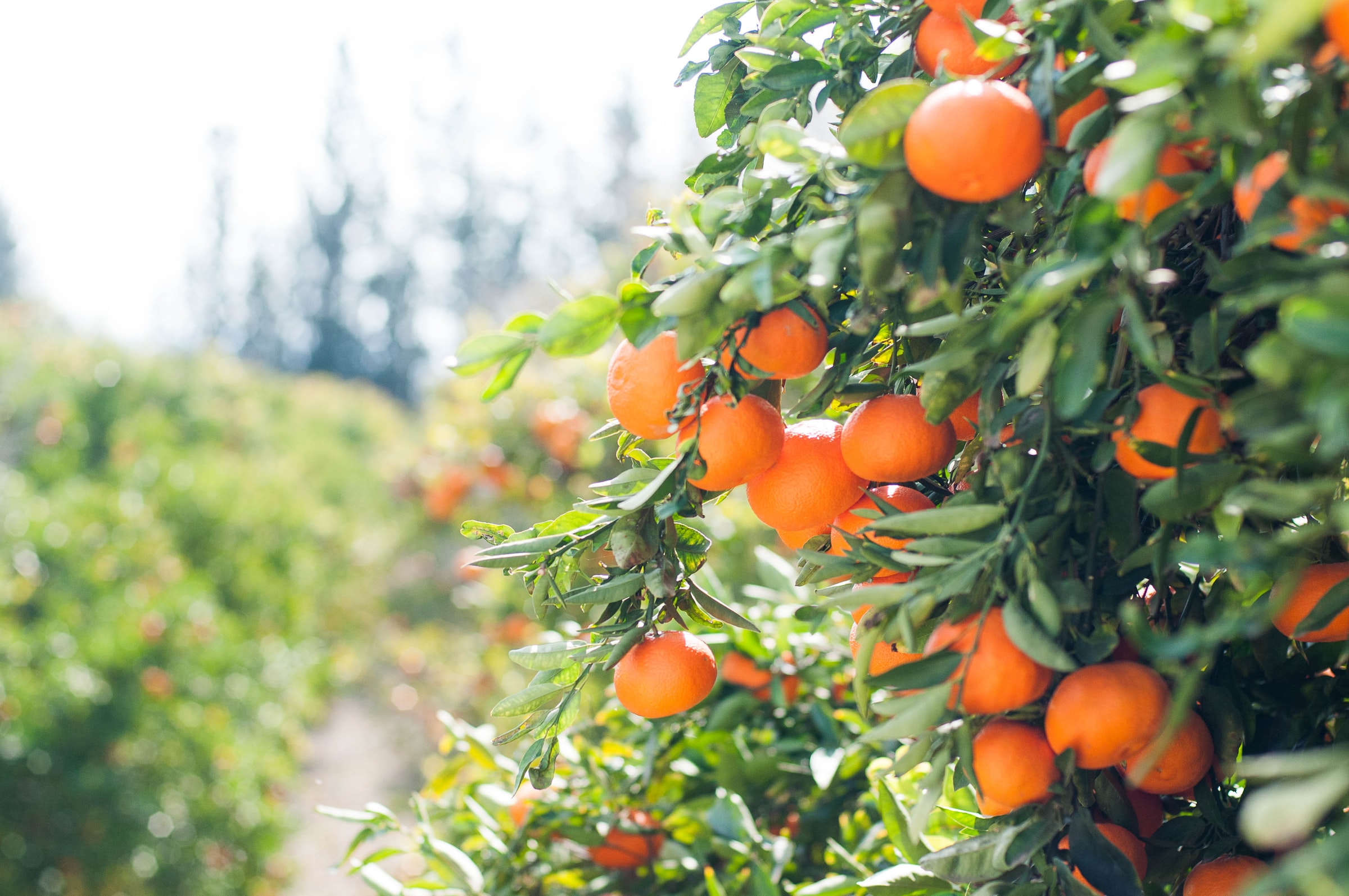 More specifically, Malaga. Let us set the scene of how winter is there: things are blooming, sunshine every day, and parrots sweetly chirping in the background. Because of the mountainous geography of Malaga, the cold north winds do not reach the city.
January in the city is the peak season for citrus - mandarins, tangerines, clementines, and oranges. Therefore, seize the moment and eat the best citrus, and the cheapest, too. Isn't the smell of oranges the one that characterizes winter, after all?
Yes, winter in Malaga may not be ideal for a dip in the sea (unless you are a daredevil who doesn't do what they're told), but the weather is still good enough to allow you to have a beach day. La Malagueta is the busiest beach in Malaga as it is considered the city's central beach. Off-season means that you can rent a sea-view flat at a very affordable price, so you can have a beach day every day just by opening the blinds.
Questo tips: While you're there, you can try one of our city exploration games in Malaga to see the highlights of the city or explore Picasso's Malaga. Enjoy exploring!
Malta
Average temperature 17 degrees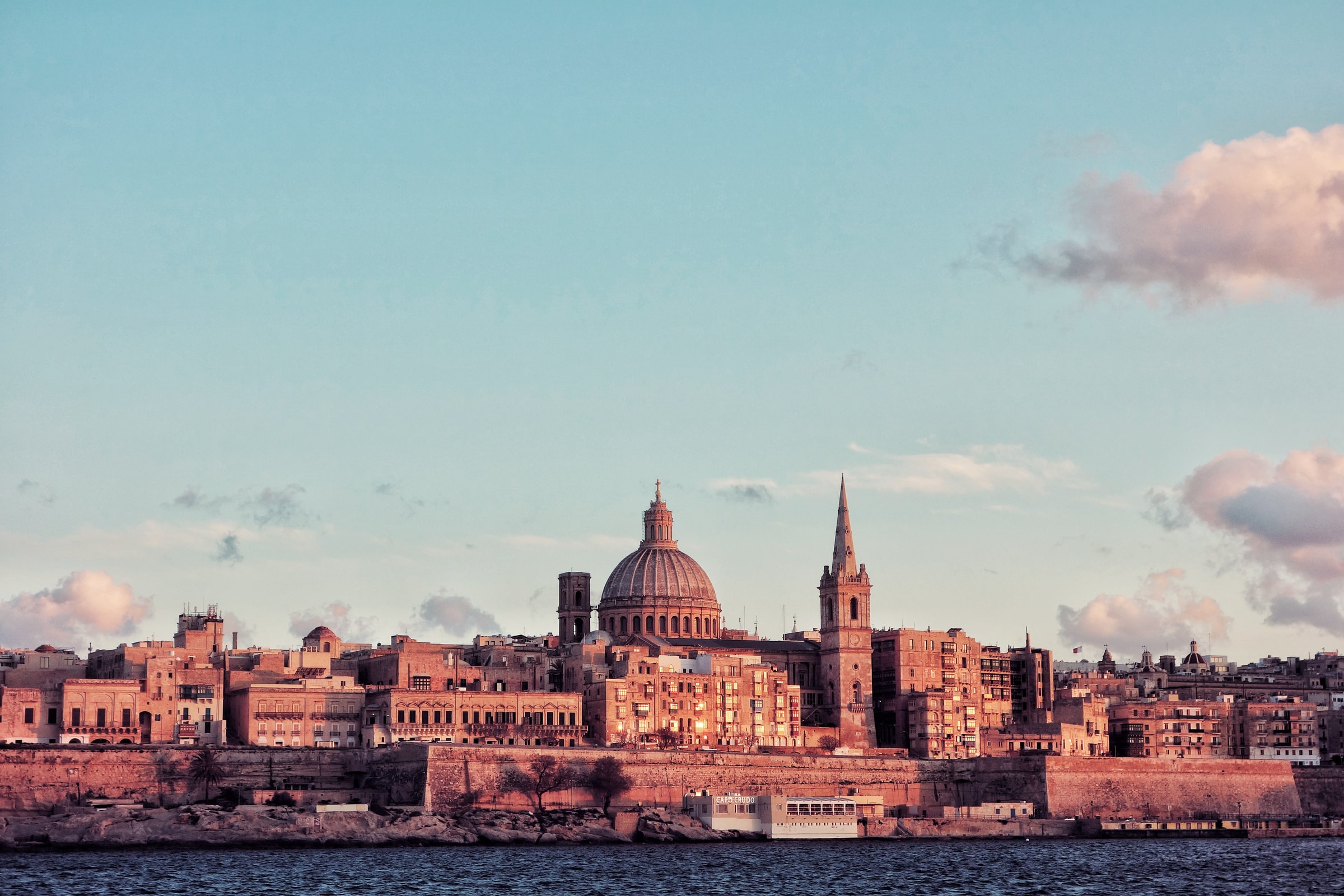 Malta is where to go in January for sun and mild temperatures!
While Malta may be the busiest and liveliest during the summer months as a tourist destination, and January is off-season, that does not mean you won't have plenty of things to do when you visit. You just won't be faced with large crowds when taking trips to museums and sites. Due to the lull of fast-paced life after the holidays, you will love Malta if you enjoy exploring places without finding all the sites clogged with large groups of visitors and tourists.
January is the time when most locals get in touch with nature. Warm and sunny wintry Sunday mornings are perfect for taking a hike up one of the various beautiful nature trails. What's not to love about that?
Where to go in January for sun if you don't mind a longer flight
Mexico
Average temperature 28 degrees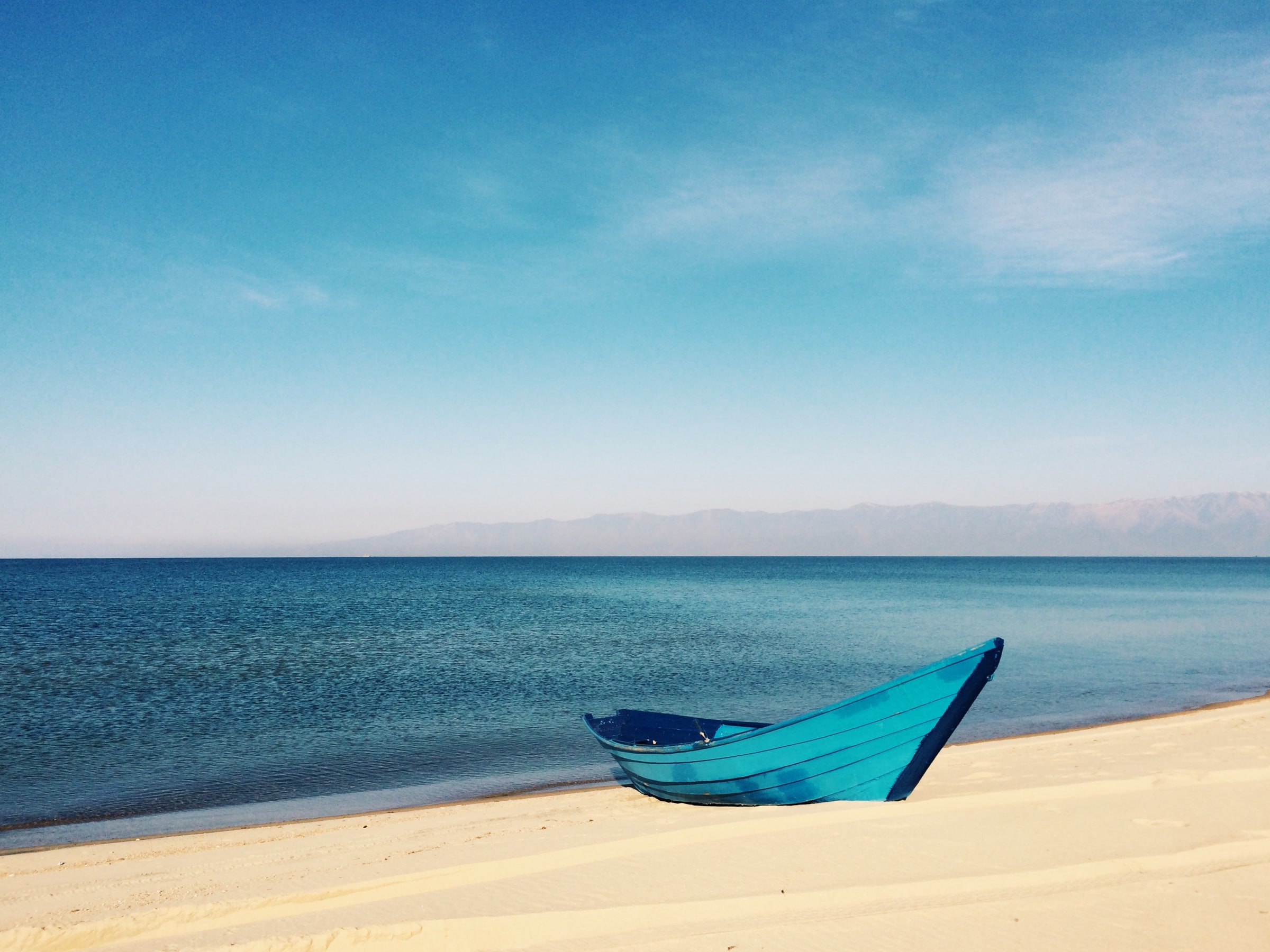 Cancun is located on the edge of a jungle, making it one of the best tropical vacation spots!
This does also mean that humidity quickly becomes your best friend, but January is the most bearable month in this regard. It makes it a great time to go and explore outside - old ruins and inland jungle, as well as visiting Downtown Cancun and the beach. The water is still great for swimming, even if it's colder than it is during the summer. It's also a wonderful idea to try snorkeling or diving, as visibility is good.
This is a great time to visit if you're looking for a more relaxed vacation where you can spend some time on the beach, and enjoy Cancun at your leisure. January is one of the coolest and driest months of the year in Cancun with the least chance of rain and no hurricane risk.
It's quite a popular time for tourists, but there are still chances for you to snatch a good deal for a trip during the second week of January (after the holidays and New Year's celebrations).
Morocco
Average temperature 20 degrees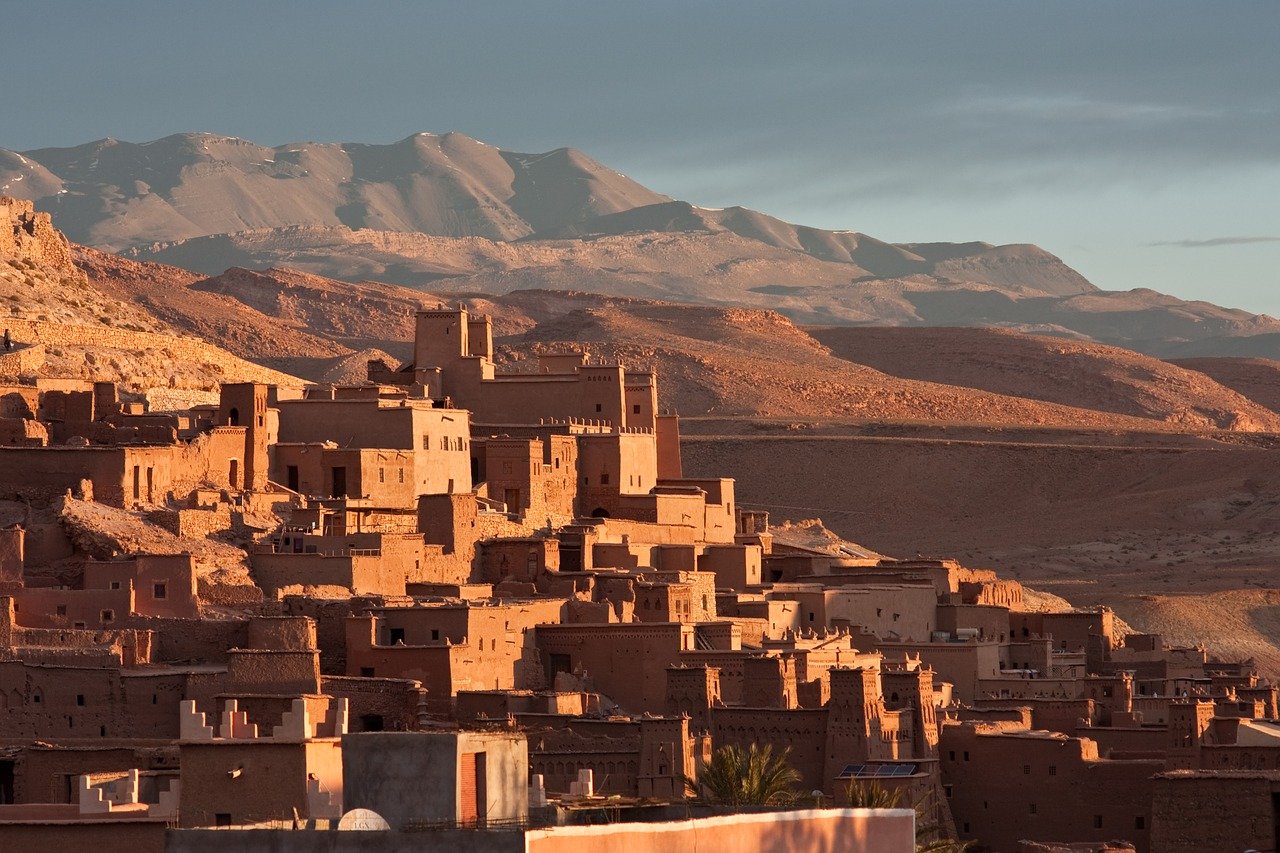 Going to Morocco in January means you can explore the warmer areas of the country at tolerable temperatures, and if you go on any of the tourist tours around the country, there's a big chance you'll be one of the very few people there, which could lead to a more interesting and informative experience.
While temperatures are mild, there are parts of the country that get rain during winter, major cities like Marrakech and Tangier. If you want to skip the rain, head for the desert. We recommend Ouarzazate, and here's a list of things to do in Ouarzazate. This place gives you access to the Sahara and the High Atlas range.
The city is built at the foot of the mountains and is nicknamed "the Gateway to the Desert", being very popular with filmmakers because of how bright it is; don't be surprised when you'll stumble upon numerous film studios and the film museum. The neighborhood Kasbah Taourirt is now a UNESCO World Heritage Site and definitely worth visiting. From the city, you can arrange tours to explore palm groves, the surrounding mountains, or nearby villages. One of the best vacation spots for couples, and even families, who want to do a bit of exploring.
Thailand
Average temperature 28 degrees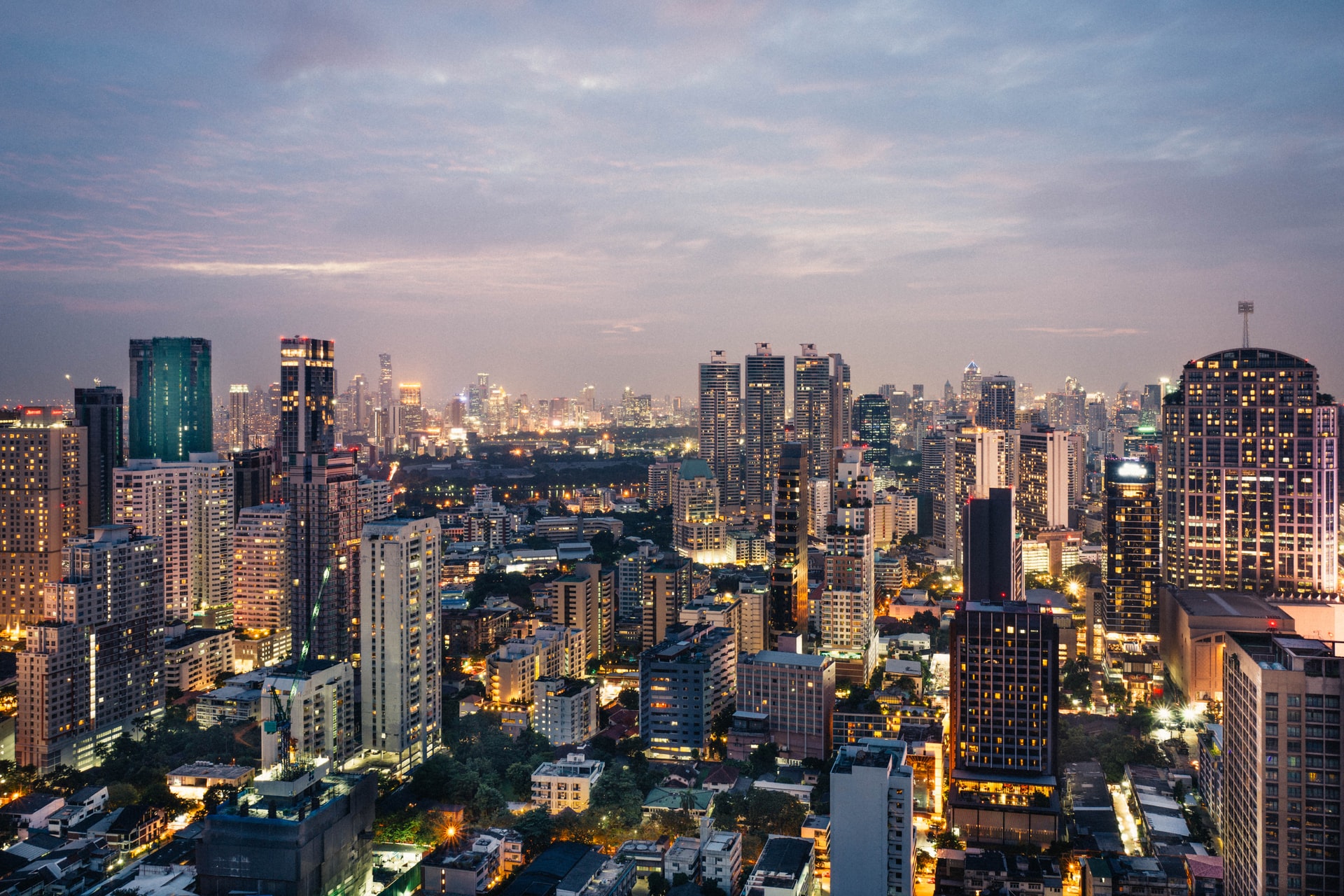 If you've been tempted to go to Thailand but have been putting it off for any reason, consider this your sign to finally book that holiday - January is the best time of the year to visit the country!
High season is in full swing by then due to the great weather all throughout Thailand. Believe it or not, but this is the coldest month of the year! This is especially true if you visit the north, around Chiang Mai. The drawback is that everyone is probably going to want to visit during this period, so popular tourist attractions will probably have long lines; you can avoid this by visiting during weekdays and ideally early in the morning, right after attractions have opened.
What's also great about visiting during January is the Chinese New Year often falls in January, and when this happens, it brings all sorts of delightful festivities and celebrations - but be warned, this usually means even bigger crowds and more expensive accommodation, so you will need to book in advance.
The very good part of visiting in January for the weather and sunshine? You can go anywhere in the country! We recommend Bangkok, which will surely be bustling with activity - and Chinatown is definitely not worth missing due to the Chinese New Year, which means the colorful neighborhood will be full of lights with dragon parades and other festivities.
Questo tips: For off the beaten path try our quest about Bangkok's Old Town and Temples.
Grenada
Average temperature 28 degrees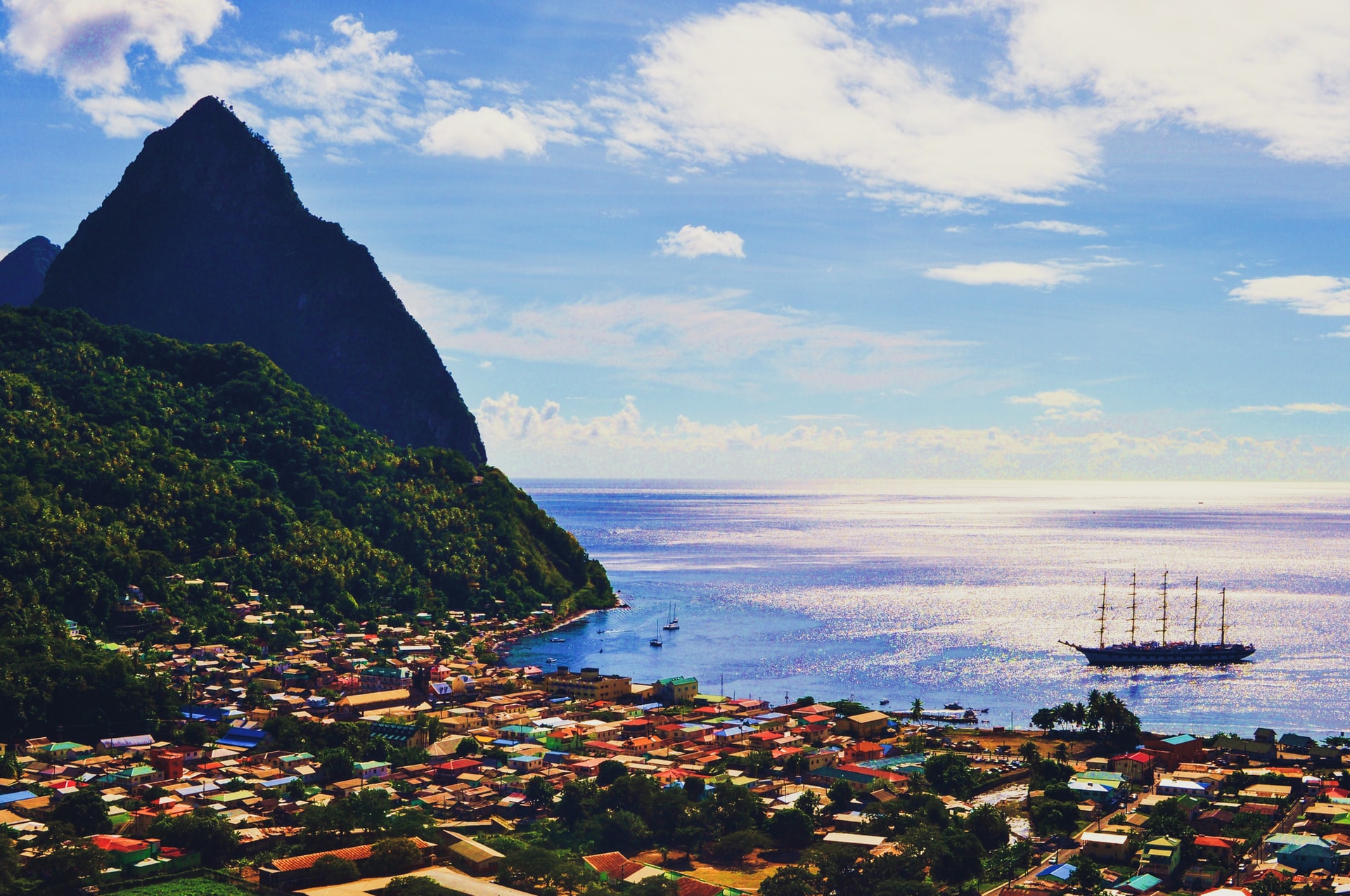 Another place to tick off the best tropical vacation spots list. Even more so if you're after a laid-back trip.
You will find several gorgeous, soft-sand beaches there, which pair well with scenic and lush mountains. The island, while small, offers tourists a couple of relaxed days where you can explore at your own pace, taking in waterfalls, the rainforest (if you are up for a hike), and all the spice factories - and rum, of course.
Did you know that Grenada is known as the "Spice Isle"? This is thanks to its numerous nutmeg plantations. Here is a list of spices you must try in Grenada, just in case you also love discovering a country through its taste.
We recommend paying a visit to Grenada's capital, St. George's. The picturesque city is a feast for the eyes, with red-tiled roofed shops and homes dotting the hillside of an old volcano crater. Don't miss out on walking alongside the horseshoe-shaped harbor and yacht lagoon!
Dubai
Average temperature 28 degrees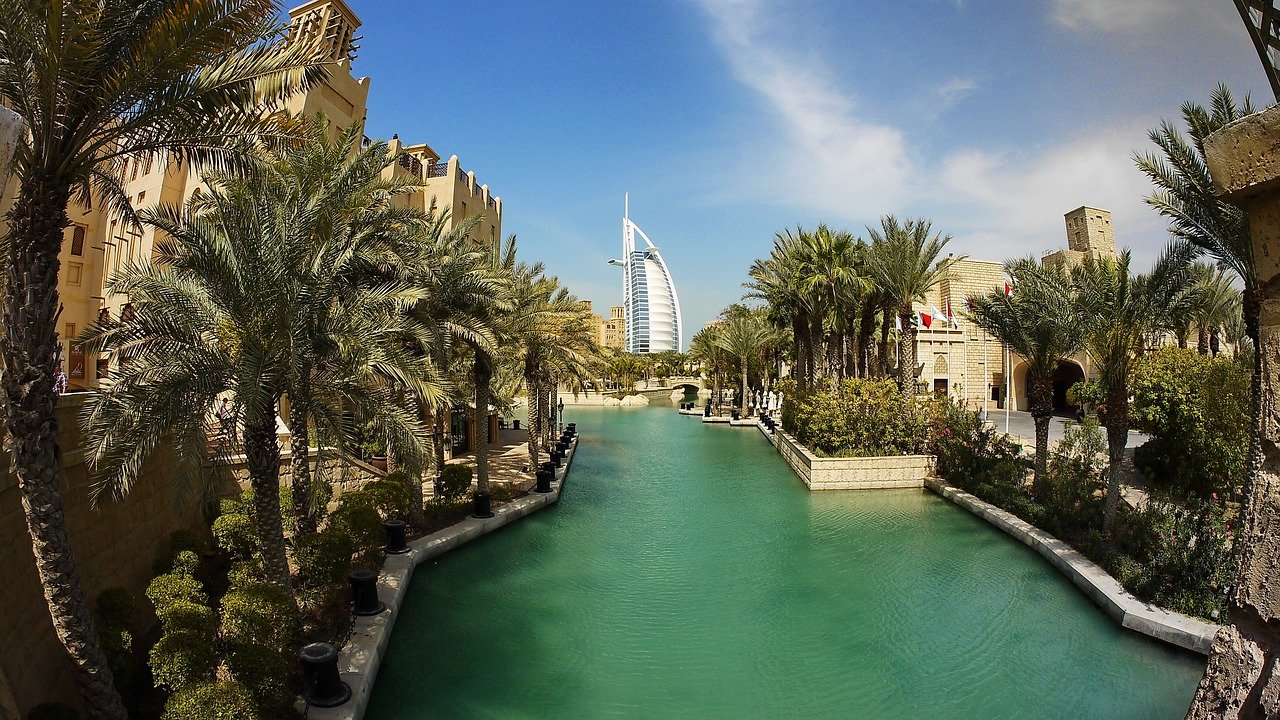 We could not end our list of sunny travel destinations without including Dubai. The city is a tourist favorite, and it's not hard to see why, even in January - especially in January.
During this winter month, the sun is pleasant and the clear skies mean only one thing - it's time to let your inner adventure-seeker out. This is the best season to enjoy adventure sports like skydiving, and desert safari, as well as sightseeing that requires you to be outdoors.
If skydiving or a desert safari sound too extreme for your taste, the Dubai Shopping Festival is not to be missed! It's the biggest event of the month and the entire city welcomes shoppers. In January, most tourist attractions update their products and introduce new features, providing you with the opportunity to visit a whole new Dubai.
This concludes our Top 10 list of where to go in January for sun. As always, remember to keep our tips handy and, if you're looking for more fun things to do while you're exploring abroad this January, try any one of our exploration games!