Make money by becoming a Questo Creator 
Posted on Jul 28, 2022 by Questo Team
Our award-winning city exploration app, which brings over 350 games to people in over 130 cities, can come to your city 🚶🏽 - but only with your help.
Most of the wonderful games you see in our app (which recently got a revamp, too) would not exist without locals from around the world wanting to share their favorite places and neighborhoods with travel enthusiasts. 🌍
If you've ever wanted to have a Questo game in your city, now's the chance to create one.
What's in it for you
It's now easier than ever to build a Questo game through our new-and-improved Creators Room, where you will be guided through each of the four steps that separate you from your own Questo game.
Building a game has many advantages, and here are just a few:


1. Make Money 💸


That's right! Your creative endeavors can turn into another source of passive, and long-term, income.
As a new creator, you get 75% royalties from all future sales of your games. 🤯
You reap what you sow, as the old saying goes - which means that the more games you make, the more money it will generate for you! This is a tried and tested method since all our most successful creators are repeat creators, some having built 3-4 games in a month! If they can, so can you - we believe in you!

2. Creative Freedom ✍️


Your imagination has no limits, so be creative with your Questo game.
Every game has a fictional narrative, taking players from one location to the next while roleplaying as a superhero, a detective - or even a cat!
Now is the chance for you to flex those creative muscles, and write down all the wonderful things your imagination comes up with.
What's more, you take all the credit for the work. Everyone will see your name when they click on the game you build, so you can show off to all your friends and family!

3. Support from the Questo team 🤗

Questo games are a new form of creative media, so we know there is a learning curve during the creation process. Our team of editors is always ready to lend you a helping hand if you ever need it while building your game.
Once your game is built and on the app, it will be available for testing, where we can help! We can find people that will test your game and give their feedback. Then it can become a paid game, and you will soon see the fruits of your labor.
We also frequently organize special events all over the world, which are great for boosting game popularity and sales.
Be part of the change ✨
We pride ourselves in creating unique experiences for tourists and locals alike, and nothing warms our hearts more than seeing people experience our games - be it on social media, through the pictures users send us, or when we read reviews.
So far, we have helped bridge generational gaps, having families of all kinds play our games, as well as set up the perfect first date - leading to people falling in love, or even getting engaged!
By becoming a Questo Creator, your creative work will end up touching the lives of many, and who knows, it might someday inspire someone to get down on one knee in front of the love of their life.
We are also big fans of celebrating, and so every year we host special events to mark important moments, like Valentine's Day or Halloween (and because we are ✨ not like other platforms ✨ we celebrate Halloween in the summer too, because why would you not do that?) Your game could also draw in crowds of people joining together in celebration.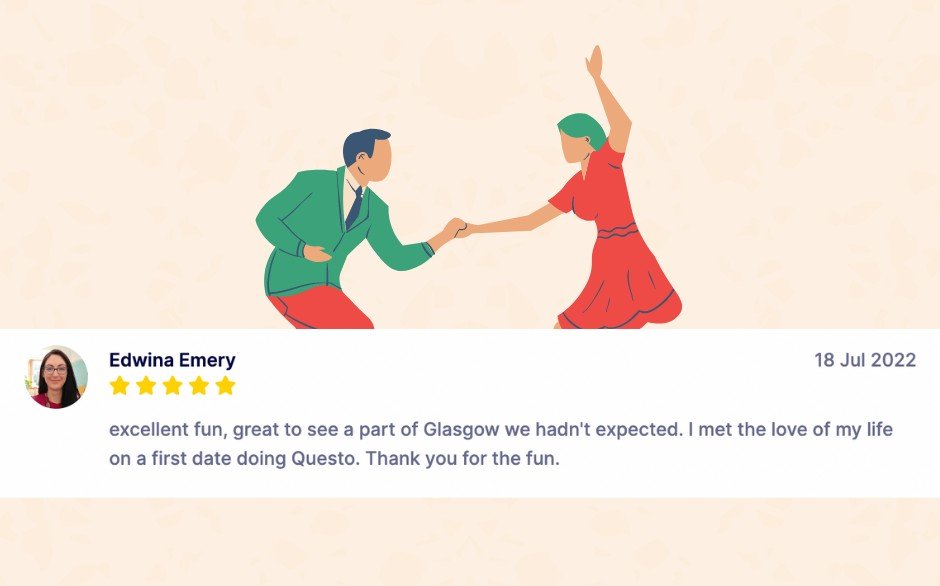 What are you waiting for? 🤳
Sign up now to become a Creator!