Ultimate Guide: what to do in Barcelona for 3 days
Posted on Jun 9, 2022 by Questo Team
A plane approaching the Mediterranean coast and you can already see the most breathtakingly beautiful view from above, the symmetrically built Barcelona and the genius Sagrada Familia in the heart of the city.
Barcelona – like a jewel in the sun (and the song begins…)
Barcelona - one of the most attractive cities in Europe celebrates its role as the capital of Catalonia. The city's cosmopolitan and international vibe makes it a favorite city for many people around the world. The city is especially known for its architecture, art and modernist landmarks designed by Gaudí.
Getting Around Barcelona
What to do in Barcelona for 3 days?
On the way from the airport to the city, of course, you will meet the main banner: "Barcelona". What to do in Barcelona for 3 days? You enter the city on Diagonal Avenue - this street cuts across the city diagonally. The first stop is the Plaza de Catalunya, from where the road to the beach starts. If you want to get to the beach, you will have to take the most famous street, La Rambla. The street divides this side of the city into two, completely different parts. It is a division both architecturally and mentally, in views and even in smell. To the sea, on the left, is the Gothic Quarter, where there are numerous small streets, low houses, and old monuments. To the right is an area that is mysterious and a bit dark, people call it "Barcelona's Red Light District".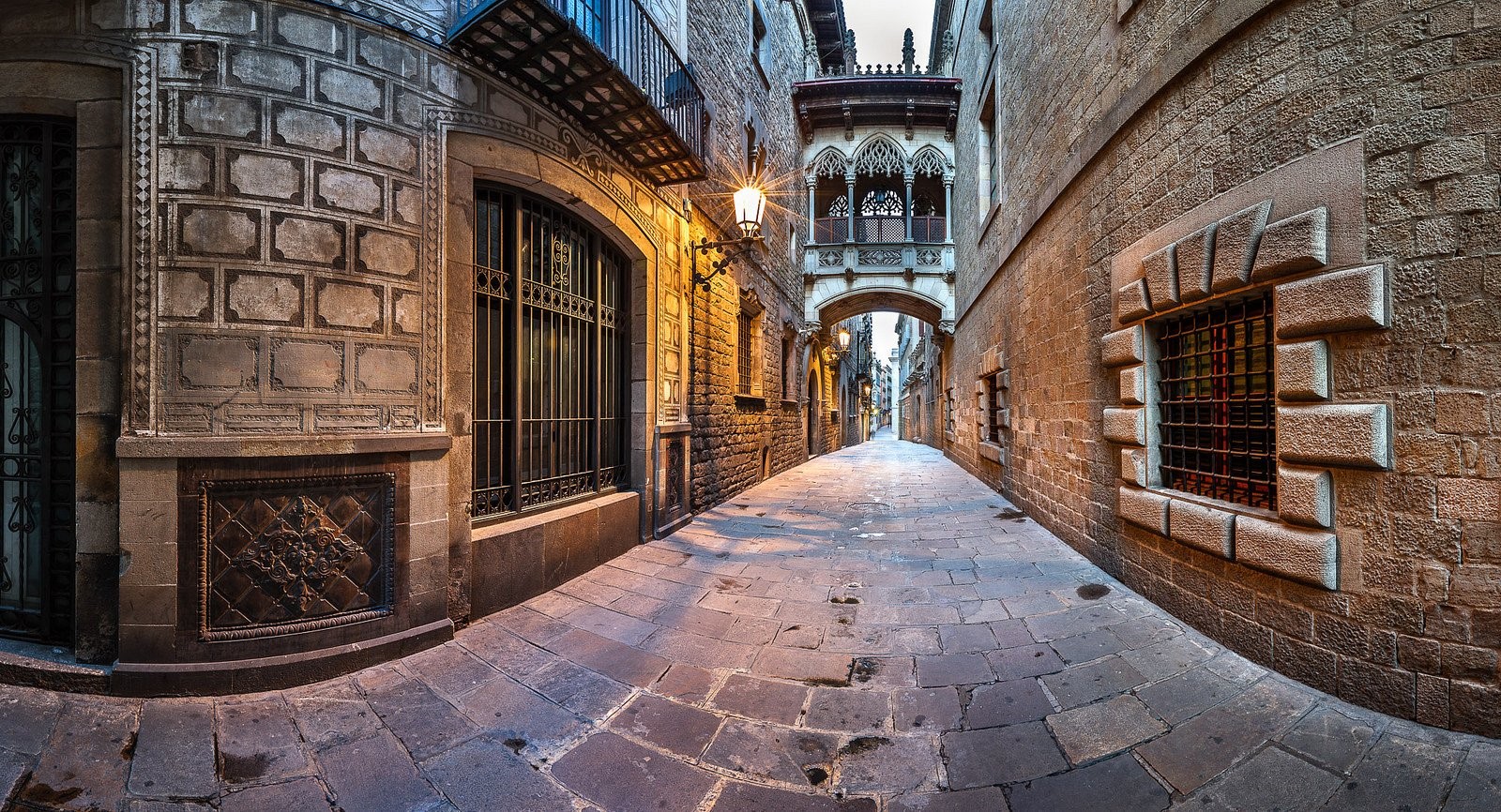 On the way to the beach, you will meet a statue of Columbus which points his finger to the sea, where the golden sandy coast and the Mediterranean Sea merge.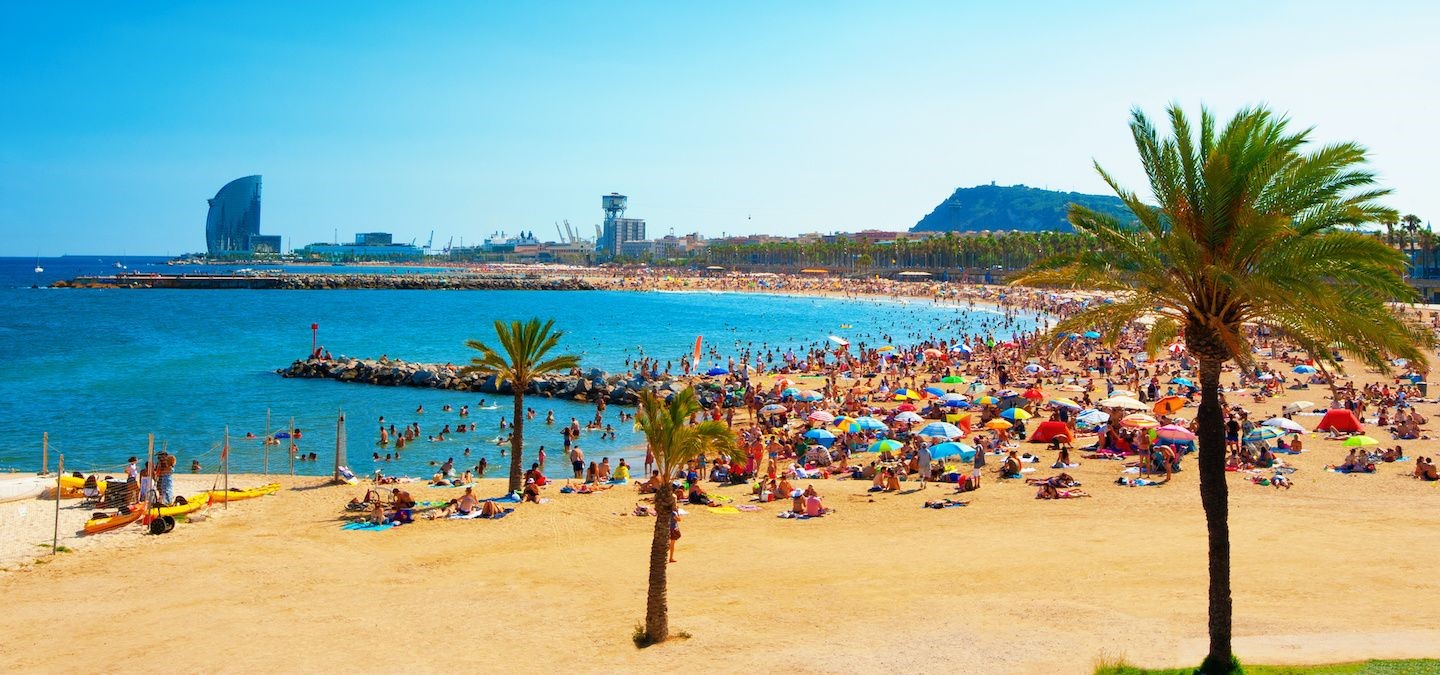 Fascinated by the seaside, you have two choices: either head back to the Gothic Quarter or climb Mount Montjuic from the cactus forest side. On the top of the mountain, you will see the views of Barcelona and the Mediterranean Sea. In this large park, you will meet the famous Olympic Stadium and the environment and architecture typical for all parts of Spain.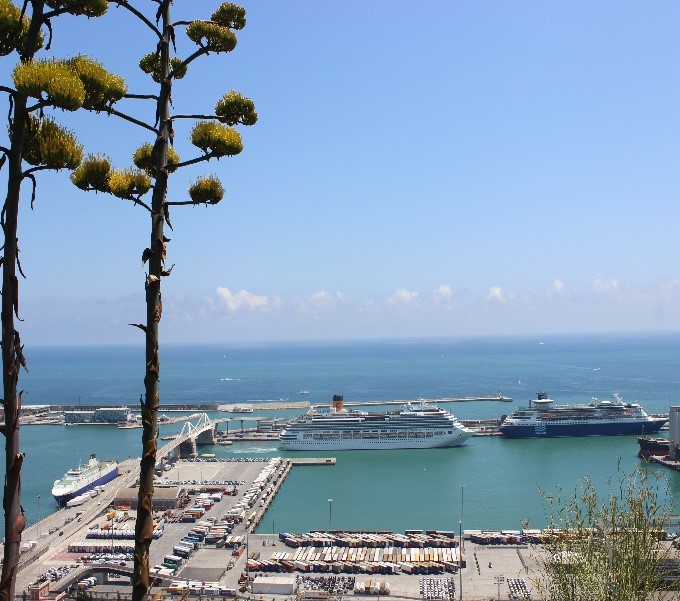 From here, on the steps of the National Museum of Art of Catalonia, you will see Plaza España; On this long and wide street, you can see the dancing fountain, the crowded square, and remember Freddie Mercury and Montserrat Caballe singing the unforgettable "Barcelona" in 1988.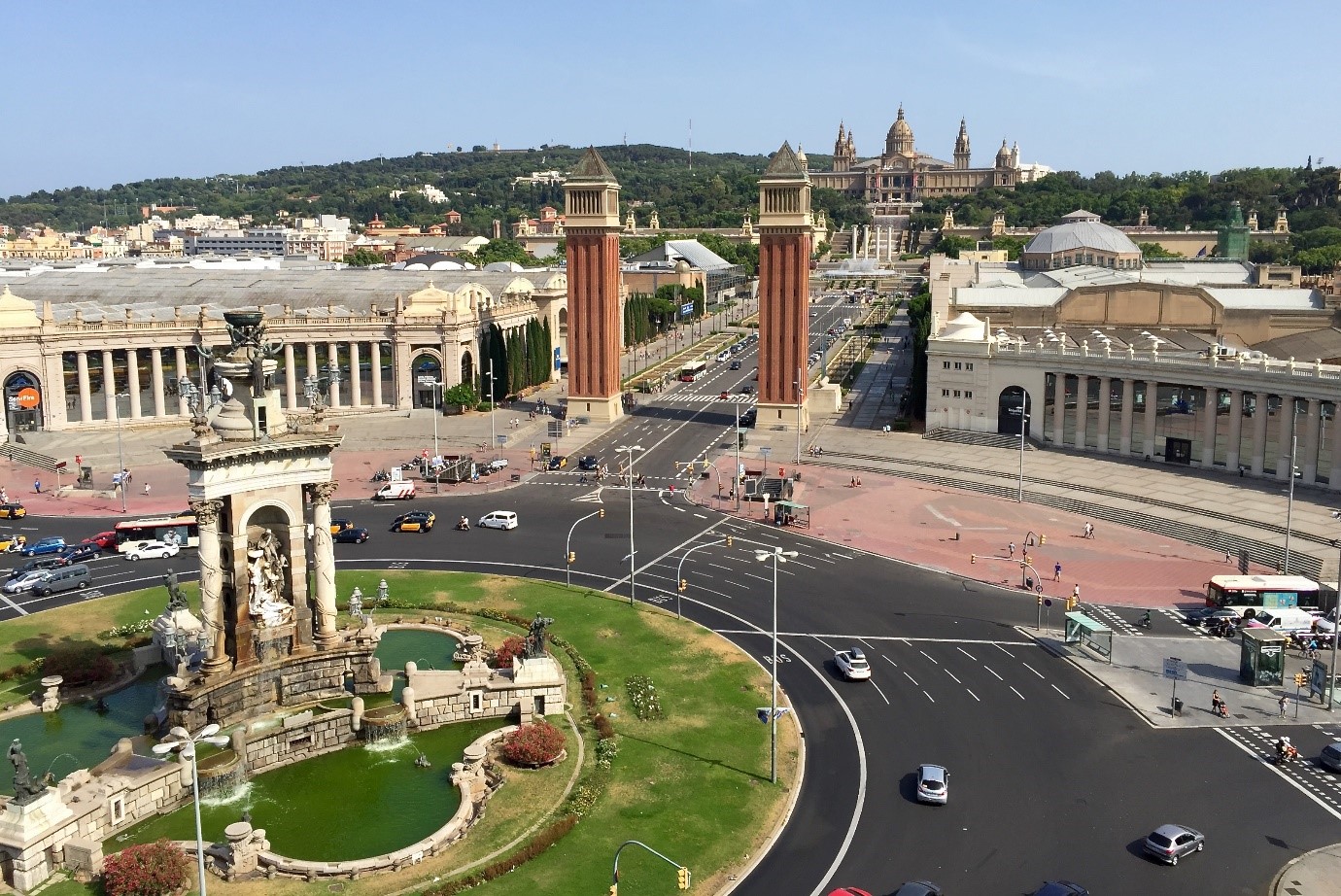 Barcelona's architecture is almost synonymous with Gaudí's name and the spectacular Sagrada Familia is his most famous legacy. Other Gaudí sites around the city include Parc Güell, Casa Mila, and Casa Batllo. To answer your question What to do in Barcelona for 3 days? - They are all so unique and worth visiting!
Well, if you want to get to know Gaudi better, you should visit Parc Güell. This park, with his house-museum, city-wide view, and blue house, looks a bit like a fairy tale starting at Barcelona's Carmel Hill. Park Güell is the famous city park with the mosaics and the salamander in the district Gràcia of Barcelona and definitely one of the most important attractions in Barcelona in terms of visitor numbers and architecture.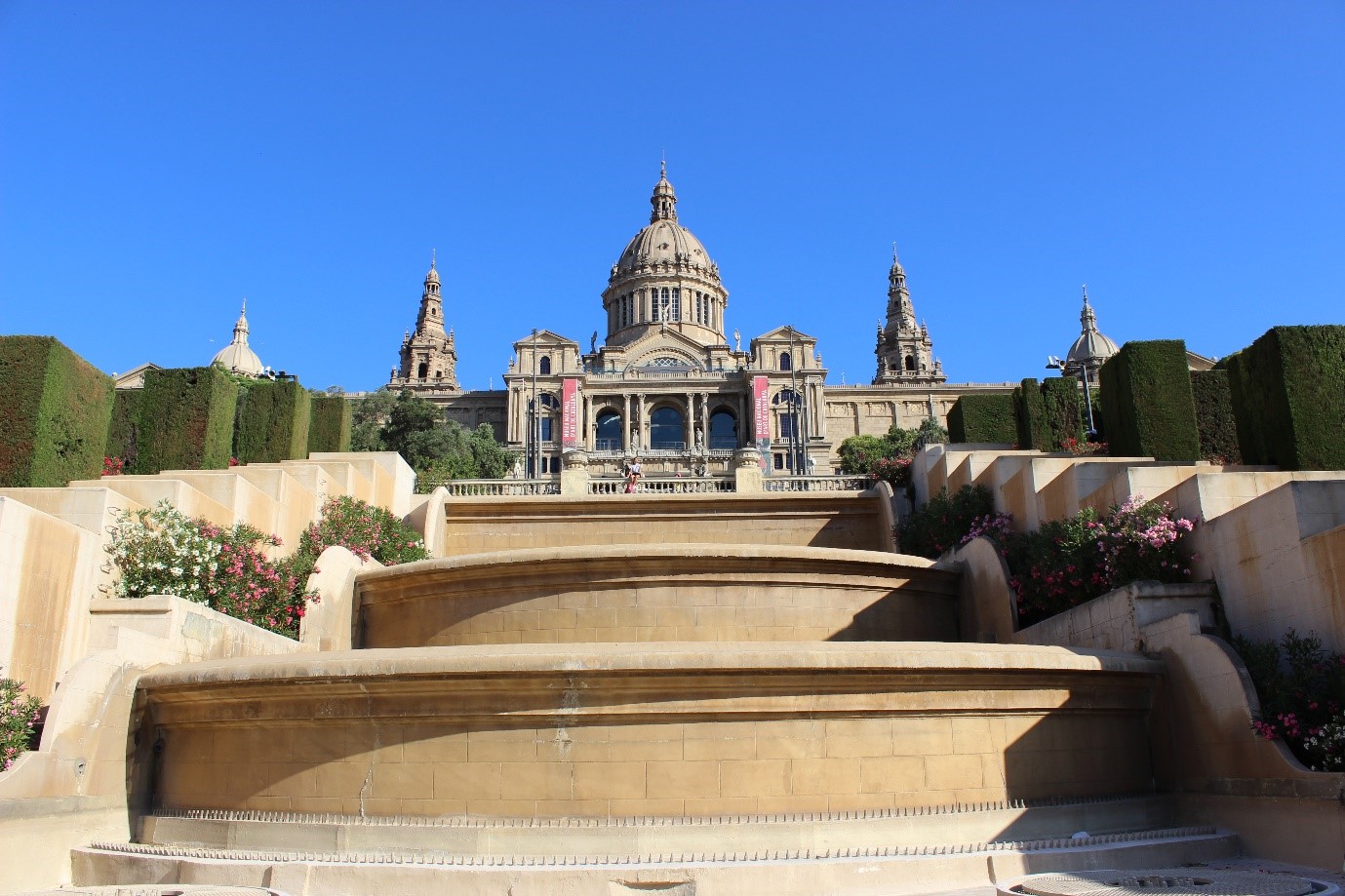 Important: Only 400 people are allowed to visit Park Güell each half-hour. In the high season, this means long waits and often sold out a couple of days before, so I certainly recommend getting your Park Guell tickets in advance and booking online. Price: Adults 13.50 €. Hours: Open daily from 9:30 am- 8:30 pm (Summer).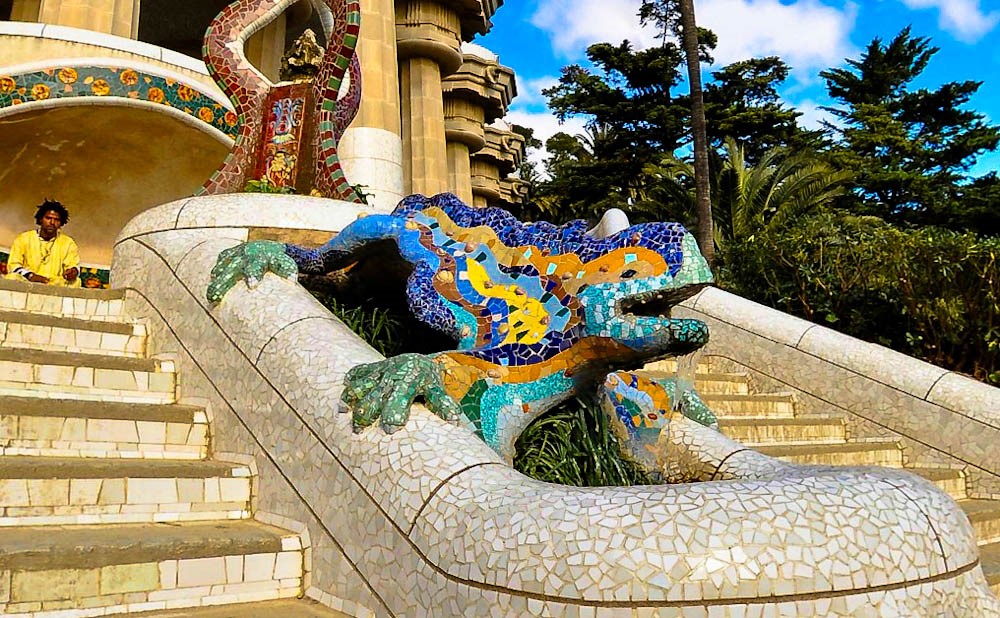 The still unfinished Basilica of Antonio Gaudi is the most popular building in Barcelona and #1 priority in your What to do in Barcelona for 3 days list. Over a century ago Gaudi predicted that Sagrada Família would attract international interest and people from all over the world would come to see what he has created. Recently, the Temple has welcomed more than four million visitors each year -twenty million come by just to look at it from the outside. It is an architectural icon representing a very specific time when modernism was born. Gaudí integrated all the arts that are part of the architecture, from structural mechanics down to the tiniest functional or symbolic detail, into this work. It is the perfect combination of tradition and innovation.
The forest of inclined trunks and branches holding up the vaults with openings that let the light stream in, as if through the branches of the trees in a forest, its great height, proportions, and magnificent play of light and colors from the stained-glass windows make it more than just a unique building: they make it a space full of spirituality that truly enthralls and captivates anyone who visits.
Important: Due to a high number of visitors on season tickets are being sold out very fast. To avoid long waiting lines I suggest you buy online tickets at https://sagradafamilia.org/en/tickets (price starts from 26 €). You can also download the Sagrada Familia Oficial app to manage your tickets, listen to the audioguide, and much more.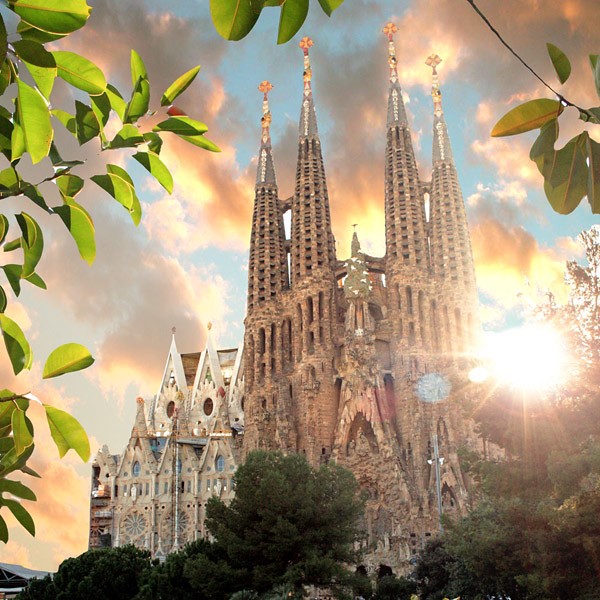 Casa Batllo is a true masterpiece and one of the most important places to visit in Barcelona. Considered one of the most important creations of the architect Antonio Gaudí, this building has been declared a UNESCO World Heritage Site. The building has many different names; the house of dragons, house of bones, house of masks, and the house of yawns. All these nicknames come from its peculiar facade which is truly spectacular.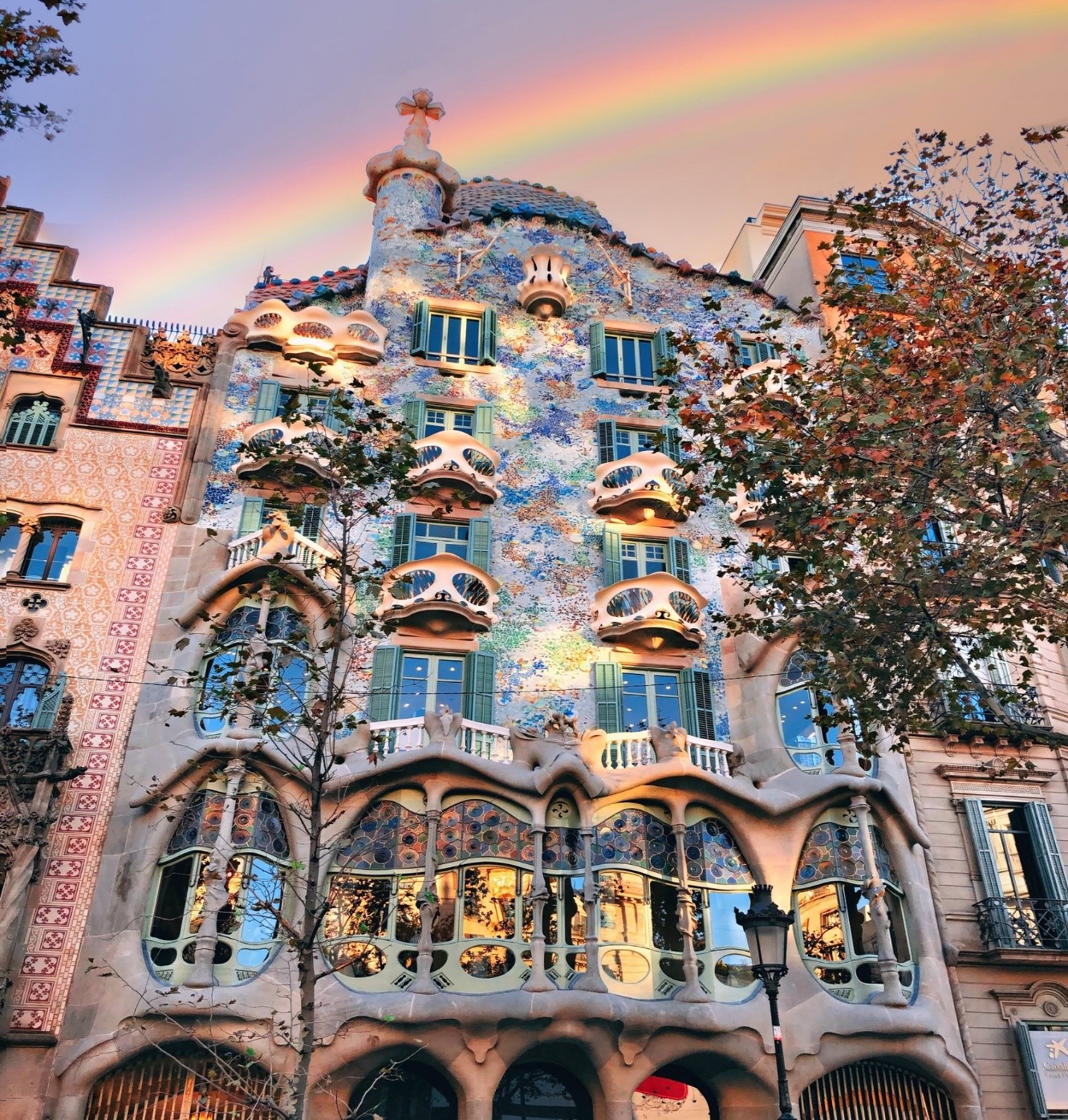 Entering the house is like entering the magic. You can explore Gaudi's universe and dive into a moving story by the audio and visual tour guide, which is essentially a smartphone but has the ability to bring Gaudi's house to life. The tickets start from 35€ and you can buy them online at https://www.casabatllo.es/en/online-tickets (open from 09:00 AM to 08:00 PM).
Travel tips for what to do in Barcelona for 3 days
Metro: Barcelona currently has eight metro lines that can get you pretty much everywhere in the city. However, it is a popular spot for pickpockets. If you're traveling on a budget, it's a great option—a single ticket will cost you 2,20€ but a T-10 Card, good for 10 rides only costs 10,20€.
Taxi: Barcelona's licensed taxis are easily identified by their yellow and black exterior. They have to charge you the amount displayed on the meter. Taxis here are said to be the cheapest in Europe so if it's more convenient, I'd recommend a taxi over the metro.
Walking + Biking: Barcelona is very walkable and accessible to bikes. Save your money and get some fresh air!
When you're in Barcelona, there are some authentic dishes you just have to try! I'm sure you've heard of paella , but there's also pa amb tomaquet, patatas bravas, croquettes, Jamon Iberico, escalivada, and more. What to do in Barcelona for 3 days?
Well, these three restaurants are said to have the best paella in Barcelona, so start here: Rias de Galicia, Cheriff, and 7 Portes.
La Xampanyeria / Can Paixano -they offer delicious tapas and serve with the best Cava or Catalan sparkling wine.
Amazing tapas, ambiance, wine, and service—Bodega Biarritz is definitely a must for dinner and drinks when you're in Barcelona!
Lokal Bar -you'll find some of the best, traditional tapas (octopus, oxtail, and patatas bravas) in the city and delicious sangria!
La Boqueria market - This popular market in Las Ramblas has the best fresh food that the region has to offer!
Final Words
Barcelona has a unique culture and vibe unlike anywhere else in Spain. Aside from the remarkable Gaudí architecture, you'll find fine art, museums, iconic nature parks, beautiful beaches, performing arts spaces, and so much more.
I've shared the top places if you wonder what to do in Barcelona for 3 days upwards, but you can explore much more of the city with the very useful app Questo, which allows people to get the most out of their trips. Happy vacation and entertain yourself with real-world city exploration games offered by Questo!