Spooktacular Outdoor Halloween Games to Play 2022
Posted on Oct 11, 2022 by Questo Team
Time to Haunt –
Fun Halloween Games
to Play During the Spookiest Night
The most frightening night of the year is just around the corner. It's time to start decorating your house with carved pumpkins and go shopping for spooky costumes. We all know how fun and magical Halloween is, but what is it all about? Let's see.
Tradition says that on the night of October 31st to November 1st, spirits, both good and bad, cross the border between our world and the beyond. 2000 years ago, it was called All Hallows Eve, the day before All Saints' Day, created for the Christianization of pagans and celebrating on November 1st all the saints of the Catholic Church.
Although there are many cultural variants of the tradition, in essence, there is the same original fund. The roots of Halloween can be found in a Celtic festival called Samhain, which signifies the end of summer and the transition to the cold season.
The purpose of the festival was to gather crops, and the events were similar to those of today: Halloween costumes, home decorations, turning pumpkins into lanterns, but also makeup, and the famous "trick-or-treat".
In order to have a fang-tastic Halloween night, we made a list of some Halloween games you can play with your family or friends. Keep reading to find out how you can enjoy to the fullest this creepy night and what other outdoor Halloween games Questo has in store for you.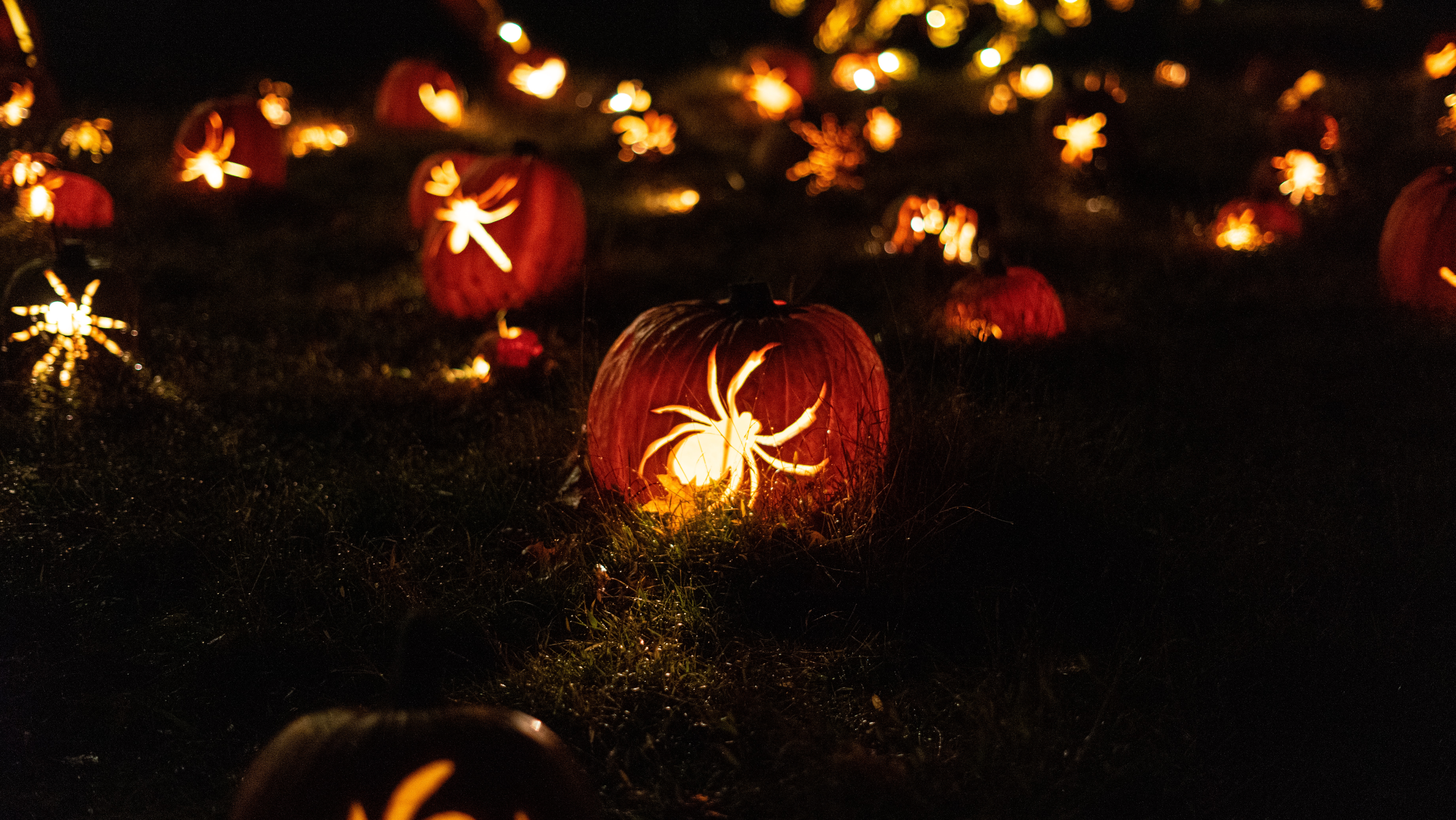 Halloween games for all ages
If you are in the mood to host a Halloween party this year, it is better to be prepared and plan some on-theme Halloween activities for your family and guests. Check out these games for adults and kids and get ready for a bootiful night.
1. The vampire clan
If you are organizing a party at home, and your guests didn't come disguised, here's an effective way to make them wear a scary costume whether they want it or not. For the competition, you will need white powder, black eyeliner, black mascara, blood-red lipstick, white and red gouache, and brushes. Everyone present is divided into teams. Each team is given the props mentioned above. For ten minutes, the team members must make up each other so that each of them looks like a vampire by the end. The leader of the party chooses the team that managed to color the faces of all the members and declares them the winner.
2. Pumpkin bowling
Give bowling a Halloween twist by using a bunch of popsicles and a pumpkin as a ball. This game consists of rolling a pumpkin into ghostly pins and what we love most about this game is that it is suitable for people of all ages! If a pumpkin is too much for the kids, give them turnips. Don't forget to draw a Jack-O'Lantern on the pumpkin or turnip.
3. Eyeball Pong
Ping-pong is a fun game, but guess what's better? Eyeball Pong! Instead of using conventional ping pong balls, use a marker pen to transform them into eyeballs. Sounds morbid? Maybe, but that's what Halloween is all about! You can also turn it into a game of beer pong - no alcohol because it's also for kids. Use the ping pong balls to throw them across the table or in a cup. If you want to make the game even more dreadful make sure the drink is red. Pretend that the drink is human blood and the one who drinks turns into a vampire. The players have to insert the ping-pong balls into the cup, and the one who hits the most is the winner! It's a fun game and everyone will love it!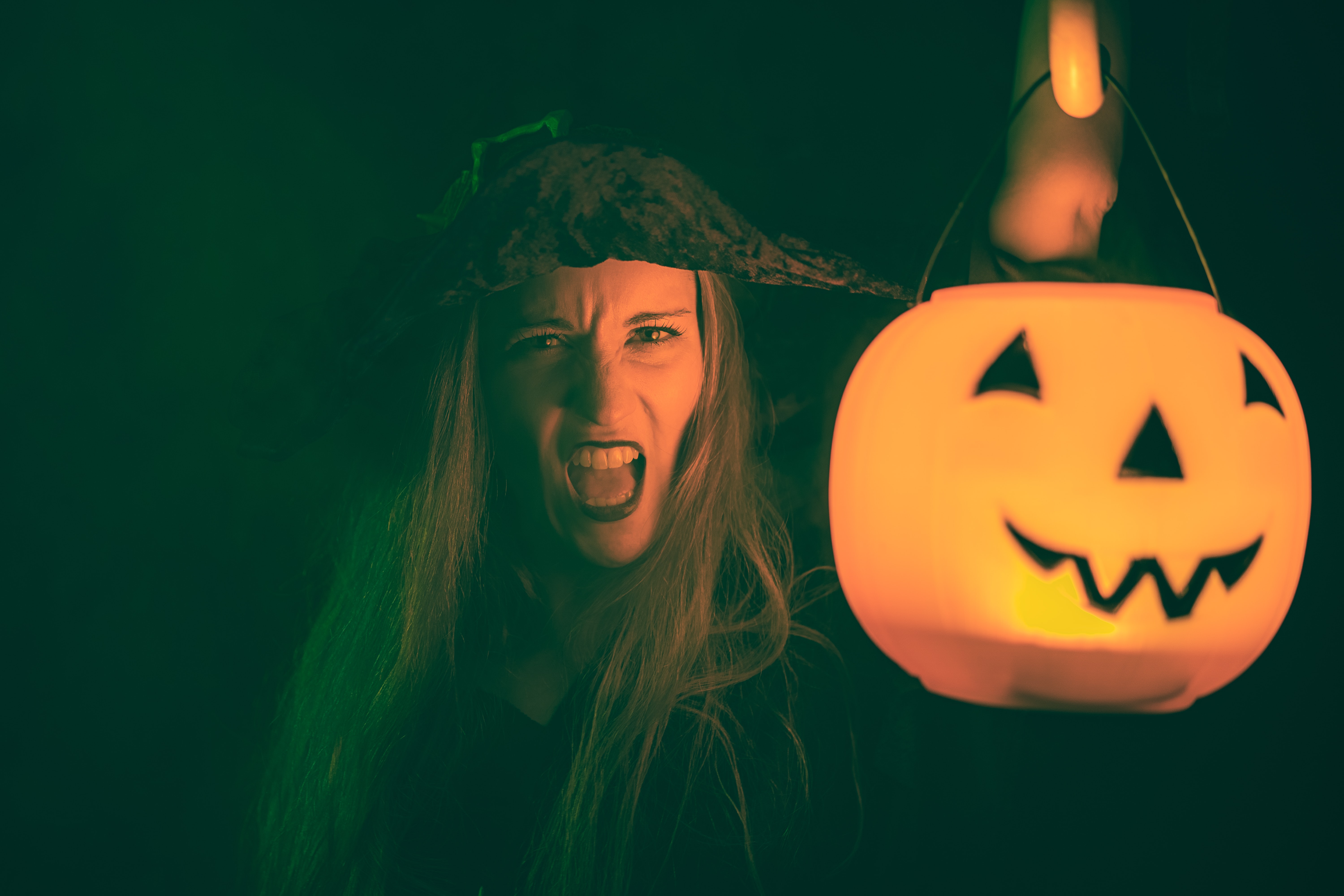 Outdoor Halloween Games
How else to get into the spirit of Halloween and spend it if not on the streets? Gather your circle of friends and put an outdoor twist on your Halloween festivities with the help of the following list of games.
1. Halloween photo scavenger hunt
If you are the type of person who is more into outdoor Halloween games, then we recommend you gather your friends and play Halloween Photo Scavenger Hunt. Make a list of spooky Halloween decorations that you spot around your city, from carved pumpkins and skeletons to artificial spiders and witch hats. Then, have your guests go around the town and take photos of as many items on the list as they can find. The one who finds the most items is the winner of the game!
2. Play hide-and-seek in a haunted place
How long has it been since you last played hide and seek? Maybe it sounds a little outdated, a childhood game, but we don't think you forgot how your heart was beating faster for fear that the other player wouldn't be found in your hiding place. This sentiment is perfect for Halloween. Rediscover the joy of being a child and gather your play gang. For more adrenaline, choose a place steeped in history. For example, depending on the place where you're spending Halloween, you can go to a park or maybe a parking lot. However, the best option for scary hide-and-seek remains cemeteries or abandoned houses because they are usually known for paranormal phenomena. Just don't let any ghost find you!
3. Go ghost hunting in your town
This year, Questo has prepared for all those who are excited about Halloween a bunch of spooktacular games. The most loved and award-winning city exploration app encourages its players to spend Halloween night outdoors and explore the city together with ghosts and goblins.
Visit the most haunted places in town, learn the terrifying stories behind places you've never noticed, solve bespoke puzzles, riddles, and cryptic codes, and get ready for a spine-chilling experience.
This October, Questo organizes 26 haunted events in 26 different cities, such as Ghosts of Melbourne: Haunted City, Ghosts of Lyon: Time to go home, Ghosts of Amsterdam: The Haunting Stories, Ghosts of Cologne: The Witch, and many others. Check all the events here and book the one you like most. Hurry up! There are some evil spirits that want them too.
What is more, Questo also offers a special package for enthusiasts: 40% OFF on 100 gems package. Check your store for more information about the discount.
Wondering how to enjoy the activities? Here's what you have to do:
Choose the game

, go to the event page and click the "Book now" button to reserve your spot.

Download the app for free.

Arrive at the set starting location.

Follow the simple instructions in the app which will take you to each haunted hotspot.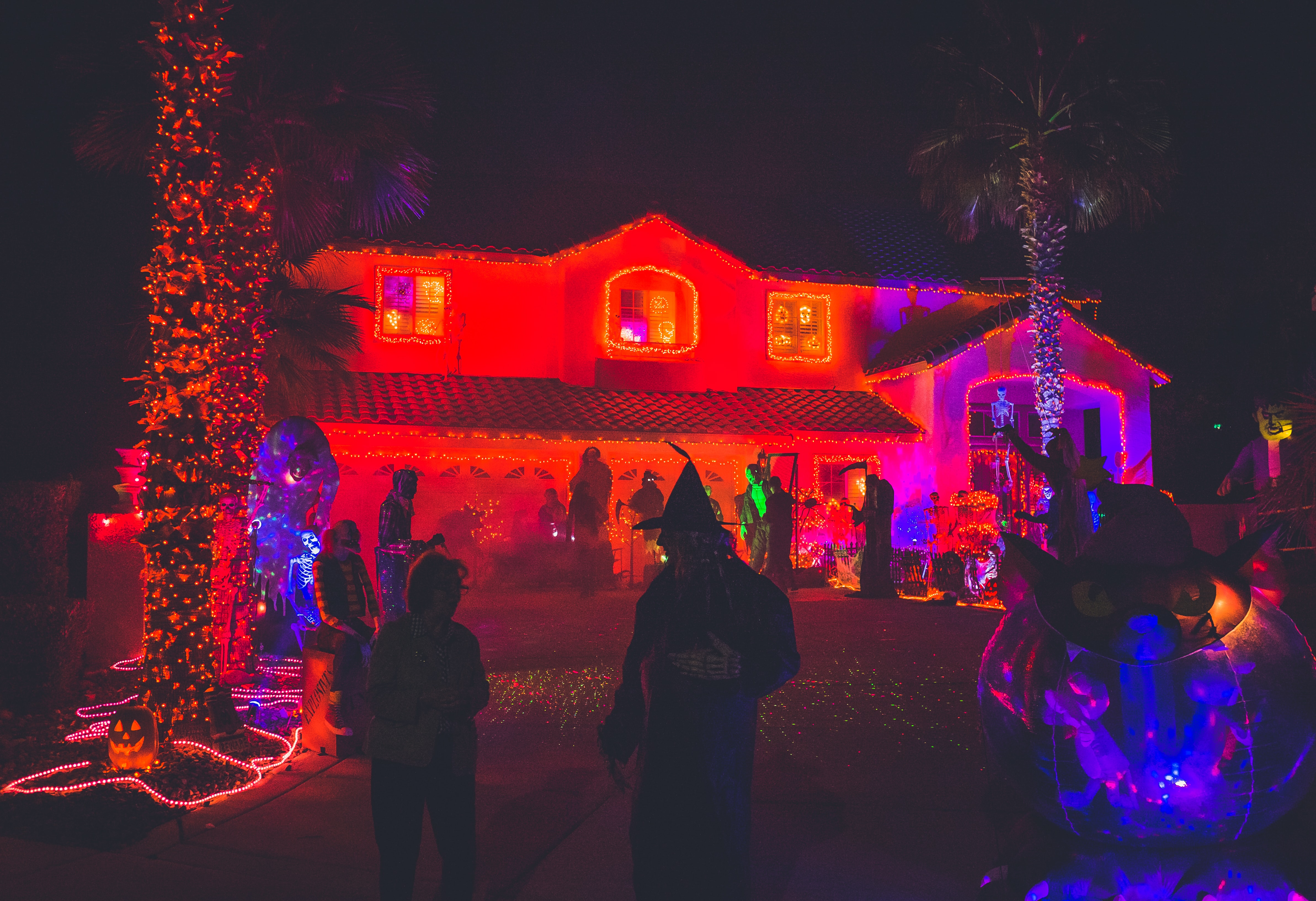 4. Join our special event in Bucharest
If you are a local or a tourist in the city of Bucharest, we invite you to join Haunted Bucharest, a special event in partnership with YOXO. You will experience the perfect combination of an outdoor escape room, an urban exploration game, a guided tour, and a treasure hunt.
What can you expect?
new places and stories from a less-known neighborhood

interaction with costumed characters during the route

costume contest for participants

lots of amazing prizes from YOXO
Just download the Questo app from the App Store or Google Play, choose the "Haunted Bucharest 4" route (will be available on the day of the event) and follow the instructions. Make sure you get updates about this uniquely dark activity by joining the event on Haunted Bucharest Facebook event.
Fun Halloween games
Warning! The list below may contain games that might be fearsome even for witches. However, they are fun, and you will definitely have an unforgettable Halloween if you play them.
1. Bloody Mary
A traditional American game, Bloody Mary is very simple, but scary at the same time. All you have to do is stand in front of the mirror, in the dark (with a very weak light source, a candle, for example) and say "Bloody Mary" three times. The legend says that a woman will appear in the mirror and attack you. Why is this game so popular? Because if you look in the mirror for a long time, your brain will distort the image and it is very possible that you will end up seeing a terrifying apparition, especially if you start the game with this thought.
2. Interpret scenes from horror movies
This game is not scary at all, but very fun. You must first form a jury of at least two people, then the rest of the players must be divided into teams. Each team will draw a ticket on which a famous scene from a horror movie is described, which they must then interpret within three minutes. Each team must perform between 5 and 10 scenes, and at the end, the winner is whoever received the most points from the jury.
3. Ouija Table
It is almost impossible to say "Halloween" and not think of the scary Ouija board, used in spiritualism to communicate with demons and ghosts. Horror movies often include this occult object in their props, which is said to even help evil spirits enter the lives of those who dare to disturb them. And what better evening for this than Halloween? Surprisingly or not, as everything takes on a commercial aspect these days, you can buy the Ouija board on the Internet. Of course, even on the respective sites, there is a warning about evil spirits.
If you don't want to spend money on this object that you probably won't use on other occasions, you can make your own Ouija board. Take a piece of wood and write the letters of the alphabet on the top, and the Arabic numbers on the bottom. You can also add the answers "Yes" and "No" on either side of the letters, above them. Then you all gather around the board, put a glass of shots face down, put a finger on it and concentrate, then ask "Is there a spirit around?". For the scariest atmosphere, turn off the lights and leave only a few candles lit.
4. Help the witch prepare a deadly soup
For this game, each team will need a regular flashlight. If you are the host of the Halloween party, then you must prepare in advance and hang or hide the required number of objects such as bats, mice, lizards, snakes, and other insects around the house. Each team is given the recipe for a witch soup, which says that each team needs to find, for example, ten lizards, four flies, and two snakes. The light is turned off and the team's goal is to find the required number of "ingredients". The team that first finds everything that was needed for the soup wins.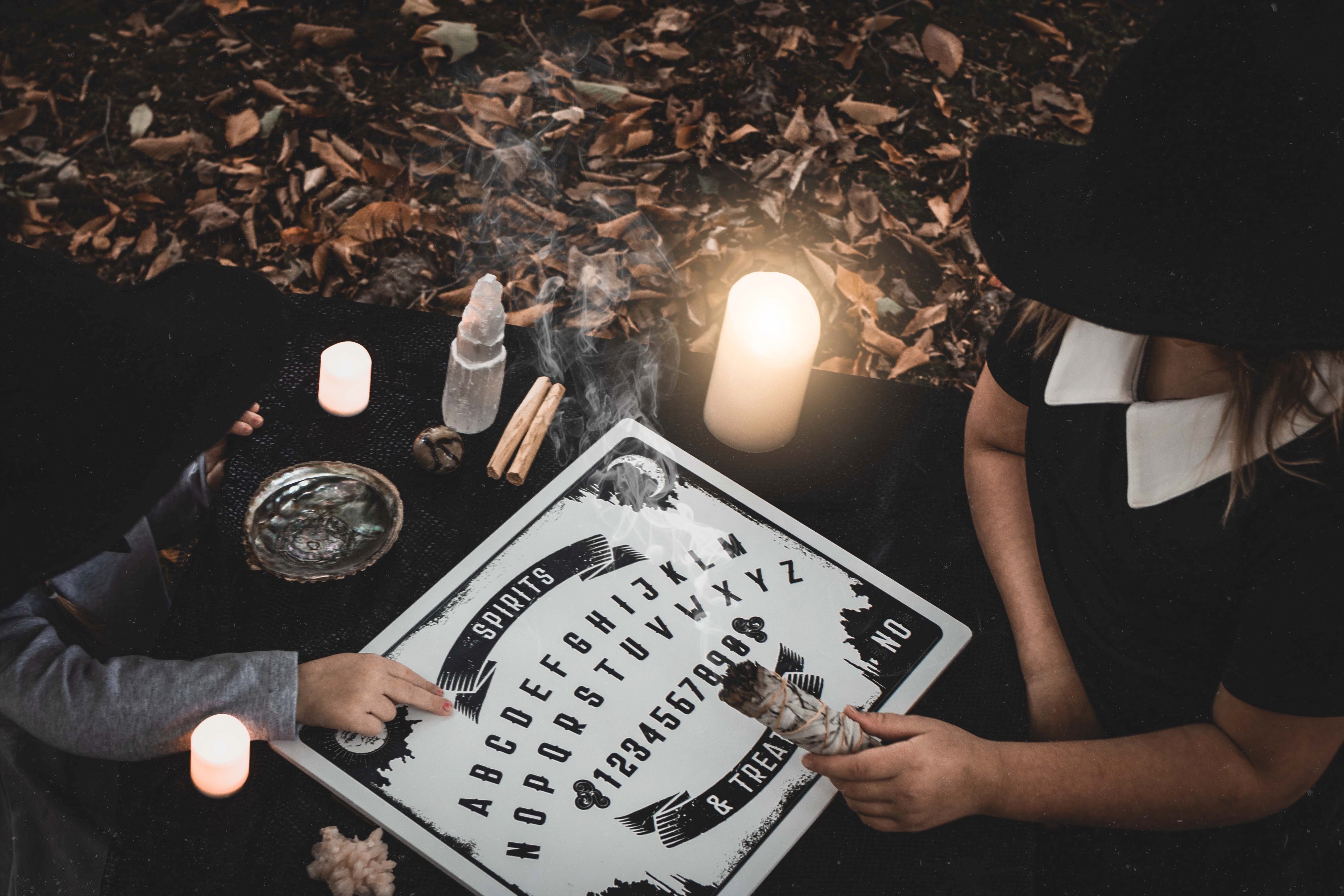 Ghostly Greetings!
Whether you're with your kids or a group of friends, just embrace this fun tradition by dressing up in your scariest outfit, carving jack-o-lanterns, eating delicious candies, and playing fun Halloween games. Wishing you a very haunted Halloween!