Everything you need to know for your trip to Munich in 2021
Posted on Jun 4, 2021 by Questo Team
Welcome to Questo's no bullshit guide to Munich! Questo is an urban entertainment platform for city exploration games that guides you from clue to clue around the city until you solve the quest! In this way, you can explore the city at your own pace, while learning about it and having fun at the same time. We gathered all the essential information you need to know for your travel plans, including finding the cheapest plane tickets, guiding you in what and where to eat or party, and which are the main attractions in Munich. It's go time! Are you ready?
Servus, Munich! Welcome to the heart of Bavaria! This city is Bavaria's capital and the third-largest city in Germany. It is famous for its magnificent and imposing buildings, large parks and the annual beer festival, Oktoberfest, of course! It might not be the capital of Germany, but it is for sure a "don't miss destination"! If you want to know more, we prepared a Munich travel guide to spice up your trip!
Throughout history, Munich has been a center for arts, opera, and literature, a fast-evolving city, also conservative and traditional. Bavaria's capital became famous during the Hitlerzeit as the "capital of the movement" filled with strong-minded people. But modern Munich is now a vibrant cultural hub with many beer gardens to make your trip worth remembering!
One of Munich's nicknames is Millionendorf (village of millions). It suggests that although the city has 1.5 million people, it still feels gemütlich (cozy) and sometimes even small. Munich is also known as a Weltstadt mit Herz (cosmopolitan metropolis with a heart). That is because the people here are relaxed and kind people that will always stop and help. In the end, do not worry if you get lost exploring the city or don't know where you can find the closest place to get some Bavarian Kaiserschmarrn. You will for sure find help and have fun things to do in Munich!
I. How to find the best prices for plane tickets to Munich
The best plane tickets are not the easiest to find, especially if you want the cheaper alternatives. To make it easier for you, we prepared some tips to help you in your search.
We know it can be tiring to search on the websites of each airline company until you find the best option for you, but luckily, there is a faster alternative. To find the cheapest plane tickets, you should use the best flight search engines, such as Momondo, Kiwi.com, and Skyscanner. All you have to do is type in your dates plus destination and they will show you all the options out, from cheapest to the most expensive.
If you don't have a set period for your holiday in Munich, some flight search engines, such as Kiwi.com, will show you the prices available each day for the coming months. You can always choose the "anytime" option if you are more flexible with your time and they will automatically give you the best options to travel to Munich. Like that, you will be able to find the cheapest flight and save some money to buy one (or probably more) Bavarian Weisswurst.
A two- way flight London - Munich: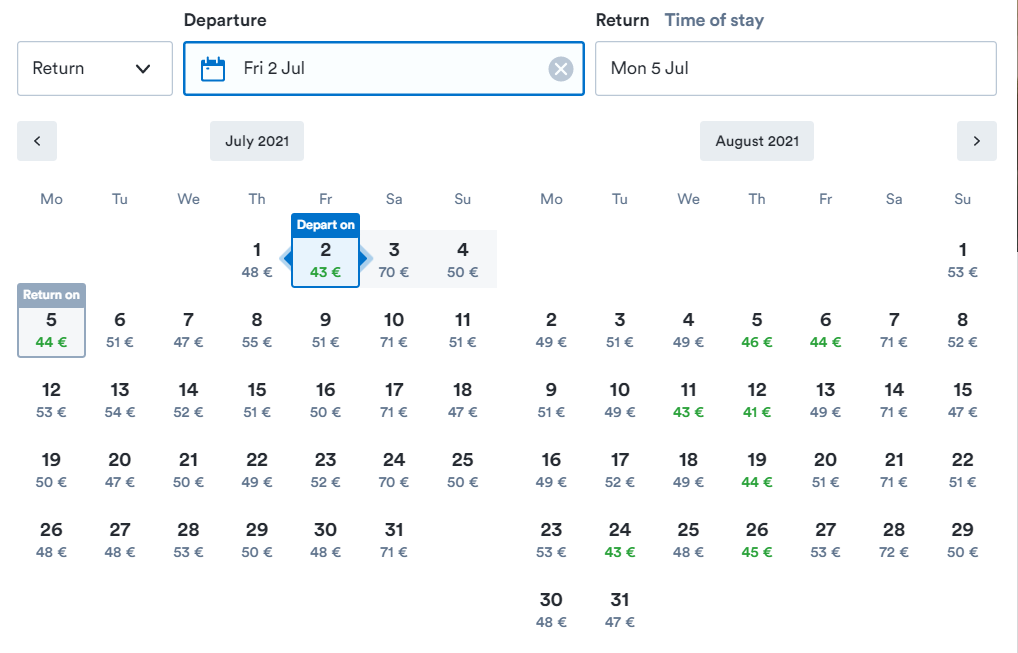 There is only one catch! These websites have "cookies" (and they are not the chocolate-chip cookies that we all crave) that keep track of your searches. If they notice that you looked for the flight many times, they increase the price significantly. The golden rule to keep the low prices low is to navigate these websites in incognito or private browsing mode.
If you do not require an airplane to come to Munich, you may choose different means of transportation, such as finally going on that road trip with friends in your car, by train, or by bus. If you opt for the bus, usually the lowest bus prices in Germany are from Flixbus (a bus company that makes tourist life easier). To be sure, you can use a bus fare search engine like Omio, Busradar, CheckMyBus that will show you the cheapest fares to reach Munich!
II. How to find the best and cheapest accommodation in Munich
Now that you know how to get to Munich, you have to find the best accommodation to fit your needs. Make sure to plan this in time, as hotels are full of tourists, especially in September. The good news is that Munich has plenty of options from which you can choose. Airbnb, Hostelworld, or Booking.com are some platforms that can help you find the best fit for you!
PRO TIP: Hostelworld is a platform where you can find all the available hostels for your stay in every city. It is our favorite go-to when we travel, and we would recommend choosing a hostel for two reasons. Firstly, the prices range from 14 to 40 euros, but it certainly depends on what kind of accommodation you prefer (dorm room with 8 people/ 6 people/ 4 people). There is also the private room option if that is more your jam. Secondly, the vibe of hostels is amazing! It is filled with international, mixed, colorful, adventurous new people to meet, get to know, and maybe even try your first city exploration game together!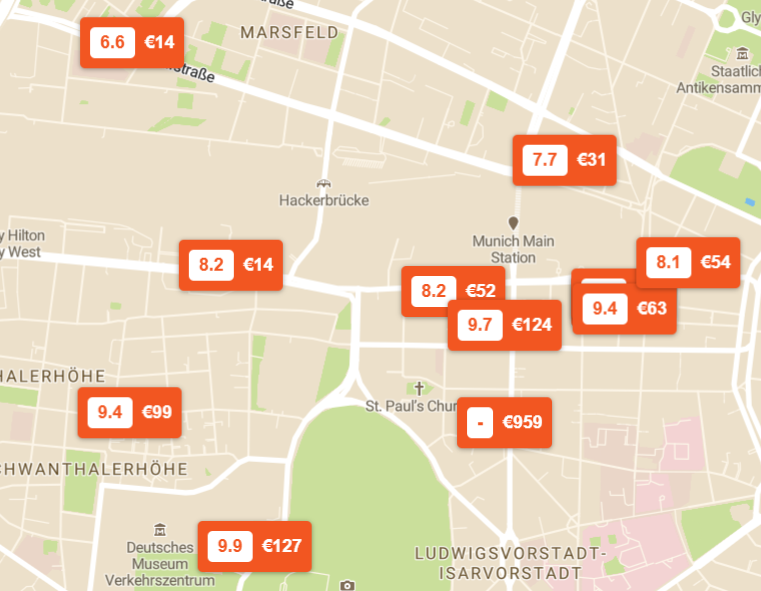 In case you want to have a more German experience, we recommend opting for a private room in an apartment on Airbnb. The rates start at 28 euros/night, with an average nightly price of 106 euros. Like this, you will get the most budget-friendly accommodation option and meet new people to spend your time within Munich. Be a social butterfly and enjoy the multicultural experience this type of accommodation can give you. Who knows, your hosts might even give you some local tips or share great stories while showing you around the city.
Just in case you come with friends or with your partner, and you want a bit more privacy, you can always book an entire apartment on Booking or Airbnb. Prices can vary from 39 euros for a homey apartment to up to 1,712 euros for a penthouse with a million-dollar view from a roof-top terrace. Don't be anxious! The night average is 178 euros, and with so many possibilities, you will find something that fits your traveling budget.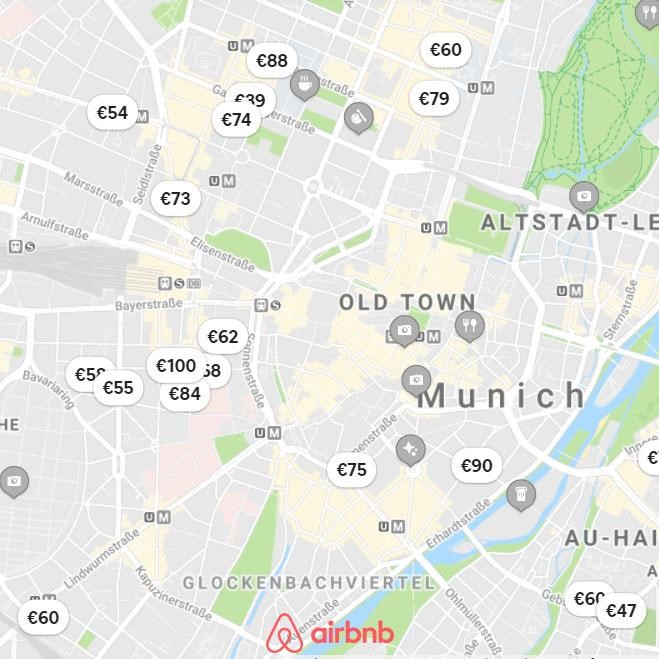 However, if you want to feel like a queen or king and have the benefit of room service, a breakfast buffet, or maybe you want to have a spa or a gym at your disposal, then a hotel is a perfect choice for you. Here the prices can vary from as low as 38 euros up to 758 euros/night, depending on the location and the facilities available.
Location, location, location - it really does matter! To find the best neighborhood for your stay in Munich, we highlighted the parts of Munich that can bring the most to your travel! Altstadt is the historical center, home to many medieval gems for you to discover. If you want to be close to the museums, then the university district Maxvorstadt is where you want to be! On the more alternative end, you can try Glockenbachviertel, the LGBTQ+ friendly neighborhood by the Isar river, or the industrial Westend if you want to be close to many cafes and unique bars.
How can you find the best location for you? It is crucial to really know what you want to do on your trip. Maybe you want to be close to nature or in the district with the best bars and nightclubs. Whatever it is, write on Google Maps: "bars Munich" "Munich landmarks" or "Munich museums", and it will give you all the bars or museums from Munich. Let's give an example. For instance, if you are a tourist that wants to visit the museums of Munich. In that case, after your search, you will have a map with all these locations. Now you can easily choose the best area for your accommodation within walking distance from whatever you are here to see.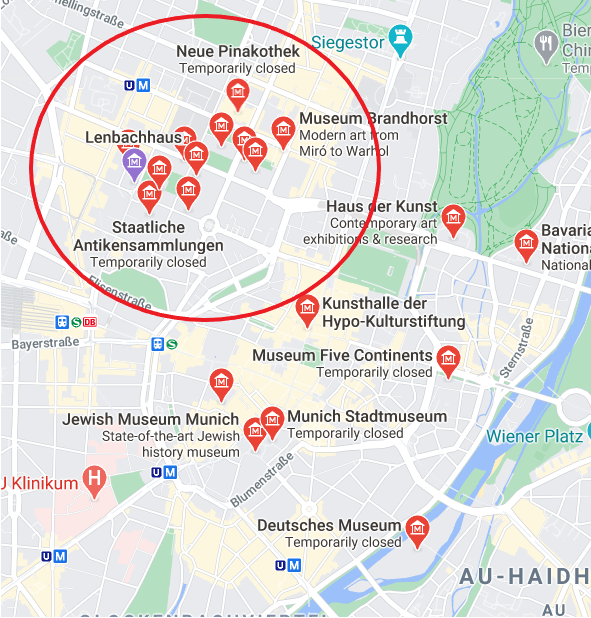 All this talks about parts of the city, but you might be wondering if it is safe for you in Munich. Well, according to Numbeo's Crime Index 2021, this city is the 8th safest city in the world and the safest in Germany. As there are no "no go areas", you can enjoy your vacation all over the city, night and day! Just be careful not to leave your bag or rucksack unattended, you know, the ground rules of traveling!
After this short presentation, we hope you have a better idea of finding the best option for your traveling style!
III. Budget for a trip to Munich
We love traveling! For every trip to be satisfactory, a bit of research is necessary to know how much money you need to finance your pleasures. Everyone has a different traveling style, some love just walking in the city, some want to go to the best concert in town or see all the art museums. Whatever your preferences are, we estimated a budget for a 2-day trip to Munich. This budget covers pretty much all: plane tickets, food (2meals/day), entertainment, transportation, and accommodation.
When we talk about flying cheaply, we selected the average prices for a return flight from the main European cities to Munich, and the results were from 50 to 180 euros. A pro traveler's insight: check out the prices on low-cost airlines like EasyJet, to get cheap and safe options for the trip.
For transportation, from Munich International Airport, you can take the S-Bahn (rapid train) every 20 minutes to the Hauptbahnhof (Munich Central Station). The Airport-City-Day-Ticket is 13 euros, and you have free access to transportation until the next day at 6 AM. The airport is in Zone 5 of Munich, so there is also the possibility of getting a single ticket for zone M-5.
Regarding accommodation costs, we calculated the average nightly price for two guests booking a private apartment. That price can definitely change depending on your preferences and your price range! For food, we calculated 2 meals/day. Now, Munich has plenty of restaurants with dishes from 8 to even 25 euros. It really depends if you want to fine dine or not, of course! The average is around 10 euros per dish in the city center, but you can also find cheaper alternatives like falafel, street food or different snacks. When it comes to beers, the average is 6 euros per 0.5 l, but most beer gardens sell 1L mugs.
Food, traveling, a bed to sleep, alright, but what to do once there? We have highlighted a few of the most iconic attractions in Munich and researched how much money you should have planned for them. They are as it follows:
Marienplatz – FREE
Deutsches Museum Munich - 14 euros, reduced for students at 4.5 euros
Breweries and Bars of Munich Quest – 14.99 euros
Frauenkirche – FREE
Odeonsplatz – FREE
BMW Munich Museum – the tour is 13.00 EUR / discounted 10.00 EUR
Residenz Museum Munich – 9 euros / 8 euros reduced
Olympiapark – the park is FREE, but 9 euros to go up the Olympic Tower
Nymphenburg Palace Munich– the full ticket is 15 euros / 13 euros reduced
Siegestor - FREE
Legoland Munich - Tickets are 42 euros/person.
A possible needed budget could be anywhere from 134 to 525 euros! As you can see, it will very much vary depending on who you are and on how you are traveling. We hope you will find the best way for you and that you keep the costs to a minimum (so you can have something extra for souvenirs!).
Plane Tickets

to Munich and return flight- Average

50 – 180 euros/person

Transportation:

Airport-City-Day-Ticket x2

(arrival & departure)




26 euros

Accommodation

Considering an average apartment for 2 people x 1 night

38-179 euros

Food

Average price for 2 meals/day x 2 days

20 – 60 euros

Entertainment

Depending on the tourist attractions you decide to visit

0-80 euros

Total Cost of a 2-day trip for one person

134-525 euros
IV. What and where to eat in Munich
We know that traveling for some must include some tasty culinary experiences. Having that in mind, we prepared a list of the top 3 Bavarian dishes you have to try on your trip to Munich! To get on your good side, we started with the sweets!
Prinzregententorte –

this traditional Bavarian cake has eight layers of thin biscuit with delicious chocolate buttercream in-between. On top, there is a fruity layer of apricot jam and generous chocolate icing. Sounds good, right? Prinzregententorte has a historical meaning, each layer traditionally symbolizing one of the governmental districts of Bavaria.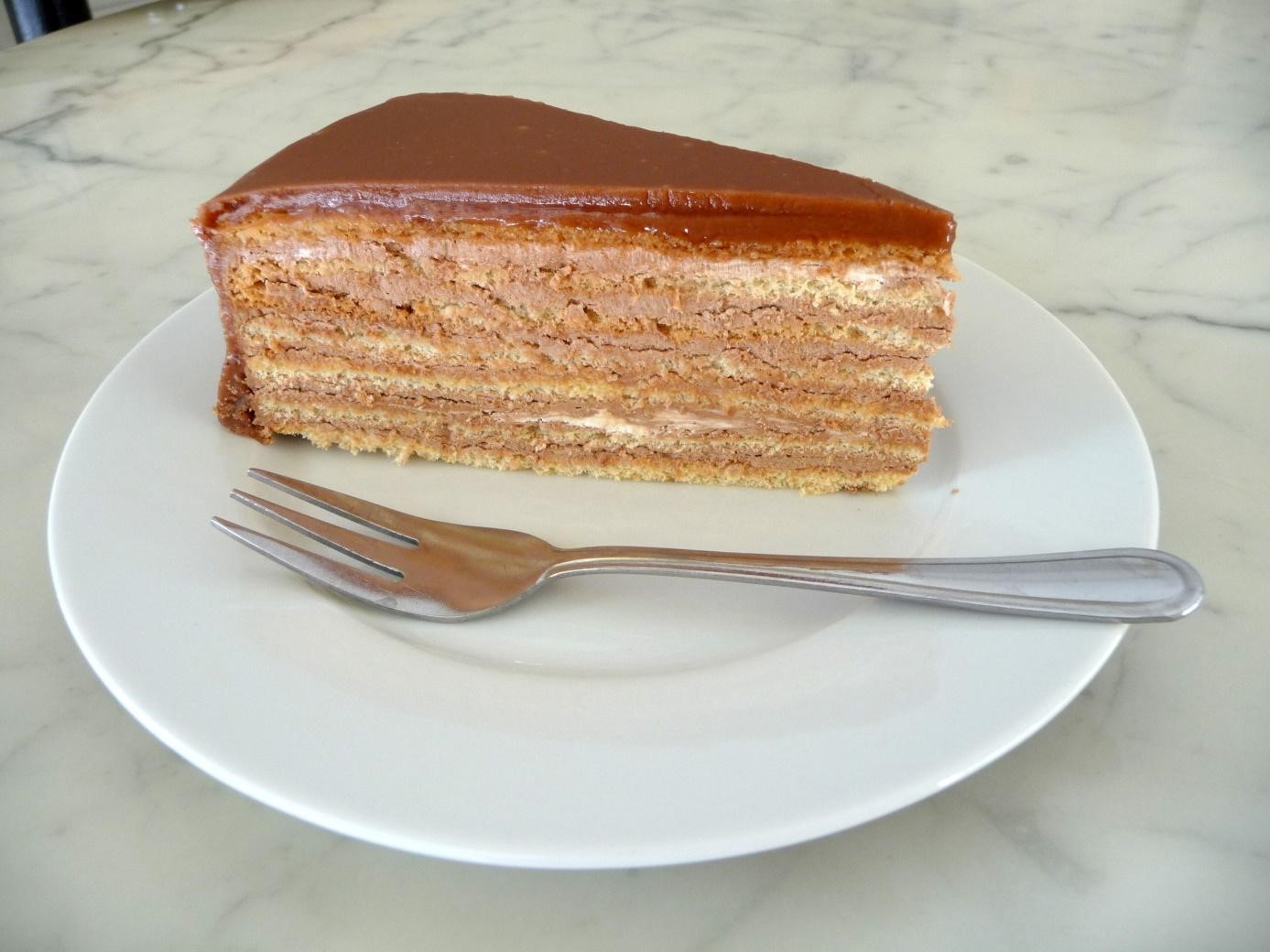 Kartoffelpufer –

whether sweet or savory, with applesauce, Sauerkraut, or spinach, this German dish is mouth-watering. Are you a fan of french fries? Well, Germans love potatoes, too! They have a variety of specialties with it, but we think that these potato pancakes, Reibekuchen or Reiberdatschi - no matter what you call them, we are sure they'll be your number one dish for your visit to Munich.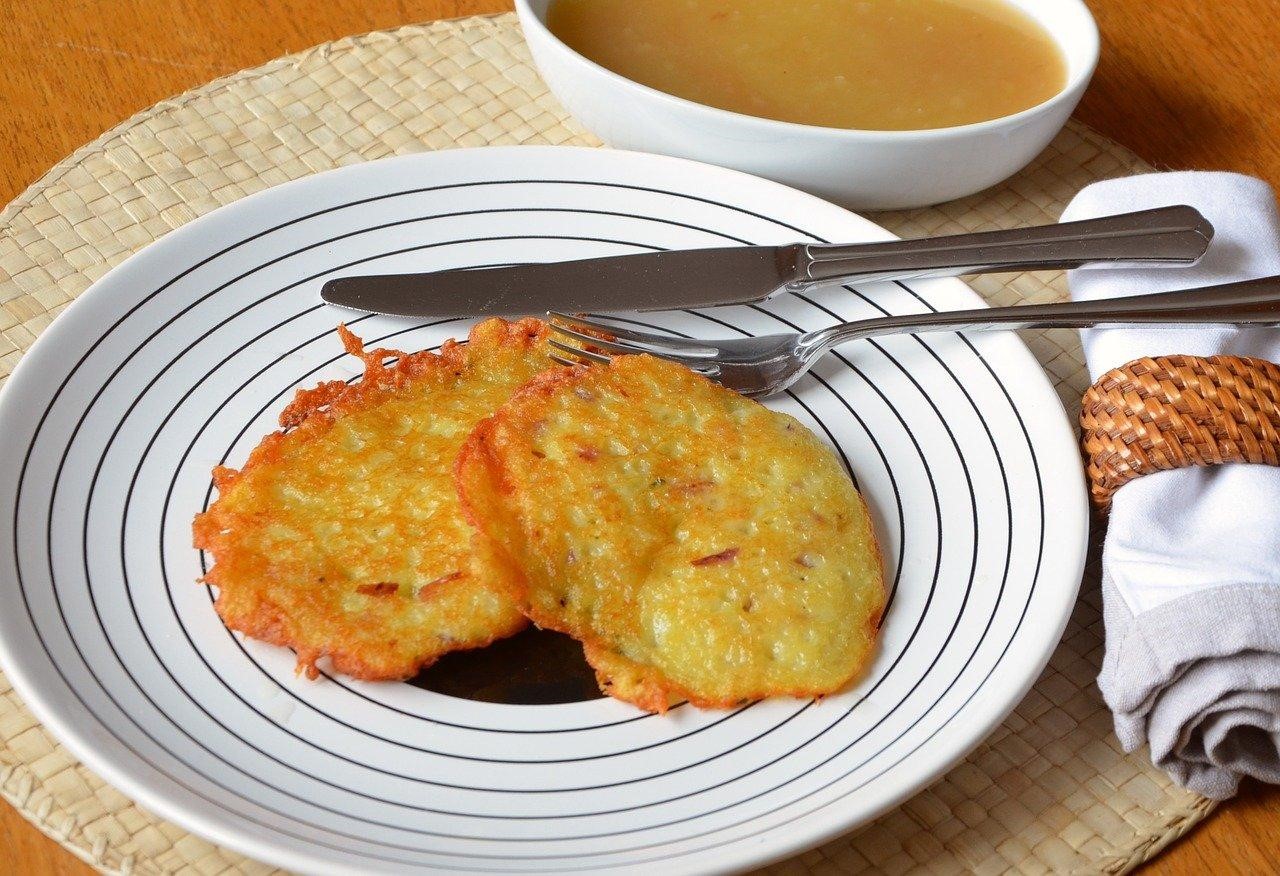 Obazda -

this dish will satisfy any cheese lover. Obazda is a cheese dish that consists mainly of ripe Camembert (min. 50%), butter, and spices and is usually served with the traditional Brezel. Also known under the name of Obatzter, it is a delicacy that is indispensable in Bavarian cuisine. Keep an eye out for it on the menus in the beer gardens. Remember, this is the only region in the world where you can find "the real deal"!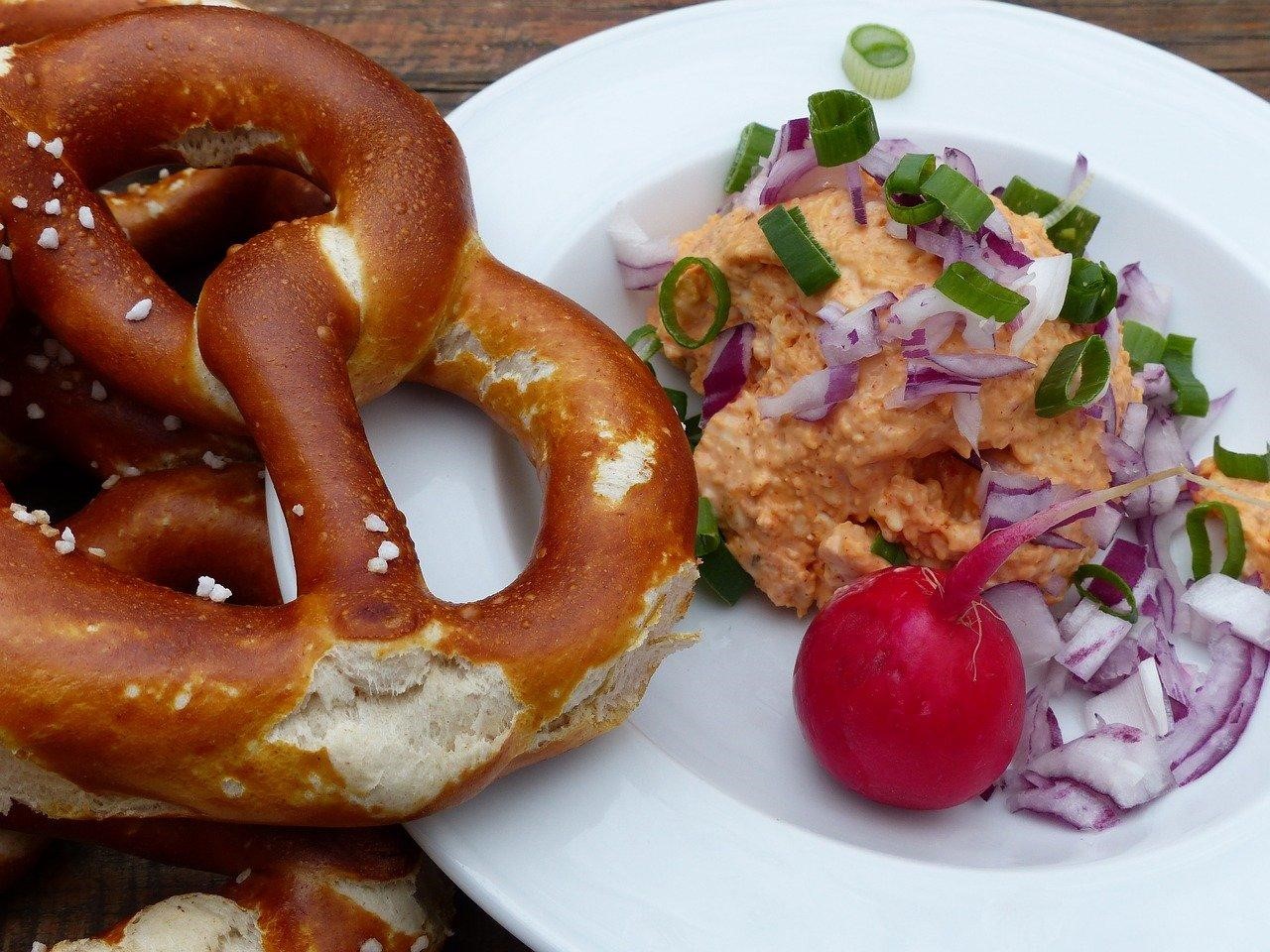 All this talk about this delicious food, but where to find it? Going to a new city can be definitely challenging, especially when it comes to choosing a place to eat. There are just so many good options! So which one to pick? To help you out, we highlighted the most promising restaurants in Munich, regardless if you only want a good steak or a whole culinary experience.
Chopan Schwabing

– With the highest rating on Tripadvisor, the #1 restaurant in Munich is the hottest place in town if you are a fan of Middle Eastern cuisine. Do you want a flavorful experience? May it be lamb, chicken, fish, or vegetarian options, prepare to be blown away by the Afghani cuisine and excellent service!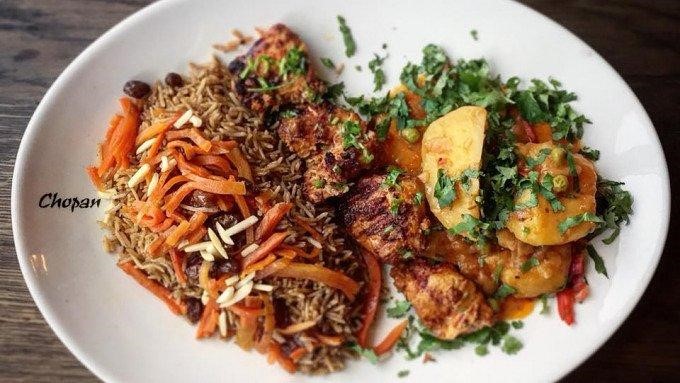 ©https://muenchen.mitvergnuegen.com/2018/orientalische-restaurants-muenchen/
Little London Bar & Grill

– If you are a meat-lover and want to try juicy lamb chops, crispy duck breast, or T-bone steaks, this is the place for you. It ranks as the second fine-dining restaurant in Germany by Tripadvisor's Traveler's Choice Best of the Best awards. Even the Michelin Guide gave it

The MICHELIN Plate: Good cooking

award. Have we piqued your interest?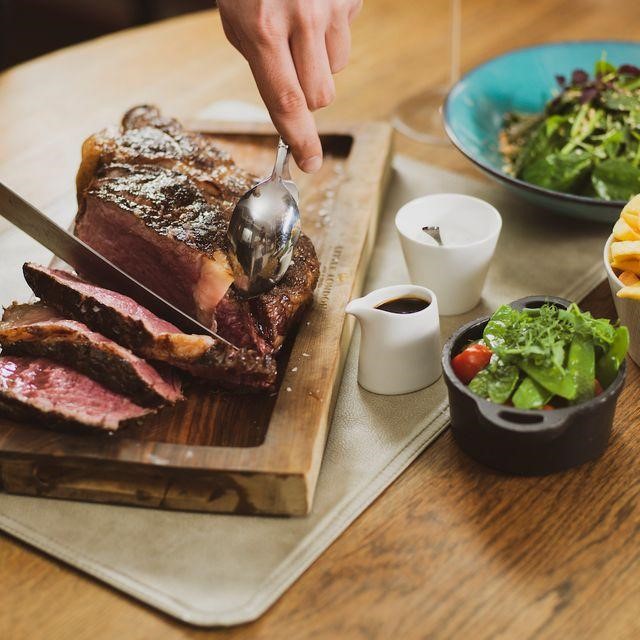 DinnerHopping

– This is for sure something unique and, we think, a true culinary experience. This restaurant is always on the go! It is called the Bus-Bar Company, and for good reason…. the restaurant is a moving BUS! You will be satisfied no matter what you might try - BBQ, burgers, Bavarian or Italian cuisine, meat, vegetarian or vegan. With regular concerts, magic shows, and breaks for sightseeing in between courses, we expect this choice to fully satisfy every hungry tourist!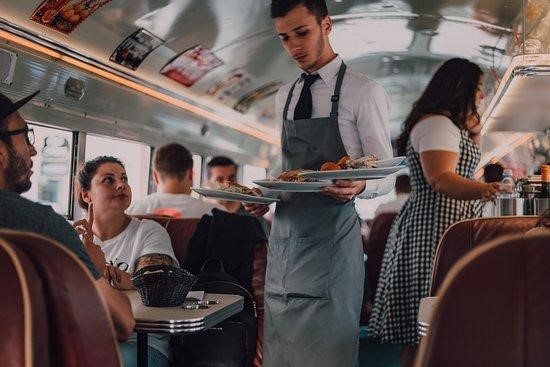 V.
Transportation
Like many other German cities, the transport system consists of trams, buses, U-Bahn, and S-Bahn. The good part is that one ticket is enough for all of them, so there is no need for specific ones for each means of transportation. This information might come in handy when you arrive there and do not know which is the right ticket for your stay. Just one more tip: always validate your ticket! The fact that there isn't anyone to check it before you enter the station is just because the residents of Munich are just very honest people!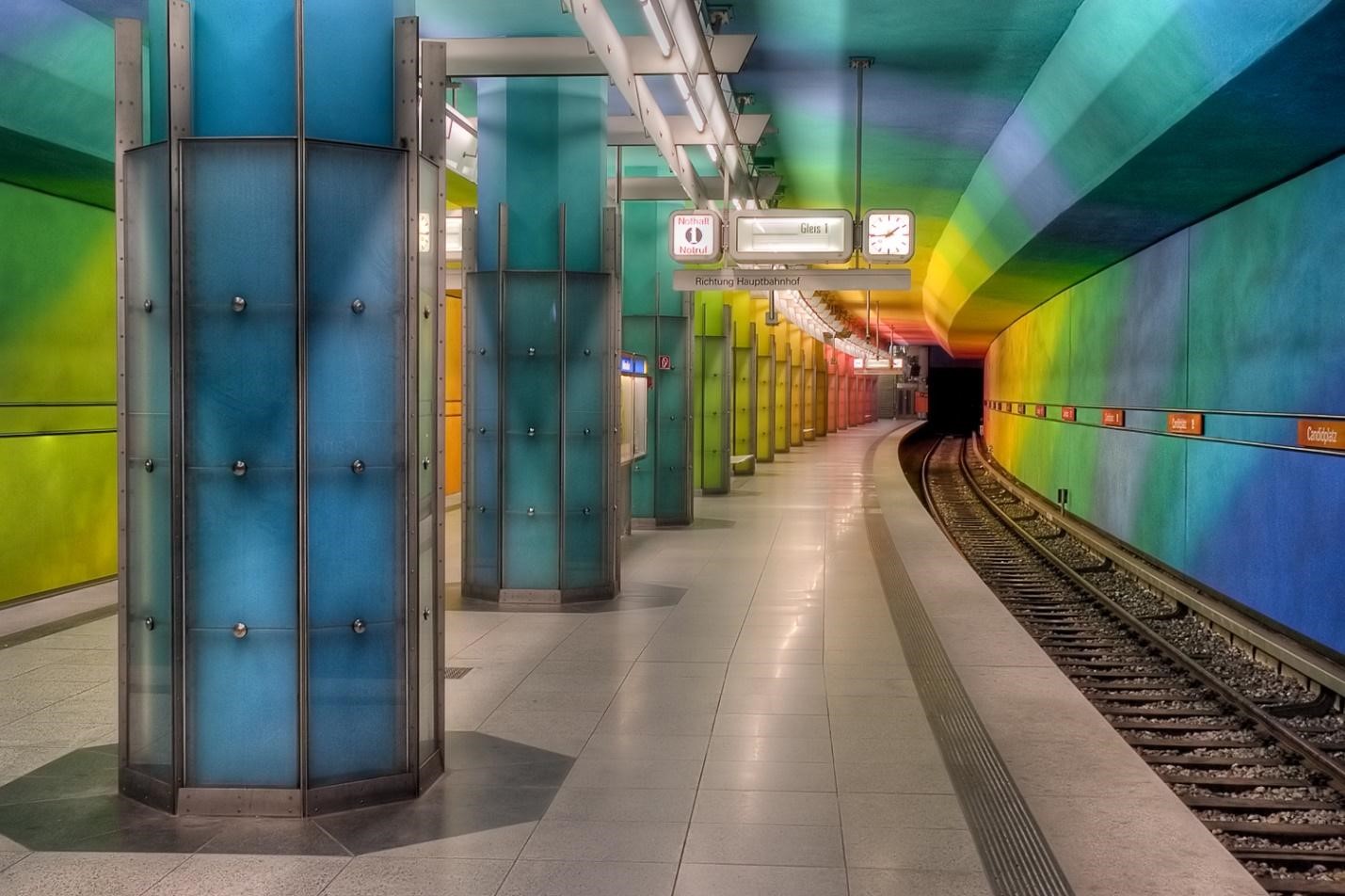 What is the difference between U-Bahn and S-Bahn? Well, U-Bahn is UNDERground, so it is the metro of the city. The S-Bahn is a rapid train in the metropolitan area of Munich, one line going even to the Starnbergsee, a beautiful lake to enjoy the sunset. If you come from the airport, you will take the S1 or the S8 (look for the white and green "S" logo) to arrive at Munich Central Station or other places on the way according to your accommodation.
Don't forget to use apps like Google Maps, Moovit, or even the city's public transportation app, MVG Fahrinfo, where you can also purchase your ticket. But don't worry, that is not the only way of obtaining it, you can get it from the ticket machines in each station. When it comes to choosing the best ticket for you, be aware that Munich is divided into tariff zones: M (city area) and Zones 1-6 for the metropolitan area. A single-day ticket in the M zone is 7,90 euros, but if you plan to stay longer than two days, the weekly pass will be your best friend, with only 17,80 euros for the M zone. You can thank us later for this tip. ;)
Besides taking the metro, locals love biking or taking the electric scooter to move fast in the city. Munich is great for biking, with not only bike lanes, but also bike STREETS! Everywhere in the city, you will find places with bikes for you to rent or even abandoned electric scooters on the sidewalk. Just hop on and get to your next museum before it closes! Some bike-sharing providers are Call a Bike and MVG Rad, with prices from 0.08 – 0.10 euro/minute with a daily maximum of 9 - 12 euros. If you are in a hurry and you're about to miss that dinner reservation, then an electric scooter, like Lime, Bird, or Tier will be your best chance. With a 1 euro unlocking fee and 15-25 cents/minute, you can get in time to order!
OK! There you have it, the short version of how to get around Munich without paying too much or getting lost. But if your battery dies or you don't have a physical map of the city, it is not the end of the world! People here are helpful if you dare to ask them for help! Just in case it is Sunday, and all the locals are in their homes, and you don't see many people around to guide you to the metro station (this can happen sometimes), keep walking until you see any transportation station where you will find a map there to help you!
VI. Best time to visit Munich
Close to the Alps, Munich has a continental climate. If you don't remember from school, continental means the summers are warm and pleasant but not too hot (weather average: 18°C), the winters tend to be cold with snow (weather average: 0.5°C) and the spring and autumn are pleasant, sometimes rainy (weather average: 9°C). Having this in mind, the best months to visit Munich would be from May to September because that is when you can actually enjoy walking in the city and going for a picnic in Olympia Park.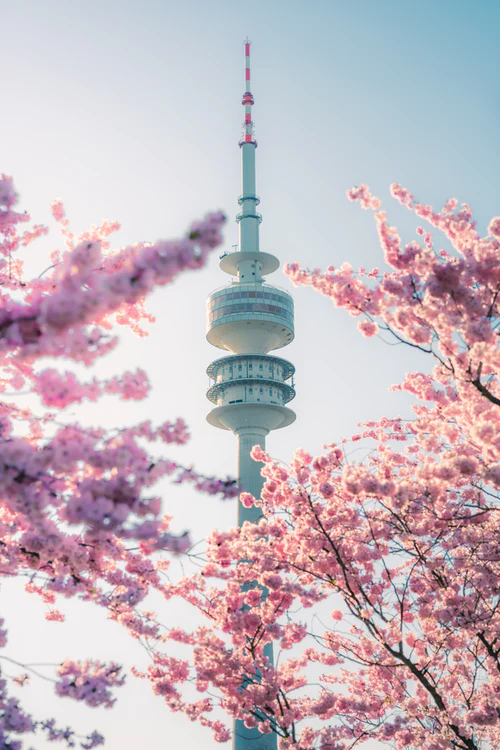 ©https://unsplash.com/photos/HS-lh2-aKcE
But maybe the weather is not especially your central concern, and you would like to know what to do in Munich during the year. Well, if you choose winter, there are plenty of things to do in Munich in December like the Tollwood Winter Festival where you can enjoy a lot of music and cabaret nights. Besides that, you will experience the traditional Munich Christkindlmarkt (Christmas market), where you can try one of the culinary delicacies available (berry mulled wine, baked apples) or go shopping for some traditional Bavarian handmade items. However, if you enjoy carnivals, Fasching is Munich's biggest open-air party during February. Get your holiday costume on and join the festivities!
If spring is your favorite season to travel, during March and April you can have a blast! Train yourself at Munich Strong Beer Festival, enjoy the beautiful Auer Dult fair or dance and sing at Die Lange Nacht der Musik, a 24 h music festival with over 100 venues and 400 concerts with everyone's favorite music genre. As there are a lot of free things to do in Munich, in May you can party with all the city at Munich's Streetlife Festival. For a few days, the city's most important streets close down so that everyone can have the time of their life! If you like beer, music, plus a great time, spring is the moment the city is coming back to life!

©https://cdn.muenchen-p.de/.imaging/stk/responsive/image980/dms/va-2018/lange-nacht-der-musik0/teaser/lange-nacht-der-musik-hp-01/document/lange-nacht-der-musik-hp-01.jpg
Summer is the moment with plenty of activities in Munich, being the highlight of the year when all the opera lovers enjoy the free open-air concerts in July. Also, the Tollwood Summer Festival casts a spell over Olympia Park where, for a month, there are free concerts and a very hippie vibe! Some of the artists performing there are Tom Odell, Beth Hart, Sting, Patti Smith & Band, and many others. If you prefer house, techno or electro music, Munich has something for you too! The Isle of Summer, a 24 h open-air concert to make your trip even better! For film enthusiasts, the perfect moment to enjoy World Cinema and German movies will be at the biggest summer film festival in Germany, Filmfest München.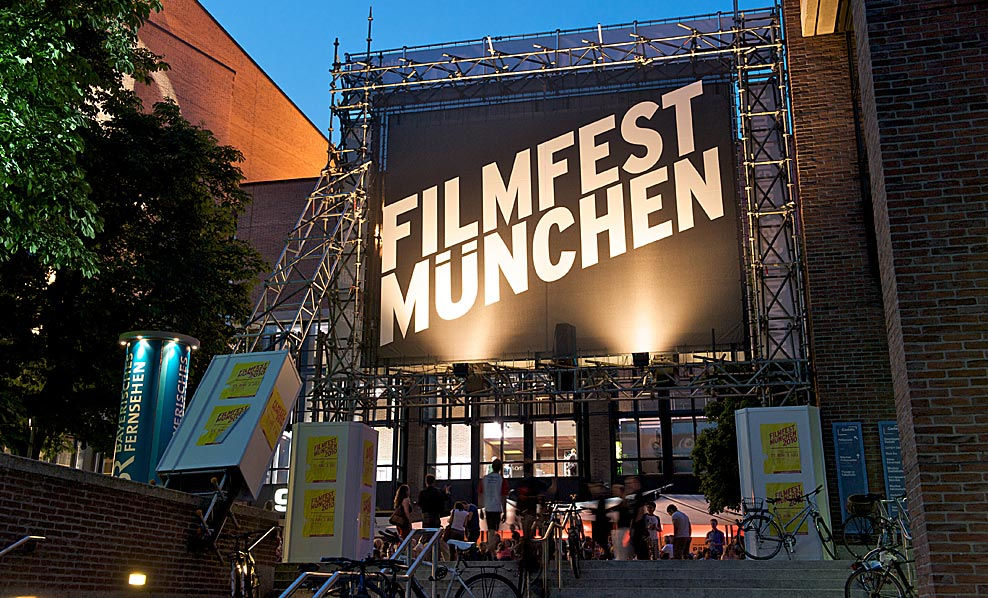 ©https://www.bavaria.by/experiences/film-set/filmfestivals-events/filmfest-muenchen/
The rainy season comes to Munich with even more joy! In the last two weeks of September, people from all over the world come to Munich to participate and have fun at the largest Volksfest in the world, Oktoberfest! That is the perfect scenario to see people in Trachten (traditional costumes), such as Lederhosen and Dirndl. But no matter when you will come, keep an eye out for these costumes. Bavarians love wearing them at any festival or on Sundays! If, on the other hand, you are a sporty person and you love jogging and running a 5K or 10K in your free time, Munich Marathon comes right after Oktoberfest so that you get back in shape after all that beer and Weisswurst!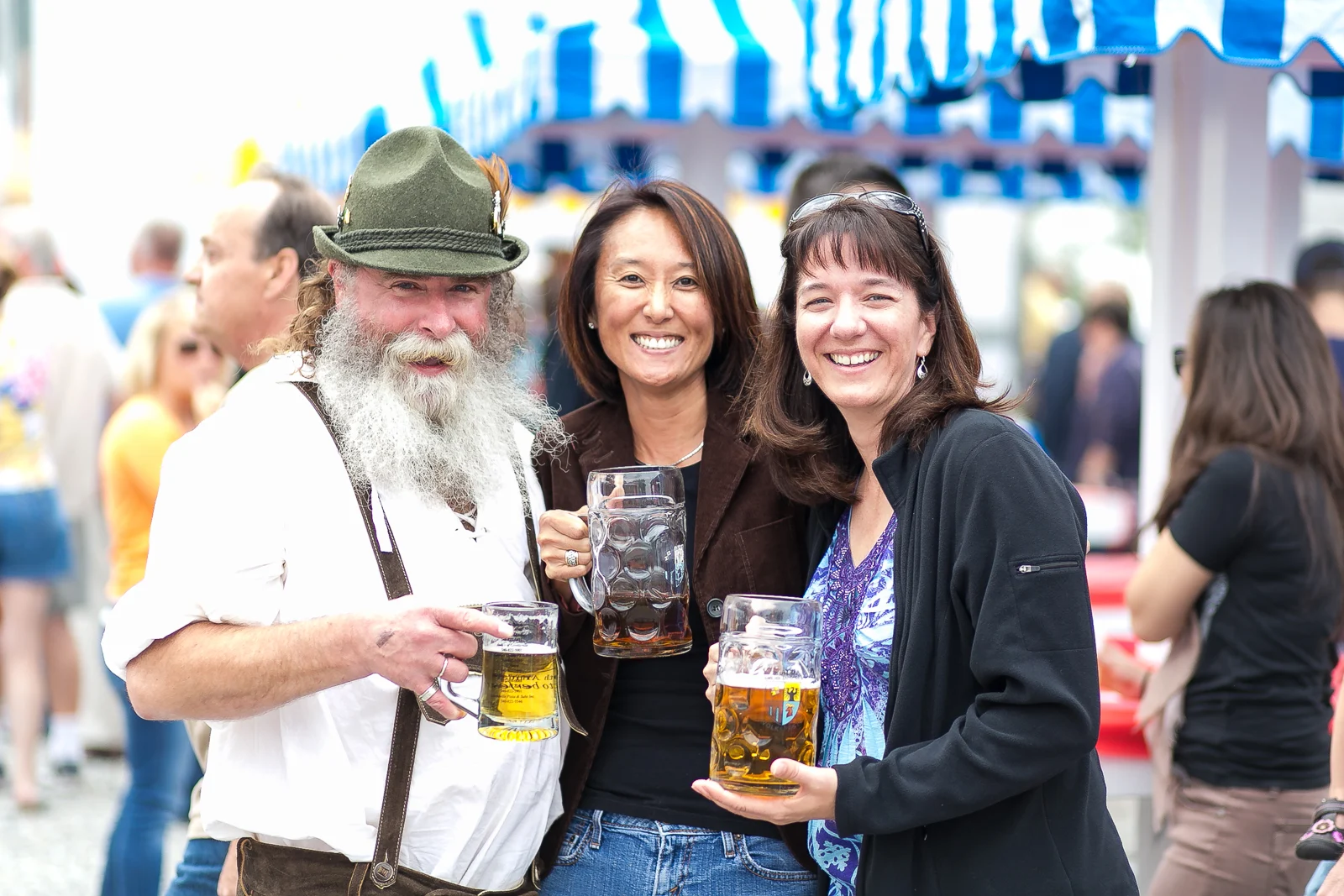 Our personal favorite month to visit Munich is July because that is when the city is the most alive culturally. Opera, techno, rock-n-roll, films and fairs, the perfect opportunity to experience Munich with all it has to offer! A strong second place would be September, as this is when many small fairs and Oktoberfest take place. If you do choose to come during Oktoberfest, be aware that you need to plan a little ahead as accommodation tends to be a bit pricier. Last but not least, May comes in the top 3 months to visit Munich. This month is perfect to travel, as there are not so many tourists around and you can take in the fresh spring air. Participate in fairs, party on the streets at Streetlife Festival or catch one of the world's best documentaries at DOK.fest.
We hope our tips and insights gave you some direction in helping you decide when is the best time for your travel. According to when your free time is and what your priorities are when you come to Munich, we assure you are going to have a great time, as the locals here party all year round!
VII. The main Munich attractions
Munich is a city that offers much more than you can wrap up in a weekend escapade. From parks to palaces, museums to street art, every square, and building tells a different story. Nonetheless, we prepared a list of the best places to visit in Munich:
Hofbräuhaus

– may be the most famous beer hall in the world, so well-known that Mozart and even Lenin had a beer here! It dates all the way back to the 16th century, and it was initially the royal alehouse of King Ludwig I until he decided to give access to the public as well. Good choice, Ludwig! Now all the world enjoys the Bavarian beer culture and cuisine in a large hall accompanied by brass bands and waiters in traditional clothes! Indeed, a true Bavarian experience even outside of The Munich Beer Festival.





Ticket price: FREE, but 1L of beer is 9.20 euros

Where to book a table: you cannot book a table, just go there and find a table! Be careful- weekends can be extra full!




Marienplatz –

any

Munich tourist

usually goes to see the New City Hall in Marienplatz. And for a good reason! This neo-gothic building is absolutely breathtaking! Apart from the beautiful architecture, daily at 11 A.M, 12 P.M, and 5 P.M (summer months), everyone comes around the Glockenspiel. With its 43 bells, the carillon in the central tower of the New City Hall is one of the largest in Europe. Thirty two figures show scenes from the city's history on several levels. We advise coming a little before the show starts, in the summer it tends to be rather crowded. This is also the starting point for one of our Quests -

Breweries and Bars of Mun

Ticket price: FREE




Deutsches Museum - It is the largest science and technology museum in the world. Here, for example, you test the accuracy of sundials, understand outer space, and learn about many other achievements of technology and science, from nanotechnology to mining, from electrical engineering to anatomy and even musical instruments. The admission ticket is 14 euros or 4.5 euros for students. Please keep in mind that this museum is HUGE, so please plan what galleries you want to see, because it is rather hard to do all eight levels in one visit!



Ticket price: 14 € or 4.5 € reduced

Where to buy: available online, booking is currently necessary: https://www.deutsches-museum.de/en/information/online-tickets/






Allianz Arena – We couldn't let this one out! Munich is home to the legendary FC Bayern München, the best German football team and one of the most valuable worldwide (Borussia Dortmund fans might disagree). The Allianz Arena is a beautiful football stadium to see or visit. During a guided tour, you can walk around the locker rooms and learn more about the building's unique design (200.000 LED lamps illuminate the stadium during the night!). While you are there, you can also visit the FC Bayern Museum, go to the box and the benches, or even try to score some goals on the field and feel like your favorite player! You can get a Combi Ticket for 19 euros that includes touring the Arena and the museum. Separate tickets can also be purchased. And who knows? Maybe you are lucky, and you can stay as well for a match afterward! Ticket price: 19 €

Where to buy: available online, booking is necessary:

https://allianz-arena.com/en/tours-and-fc-bayern-museum/arena-tours/combi-tour

Frauenkirche

– A stone throw away from Marienplatz is another known landmark of the city! It's so loved by the locals that they voted to not build any new building higher than it. This cathedral has been in Munich's city center since the 15th century, and unlike other Gothic churches, this one is somewhat modest. Tourists can go up in the south tower to have a panoramic view of the city. When you enter the church, look for "the devil's footprint" you will understand when you see why they call it like that.



Ticket price: FREE





Englisher Garten – Central Park is the biggest park, right? Wrong! Munich is the home of the largest inner-city park in the world! It is a green paradise, especially during the summer. Locals come here to do sports, enjoy the sun, have a picnic, or grab a beer at Chinesischer Turm, the second-biggest beer garden in Munich. But there is just so much more to do in this immense oasis. The north of the park offers a woodsier feeling, and in the south, you can find the Eisbachwelle, one of the best spots in the world for river surfing! You can even find Tao Schirrmacher there, three times European surfing champion! So don't be surprised if you happen to see people in the metro or on bikes with surfing boards all year round. The fun goes on no matter the weather!

Ticket price: FREE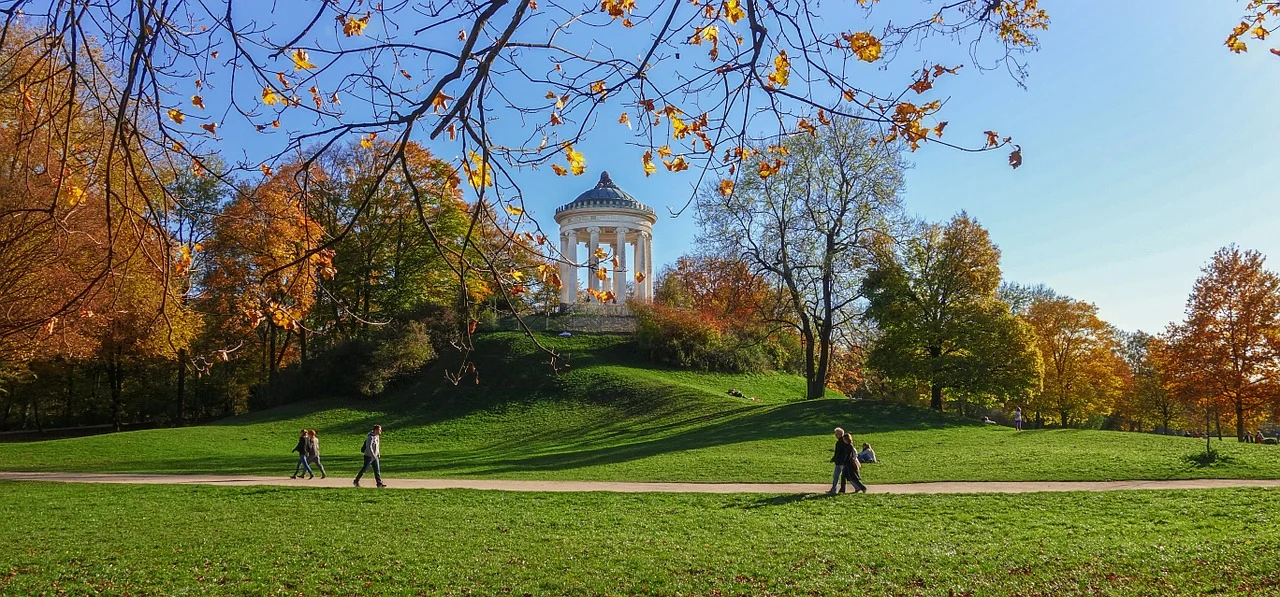 These are just some of the main Munich tourist attractions that should be on your checklist when you come here. We hope we got you more curious about what else you can find in this surprising metropolis and that you will enjoy the relaxed pace of Munich!
Conclusion
The city of beer, Weisswurst, art, and technology has something for every type of traveler, no matter if you travel alone, with family or friends. Art galleries, open-air concerts, film festivals, or sports events, Munich has them all! Now that you know how to get there, around how much money to have, use Questo to dig deeper into the city vibe and to see what Munich has to offer.
Download the app :


Written by Maria Muresan