Everything you need to know before your 2021 trip to Dublin
Posted on Jun 16, 2021 by Questo Team
Welcome to Questo's guide to Dublin, filled with anything else but gibberish. Questo is an urban entertainment platform that brings a new way of having fun to tourists and locals, by exploring over 100 cities by following clues and solving challenges inside our mobile app.
Dublin, Ireland's largest city, was founded on an ancient Viking settlement. The attractions are close to each other, and it takes approximately 15 minutes to get from one to the other. That's why Dublin is the perfect city break if you want to visit it on foot. Moreover, Ireland's capital is a major cultural center as many remarkable writers were born and lived there. Jonathan Swift, James Joyce, and Samuel Beckett are a few of the many others who have revolutionized literature and received the Nobel Prize in this field.
Grab your suitcase and get ready to explore Dublin- the gorgeous city located on the banks of the River Liffey, where the medieval and modern perfectly blend. Before starting your Irish adventure, you need to sort some things out. We want to make it easier for you, so we'll give some pieces of advice regarding budget-friendly flights, accommodation, transportation to the main attractions of the city along with much other handy information.
Remember to pack a raincoat and a pair of hiking boots because Dublin is surrounded by mountain trails and you don't want to skip admiring the city from the height. It has a lot of public parks due to the fact it is a green city, so you will be able to have a walk at any time you want regardless of the location of your accommodation. There is much more to discover about the vibrant city on the coast, but this will only happen after you get there and start your unique experience!
How to find the best prices for plane tickets to Dublin
One of the first steps, when you start planning your trip, is to search and buy the best- priced tickets. It is no surprise that you will find uncountable options for flights that lead to Dublin, but we are here to ease your work by offering you some suggestions when using search engines!
Ryanair (https://www.ryanair.com/ro/ro) is the largest airline group in Europe and your help in finding the most suited flight for your trip to Dublin. All you need to do is input the country from where you want to take your flight, the location, and the period when you would like your holiday to happen. The search engine will immediately provide you the cheapest alternative for a two-way flight that sometimes can be even lower than 10 euro for one trip. If this was not already good enough, the money saved from the ticket plan increases your budget for Guinness, Dublin's traditional drink.
Another tip is to book early as the price for plane tickets usually increases within three weeks from the departure date. Kayak (https://www.kayak.com/) or Google Flights are searching engines that analyze the previous prices to anticipate when the prices will decrease, increase or remain static. They may not always be right but it is worth taking a glance over them for an overview of the airline offers.
Don't forget to search for individual tickets even when you travel together with your beloved one, friends or family. When you look for group tickets, airplanes will always provide you the highest price, so you may end up paying much more than you normally do for single plane tickets.
Tricks and tips to remember in your search for tickets:
A flight purchased in advance may have a fare two or even three times lower than one purchased 14 days before departure.

Subscribe to as many newsletters as possible to find out immediately when a new offer with cheap flights appears.

Use combinations of airplanes or airplanes and ground transportation to save money.

Use

Fly4free

and

SecretFlying

because they announce all kinds of offers and price errors worldwide.
How to find the best and cheapest accommodation in Dublin
Next step after you ensure your flight is to find a place to call home during your trip for you and your partner, friends or family. Our advice is to book it in advance as well, because no one wants to face unpleasant surprises on their holiday. Dublin might be a small city, but there is good news about this: you will get to one part of Ireland's capital in a blink of an eye, so you don't need to worry that your accommodation will be far away from the attractions you plan to visit.
The most important thing is to take a few minutes and think exactly about what kind of experience you want to have on your holiday. According to your needs, you can enter the area you are interested in through the search bar of Booking or Airbnb, and based on the budget you have decided on spending on this trip, you can book a room, an apartment or a place in a hostel in the area you emphasize the most.
If it is your first time visiting Dublin, the city center is the best location for you. The prices may be spiced at some hotels but the average price for this location is around 110 euro. On the other hand, if you are on a budget and still want to stay in the center of the city, you can secure a place in a mixed room of 8 persons for 39 euro/night. Of course, this option applies to if you don't mind sharing a place with strangers who may become your travel buddies.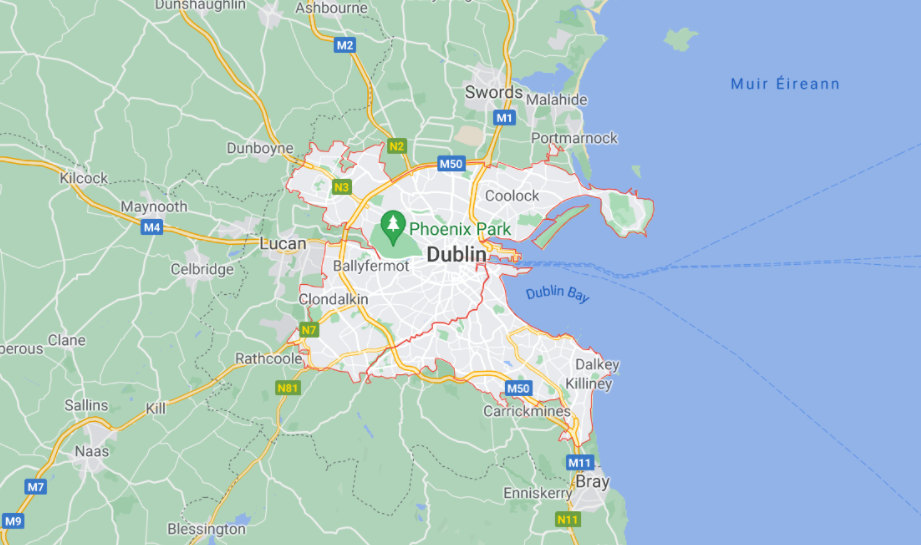 ©https://www.google.com/maps/place/Dublin,+Irlanda/@53.3239919,-6.5258808,10z/data=!3m1!4b1!4m5!3m4!1s0x48670e80ea27ac2f:0xa00c7a9973171a0!8m2!3d53.3498053!4d-6.2603097
You should take into consideration a place in Temple Bar if you look for an accommodation perfectly positioned for living the most of Dublin's praised nightlife and for discovering all the cultural highlights. This part of the city is one of the loudest and full of life areas you may visit during your holiday, so if you are looking for a quiet place you should try Portobello. It is true that it is one of the priciest neighborhoods but it is also a great place for families and it is only 20 minutes by foot apart from the center of the city.
Budget for Dublin
In order to help you, we've put together an estimated budget for a 2-day trip to Dublin that includes the prices for plane tickets, transportation, accommodation, food and entertainment, that is between €154-396. Our suggestion is to use this financial guide only as a starting point for planning your holiday because your needs and interests may be different from the ones presented here.
Everybody looks for the most convenient prices for plane tickets and there are several low cost airlines with flights into Dublin airport from the majority of the countries. Ryanair, an Irish owned-company, has periodic and cheap flights to Ireland. On average, a two-way ticket is around 40 euro within Europe. From the airport to the city, you can take the Airlink Express bus for 6 euro one way or 10 euro for a round trip. It runs two routes that go through Temple Bar: 747 to Heuston Station and 757 to Camden. Also, a taxi road from the airport to the city will cost you 20-30 euros.
As there are only 10 km (6 miles) from the airport to the city center and due to the fact that Dublin is quite a small town, you can book a room in any part of the city and explore the rest of it on foot. On average, the price for one person for a hotel room is 53 euro and for a place at a hostel is 24 euro.
Doubtless, restaurants and pubs in Dublin have pretty high prices but cheaper alternatives can be found. If you want to save money on food, look for accommodation with breakfast included or try not to have all your three meals out. Depending on your spending habits, the meal prices can vary, but generally a single meal is around 15 euro. Obviously, the fast food prices or street food prices will always be lower than the price of food in sit-down restaurants. Beside this, breakfast prices are somehow cheaper than the ones for lunch or dinner.
Don't you dare to think that we forgot to tell you about the costs for visiting the attraction of Dublin! Definitely, how much you will spend depends on how many objectives you will plan to visit, but the good part is that Dublin has a lot of free attractions waiting to be admired. Glance over to this list and check the ones you find most appealing, even if this means the whole list.
National Gallery of Ireland: FREE

Kilmainham Gaol: €8

Dublin Castle: €10 for guided tour, but grounds are FREE)

St. Patrick's Cathedral: €6

Irish Whiskey Museum: €18 (includes tasting)

Guinness Storehouse: €18.50 (includes a pint of Guinness)

Old Jameson Distillery: €20

Walking tours: FREE (but the custom is to tip the guides)

Bike tour: €20+

The Irish Museum of Modern Art (IMMA): €16.50

The National Wax Museum: €21

Phoenix Park: FREE

MERRION SQUARE PARK: FREE

Chester Beatty Library: FREE
The total for visiting the attractions mentioned above: €120
Furthermore, you have the possibility to buy the Dublin Pass- a sightseeing city card that grants tourists to visit the attractions of Dublin free or discounted prices. It gives you free entry to over 30 objectives, monuments and museums, likewise as a bunch of additional discounts and dining offers.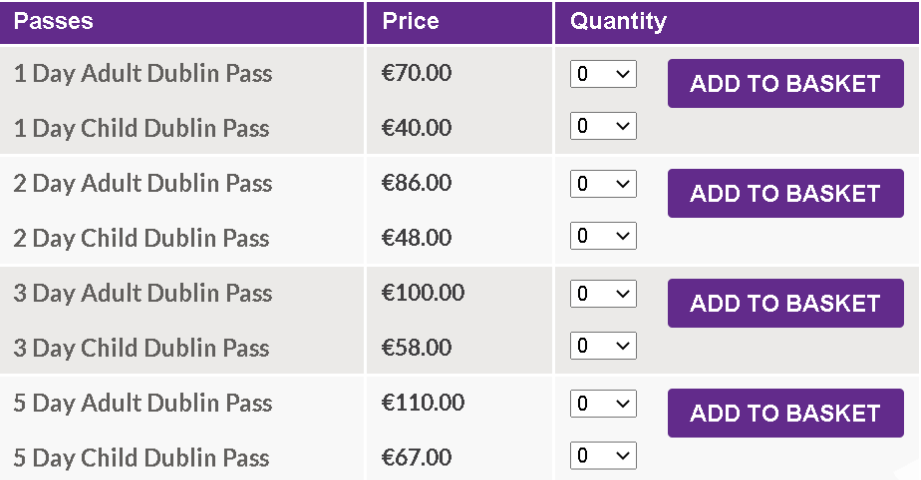 ©https://www.dublinpass.com/dublin-pass-prices.php
Buy the Dublin Pass from here: https://www.dublinpass.com/dublin-pass-prices.php
For one person, a summed up budget for a 2-day trip, looks like this:
Plane tickets

(average price for a 2-way flight)

€40

Transportation

(from the airport to the town)

€6-30

Accomodation

€48-106

Food

(2 meals for everyday)

€60-100

Entertainment

€0-120

Total cost of a 2-day trip for one person

€154-396
Where and what to eat in Dublin
Now that you are all settled with your flight and accommodation, you may be wondering, which are the most famous dishes of Irish cuisine and what are the best locations where you can try them. To make things easier for you, we drafted a list of the top 3 dishes and restaurants that you can't miss in your journey. We are warning you that there are big chances to get hungry while eye-savoring these astonishing meal ideas, especially if you are a gourmet!
Soda Bread-

is a delicious recipe that goes back many years, made of only 4 ingredients: flour, salt, bicarbonate of soda and buttermilk. You can serve it with a spread of butter and jam/marmalade or along with soups.

Every Irish family has its own recipe for preparing it, hand-written on flour-crusted note paper and passed from generation to generation.



©https://ro.pinterest.com/pin/129197083050104262/

Boxty-

when you hear for the first time the name of this traditional meal, it will hardly pass through your mind that it is a potato pancake. In fact, it's a mixture between raw potatoes and mashed potatoes baked in the oven. If you have any doubts about its authenticity, you be pleased to find out that the dish has so deep roots in the Irish history, that they have an old rhyme about it:

"

Boxty on the griddle, boxty on the pan; if you can't make boxty, you'll never get a man

."

©https://www.simplystacie.net/2015/03/traditional-irish-dishes/#_a5y_p=4191050


Barmbrack ("Gaeilge Bairín Breac")-

the translation of "

Bairín Breac'' is "speckled bread" which means that the fruit was scarce in the loaf. It is a fruitcake filled with fruit, spices and raisins. Usually, it's soaked in tea and whiskey and let to absorb them overnight, which gives the dessert the much-coveted flavor. The Irish people have a fortune teller about Halloween time: they put charms in the dough and based on what you find while eating it you will gain wealth or get married next year.
©https://www.happyfoodstube.com/irish-barmbrack-tea-cake-recipe/
It is no surprise that you can get overwhelmed by the diverse number of restaurants that Dublin has, especially when the language spoken there is foreign for you. To have an exceptional culinary experience, you should avoid any situation that could lead to dissatisfaction. Our genuine advice is to try at least one of the three best-ranked restaurants in Dublin according to the ratings they have on Tripadvisor, where you enjoy a pleasant atmosphere, together with the best service, and brilliant recipes.
31 Lennox- is a café/restaurant situated in the core of PortoBello. If you throw an eye over the reviews they have on Tripadvisor, you will notice that the majority of the people who have been there praise their excellent food and the staff which is very friendly and attentive with the customers. Moreover, they have vegetarian, vegan, and gluten-free options. Whether you will serve your meal on the comfy terrace or indoor, you will not be disappointed with your choice.


Eatokyo Asian Street Food-

is

a vegan-friendly Japanese restaurant with one the best sushi in Europe. They have four locations around Dublin: Capel Street, Dublin 5, Talbot Street, and Temple Bar. You can admire a traditional décor, in a cozy environment while serving their mouth-watering sushi or tasty noodle dishes. If you want to take a break from the delicious Irish traditional food and switch to the Japanese ones, that's the ideal place.


Glovers Alley- is a fine dining restaurant where they serve tasteful contemporary food in a luxurious dining space overlooking Dublin's St Stephen's Green. Their suppliers are mostly local farmers and producers that offer the most qualitative products for the restaurant's distinguished recipes. The cost for a meal is over the average of that area, but it's worth every single penny.


Transportation
If your accommodation is in the center of Dublin, there are quite small chances to use public transportation during your trip as the city is compact and simple to navigate on foot. Even so, Ireland's capital still has an unbelievable easy-to-use public transportation system. Among the alternatives you can choose from are the bus, DARTS, LUAS, and train networks, which can be paid with a TFI Leap Card. Taxis' prices don't have high prices and can be a good option to use when spending a long night out.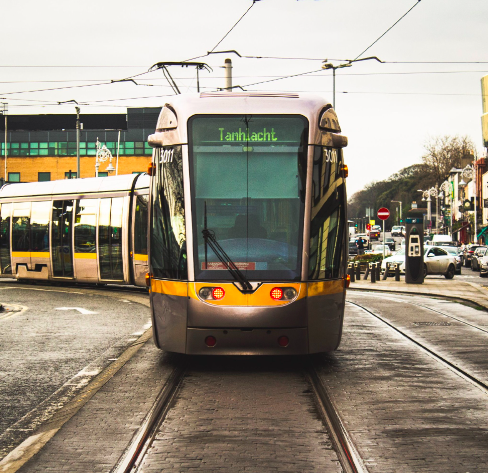 For almost all buses, prices are computed according to the number of stops you have on your ride. Although, for Xpresso buses- which are express services and Route 90, there's a flat fare. Down below we've prepared you a list with the exact prices for each type of ride of Dublin Buss. We hope that it will be helpful for finding your way through the city!
| | | |
| --- | --- | --- |
| Journey Type | Leap Card | Cash Fare |
| 1-3 stops (normal bus) | €1.50 | €2.10 |
| 4-13 stops (normal bus) | €2.15 | €2.85 |
| 13+ stops (normal bus) | €2.60 | €3.30 |
| Xpresso (express services) | €2.90 | €3.65 |
| Route 90 (train connecting bus) | €1.50 | €2.10 |
The tickets can be bought directly from the bus drivers, but if you don't have the exact sum of money, you'll receive no change. It is advisable for cheaper bus rides to use a Leap Card.
Dublin trains (DARTS)
The tickets' price for DARTS depends on the distance covered. Use Irish Rail's Fare Calculator to find in the simplest way how much a ticket costs. You only need to select the station from where you take the train and the ending point for getting a diversity of ticket types. Again, the usage of a Leap Card is way cheaper than purchasing regular tickets from train stations.
LUAS
Likewise DART, there is always a calculator for LUAS tram network - Luas fare calculator that will help you to find the cheapest tickets to buy. Based on how many zones you travel through, the fares range between €2.10 (for one zone) and €3.30 (for 8 zones). The same story with a Leap Card goes on here, but you can also buy tickets, at a higher price, from ticket machines which accept both cash and card.
Pursuing this further, it's good for you to be aware of the existence of a 3 days unlimited travel on Dublin Bus, which includes Airlink Express airport transfers and green hop-on, hop-off city tour buses for only €30. Also, for €5 you can buy a 3 days ticket for unlimited access to Dublin bikes, which is the perfect option for a Dublin city break. Your three-day ticket is represented by a card with an ID that you will use every time you hire a bike. Always keep the card with you as you never know when you'll need a bike while you explore.
Now that you have an overall picture of the transportation of Dublin, we can go further and present to you the best time to visit this wonderful Nordic city and its main attractions. Don't leave anywhere because the best of this ultimate guide is yet to come!
Best months to visit Dublin
Ireland's capital might not be the friendliest city in terms of climate but believe us that it is not such a nightmare as there are many fun things to do in Dublin. In the summertime, the weather is enjoyable even though winters are known for their coldness and wetness. All around the year it is generally windy and partly cloudy with a temperature that varies from 3°C to 20°C.
Dublin - Average temperature for every month
| | | |
| --- | --- | --- |
| Month | Min (°C) | Max (°C) |
| January | 2 | 8 |
| February | 2 | 8 |
| March | 3 | 10 |
| April | 5 | 12 |
| May | 7 | 15 |
| June | 10 | 18 |
| July | 12 | 20 |
| August | 12 | 19 |
| September | 10 | 17 |
| October | 7 | 14 |
| November | 5 | 10 |
| December | 3 | 8 |

The time you choose for your holiday to Dublin might depend on your motivation to consider it as your next destination in the first place. Firstly, the best time to visit this city for good weather is in the summer, especially in July because the precipitation of the season is at the lowest point and the rains are limited. The hot days are far away even for summer as maximum temperature is around 21 °C, which is an excellent occasion to go hiking, spend some time on the beach, and savor refreshing festivals that take place in July and August as Longitude Festival - where you can enjoy international and Irish bands or Festival of Curiosity – where science, arts, design & tech playfully blend together. In the summer time you can spend a lot more outside at different events and on hikes as there are almost 17 hours of daylight.
Secondly, if you are going exclusively for sightseeing and outdoor activities in Dublin, the best time for you is in May or from mid-September to about mid-October. In this period, the temperatures are cozy, queues are shorter, and crowds are a lot ticker than in the summer. Unfortunately, rains can start suddenly at any given time. However, this will not ruin your holiday as long as you don't forget to pack a raincoat and hold on to the good vibes.
Thirdly, if you are passionate about fashion, a lover of bargaining and you can't wait to get to O'Connell or Grafton, one of the most outstanding Dublin's shopping streets, the ideal period for you is just after Christmas. From 28th of December the season of the hugest sales starts and you come across items reduced even with 60%. For your own interest you should be as fast as possible because the best articles will disappear almost instantly and sales will quickly end at the beginning of January.
All these being considered, we suggest you visit Dublin in the summer as you will have many entertainment options to choose from and can still enjoy the sightseeing even if it is more crowded than in other times. Although, if you are more interested in Irish's most famous celebrations like St. Patrick's Day, plan your holiday for that time and make the best of it!
The main attraction of Dublin
The charm of a small historical city, culture, and diversity are the key elements that make Dublin coveted by so many tourists. Don't feel overwhelmed by the tremendous number of objectives and attractions because the narrow surface of the city will help you to save plenty of time that you normally would lose on long distances and that will allow you to visit them all. Withhal, we gathered together the 5 main Dublin attractions for easing your work in finding the price and place from where to buy or book them.
Dublin Castle
Are you wondering what to see in Dublin? Dublin Castle, which has a history lasting over 800 years, it's the perfect place to start. It was built in 1204 and until 1922 its main purpose was to serve as a residence for the British monarch's Irish representative, the Viceroy of Ireland, and as a ceremonial and administrative center. In April 1684, the castle was almost completely destroyed in a fire. Due to that, the Dublin Castle was rebuilt and therefore transformed into a Georgian palace from a medieval bastion. The gardens are free to visit but for a guided tour through them and the interior of the building you need to pay. Moreover, the castle is often the host for different cultural events, which are presented on their website.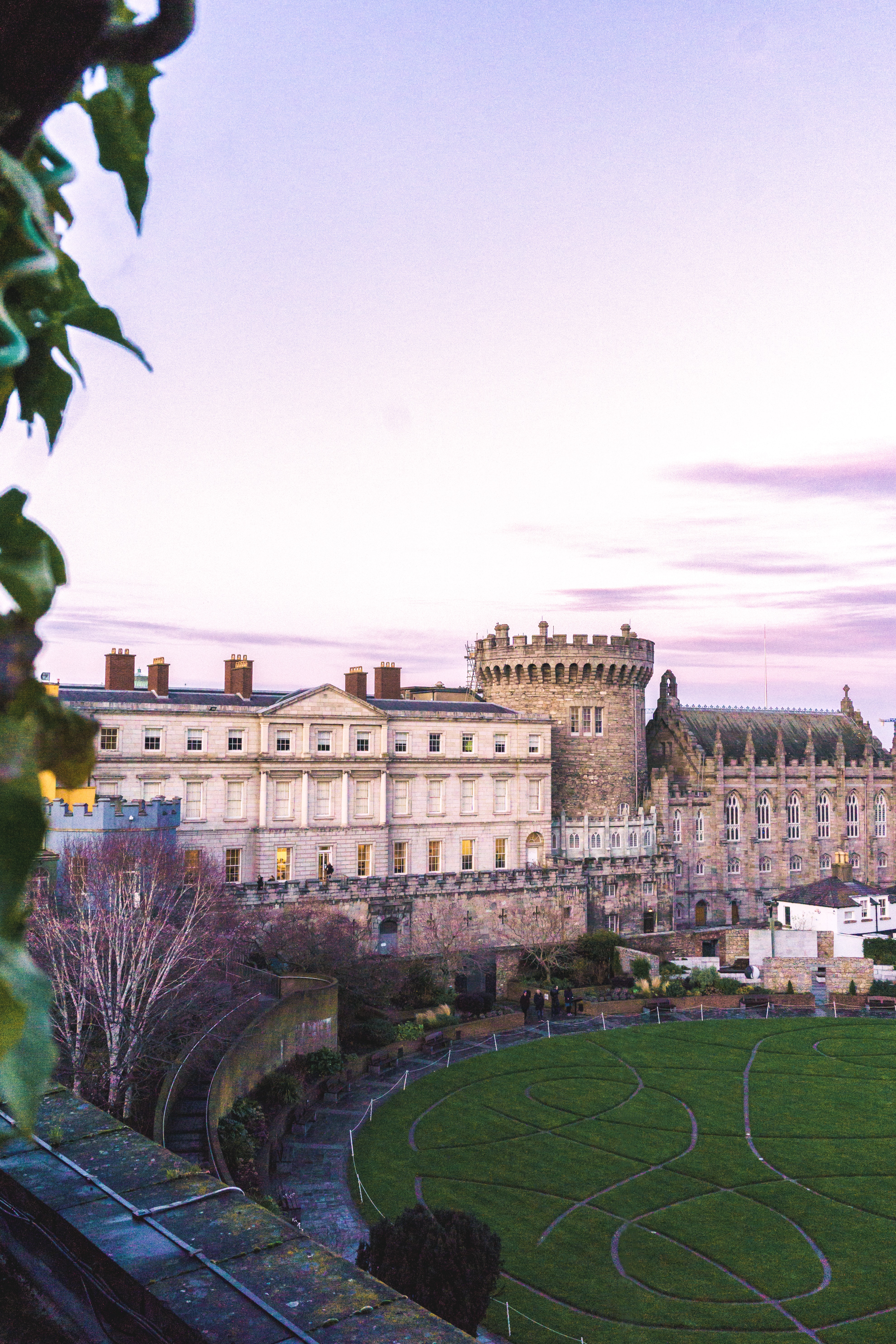 Official site: https://www.dublincastle.ie/
Guinness Storehouse is one of the places to go in Dublin for authentic Irish vibes. It's not hard at all to get there as it's located nearby to the city center, at St. James' Gate. In this place, you'll learn the story of the discovery of Guinness and how it has evolved over the last 250 years. The tour takes place over seven floors full of diverse activities, and you get to sample the most famous Irish drink that you pour for yourself. At the end of the tour, enjoy the landscape of Dublin through full-length windows at the Gravity Bar rooftop!
Official site: https://www.guinness-storehouse.com/en
As you have already become accustomed to short distances of Dublin, it's no surprise that The Jameson Distillery is located just off Smithfield Square across the river from the Guinness factory. Even though the place is now a museum where the most remarkable whiskey is no longer distilled, the place is still full of life. The best part is that each one of the guided tours will include at least one whiskey tasting, after which you'll obtain a diploma that certificates you as a professional whiskey taster. Of course, that is only another fun memory added to the extinguished experience you had at the Jameson Distillery!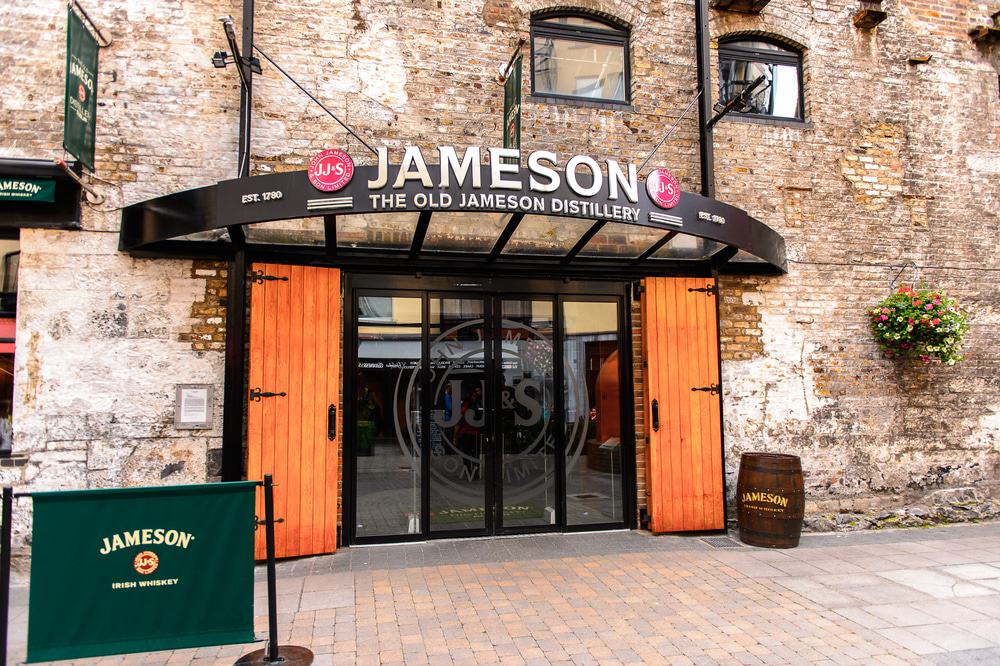 ©Anton_Ivanov / shutterstock
Official site: https://www.jamesonwhiskey.com/en-IE/visit-us/jameson-distillery-bow-st
Are you a fan of Harry Potter? Then what are you waiting for? Add Marsh's Library to your visiting list to experience a true journey to Hogwarts. You'll find this magical place - known as the oldest Irish public library, just behind Saint Patrick's Cathedral. Marsh's Library counts through the few 18th-century buildings which still operate for their original purpose and it's composed of a cozy reading room and two spacious galleries. There are high chances to lose the track of time through the oak furniture which shelters old books filled with history and fairytales, but even with this risk you clearly should go to Marsh's Library because it is one of the best things to do in Dublin!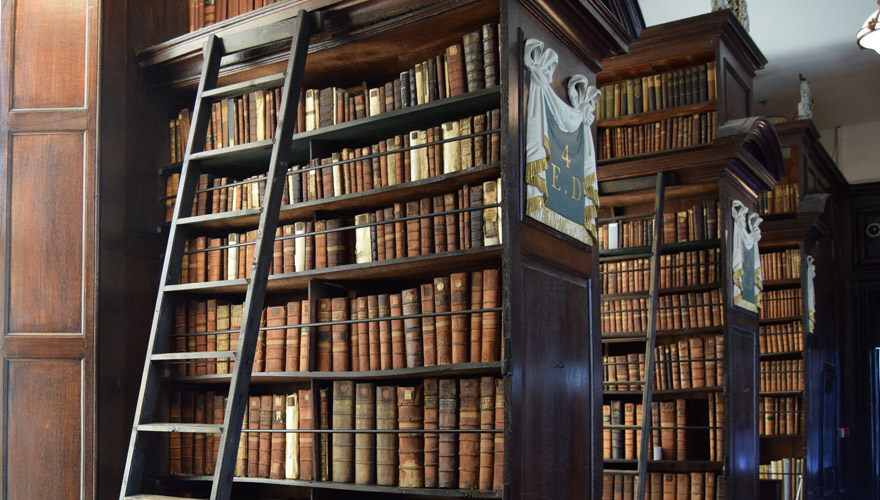 ©https://dublin.ie/live/stories/supernatural-dublin-marshs-library/
Official site: https://www.marshlibrary.ie/


As a Dublin tourist, you can't miss visiting Kilmainham Gaol (jail), a solid piece in the history of Irish nationalism. The rebels of 1916, which were to be executed for what was seen back then as an act of high treason, were incarcerated there. The guided tours and the exhibitions held there show, in a very accurate way, the struggle endured by the ones who fought for Irish independence. It's the perfect occasion to learn more about Ireland's history, even if the shivers pass you when you step right in the place where many faced death.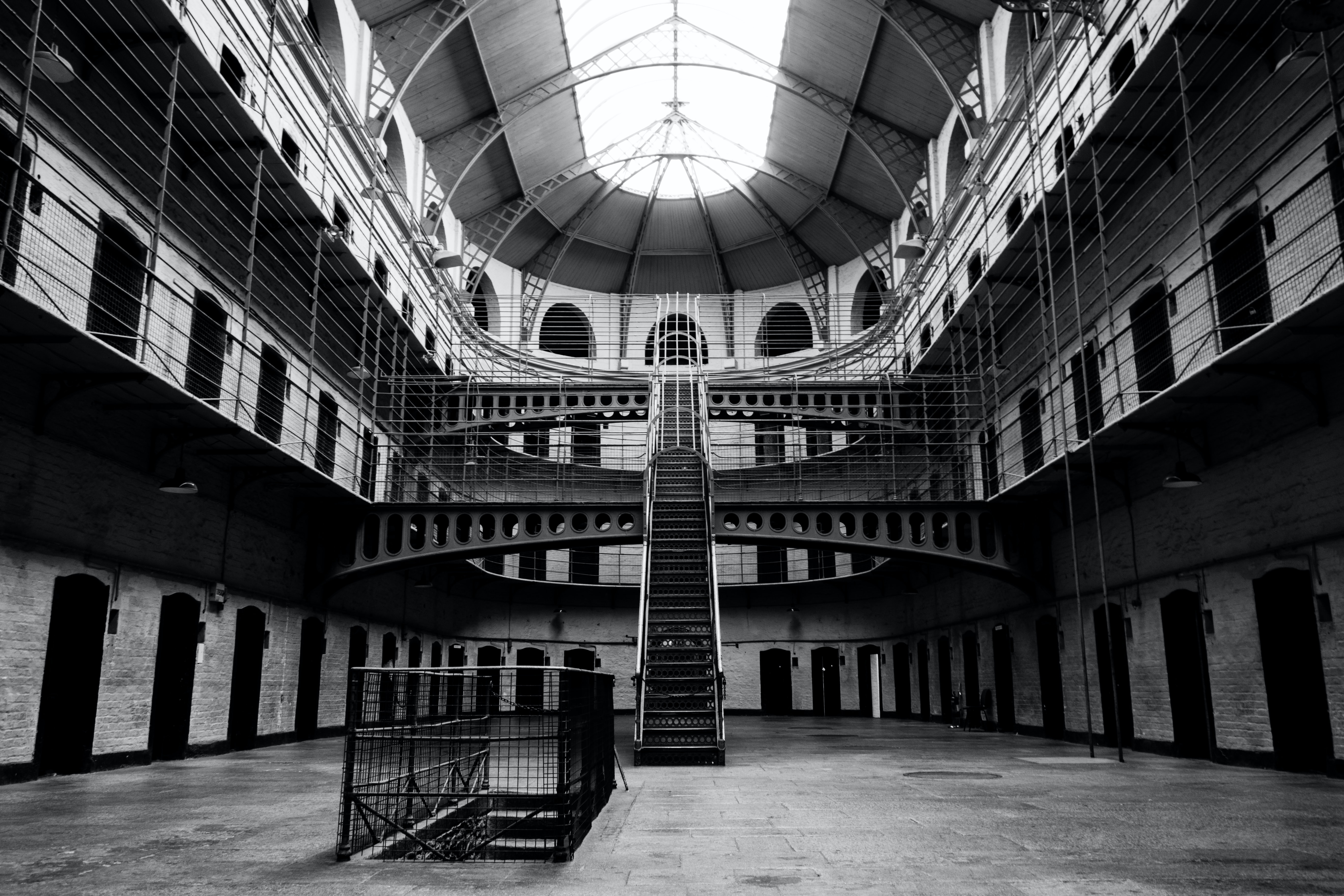 Official site: http://kilmainhamgaolmuseum.ie
We presented you five of the most visited attractions of Dublin, but we should also point out that there are many more to be discovered. If you are looking for not such popular tourist spots or places only known by the locals, check out at least one of the two Questo journeys: The 7 Wonders of Dublin and Haunted Dublin. For only 14.99 euro (per group of up to 4) you will continue your unforgettable Irish adventure in a unique way as the quests are designed for helping you experience the city's vibes as a local that knows the best places in town!
Conclusion
In Dublin, there is something for everyone - history and culture, music and fun, green parks and wild surroundings, cosmopolitan life, and shops everywhere. From the many museums that highlight cultural diversity to the famous pubs, you'll find something exactly to your liking, especially now that you have gone through our guide to Dublin. We hope you found this article helpful, and we wish you a wonderful trip with many unforgettable moments!
Written by Maria Muresan