Everything you need to know before your trip to Berlin in 2021
Posted on Jan 29, 2021 by Questo Team
Welcome to Questo's no bullshit guide to Berlin. We focused on highlighting the essentials, from choosing the best and cheapest plane tickets and accommodation to discovering the most suitable places for you to party or eat. Are you ready to dive in?
Heil, Berlin! Welcome to the city that can never stay still! Germany's capital city is famous for its wide range of tourist attractions, vibrant cultural scene, and diversity. In fact, visiting Berlin surprised you with its striking contrasts: from urban art to classical galleries and from historical buildings to modern, impressive architecture. If you are curious to find out more, we prepared a guide in order to make your trip a worth-remembering one!
Berlin remained in history as the "tale of two cities in one": on one side the consciously capitalist city of West Berlin and on the other the repressed, communist society of East Berlin. Nearly three decades later, as the Cold War began to 'warm', the crossing restrictions between the two parts of Berlin were lifted and West and East Berliners alike gathered together, drinking beer and champagne. The celebration of a reunited city turned into 'the greatest street party in the history of the world', as one journalist stated back then. So, it's needless to say that people from Berlin know how to party, but you will discover this on your own by experiencing the thrilling nightlife of Berlin!
Besides its historical significance, Berlin is one of Europe's finest cities in terms of art, music, and artists. More and more artists from all over the world come to Berlin to derive inspiration from the limitless artistic vibes, making it one of the most thrilling destinations of Europe. And who can resist it? As soon as you get there, you will literally feel the specific buzz of this vibrant city!
I. How to find the best prices for plane tickets to Berlin
Finding the right plane tickets is not always easy, especially if you want to find the cheapest alternatives. It may take a while, but we have some pieces of advice that will not turn your efforts into an endless search!
You can find the cheapest plane tickets by using the best flight search engines, such as Skyscanner , Momondo and Kiwi.com. It certainly would be easier than to search on the website of each airline company: you just input the dates and the location and they will provide you with all options of flights, from all the available airline companies, ranging from the cheapest to the most expensive alternative.
Some of these flight search engines, such as Skyscanner, also provide a quick visual of prices for the whole month, so if you don't have a set period for your holiday to Berlin, then we suggest you take a glance and see which days or months are the cheapest to fly on! When you are selecting the period on the search engine, just click on "cheapest month" from the "whole month" option, then enter and you will receive a graph similar to the one below, where you can choose the cheapest flights. This is a really budget-friendly tip and you can save the money to buy German currywursts (or more) that you will not regret!
A two- way flight London - Berlin :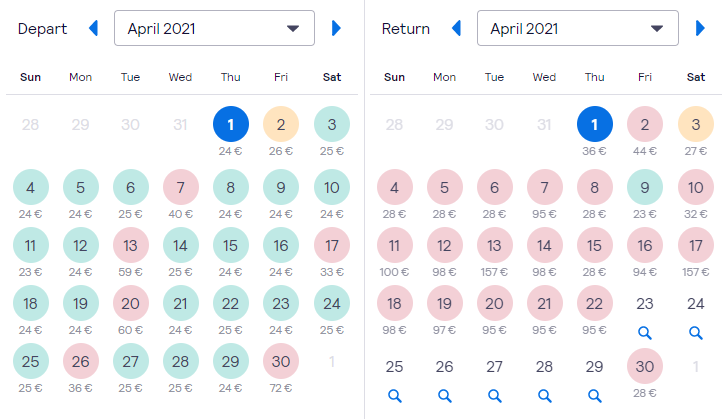 Also, as a side note, you may remember when you are surfing the internet for airplane tickets for a certain route and after searching it for a few times on your web browser, you may notice that the price has slightly changed from what you remember. And that's not because you have a poor memory, but rather because the websites are using the cookies on your browser to modify the prices when they are repeatedly searched. This could be a strategy to incentivize you to buy the tickets before the prices increase even more. However, in order to avoid this situation, you can search for plane tickets in incognito or private browsing mode in order to find the cheapest alternatives and not fall for the trap of the cookies!
If you happen to live around Germany, you may opt for other ways of transportation, that could prove more convenient or cheaper, such as a road trip in your personal car, by train, or by bus. Just as well, you could use a bus fare search engine, such as CheckMyBus, Omio, Busradar, that will provide you with the cheapest fares for your trip!
II. How to find the best and cheapest accommodation in Berlin
After you secure your flight to Berlin, you need to think about finding the proper accommodation for you and your friends or family. Make sure you book your accommodation well in advance, so you will not encounter any problems. Lucky for you, Berlin has a wide range of choices, that cater to all tastes and budgets! Some of the apps you may consider searching on are Airbnb or Booking.com.
If you travel by yourself or with your partner, you can opt for a shared room on Airbnb right in the center of Berlin. This is the most budget-friendly option, with prices starting from 29 euros, with a night average of 81 euros. This option is great, especially if you happen to be a very sociable person, that enjoys meeting new people and hearing amazing stories! Your hosts can turn into your best friends while you are on your trip in Berlin as they may give you lots of recommendations or share with you lots of local insights.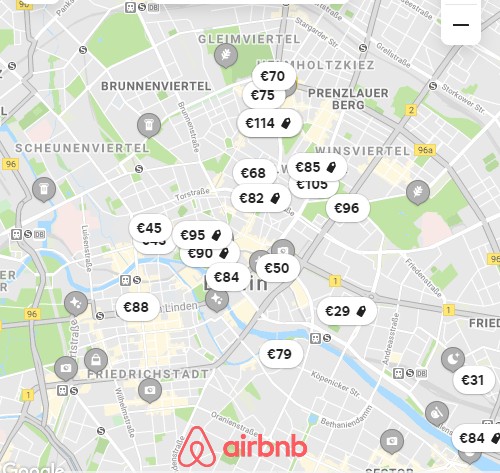 If you prefer more privacy or you are traveling with your friends or families, you may choose a more spacious option, by booking an apartment on Airbnb or Booking. This option is more suitable for people that prefer to have a whole place for themselves, as well as a certain degree of commodity, having a fully-equipped apartment at your disposal. Choosing a cozy, simple apartment may cost you ranging from 52 euros and scaling up to 993 euro/night for luxurious apartments or even villas or houseboats. However, the average nightly price is 145 euros, which is also pretty accessible.
However, if you would like to wake up in the morning and enjoy a breakfast buffet, and have other amenities at your disposal, such as a pool, spa, and others that we are currently dreaming of, you must definitely choose a hotel. Therefore, depending on your budget and the facilities available, the nightly prices start from 40 euros and go up to 375 euro.
Location is also very important when deciding where to stay as Berlin is a very large city, with many neighborhoods. We don't want you to get confused, so we highlighted the best parts of Berlin where you can make the most of your stay! Mitte is considered the central area, so here you will find the vast majority of Berlin's landmarks. If you prefer a neighborhood away from the central noise and agitation, then Prenzlauer Berg might be a suitable option. Situated North-East of Mitte, it has become an upcoming area, with lots of restaurants, cafes, and shops to wander around. Also, you should consider Friedrichshain or Kreuzberg, which are renowned for their nightlife, clubbing experiences, and for their artistic propensities!
How can you find the best location for you? First, think about your preferences: whether you want to be close to the tourist attractions, in the middle of the nightlife clubs, close to the museums and so on. Then, write on Google Maps: "attractions Berlin" or "nightlife Berlin", and it will show you all the attractions or the clubs from Berlin. For instance, let's say you are a tourist that wants to be close to the tourist attractions. Now that you have a pinned map in front of you, you can see the area where most of these are concentrated. You can scan the locations and choose an accommodation that is within walking distance from the cluster of attractions that you identified! And you can do the same with clubs, bars and restaurants, museums, shopping malls etc., depending on your interests.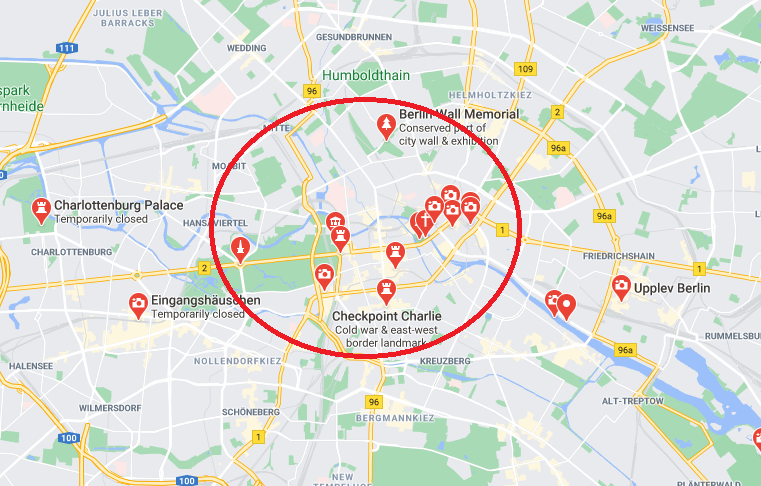 Regarding whether Berlin has unsafe areas, you can stay rest assured because Berlin is one of the safest cities in Europe. Germany is ranked 22/163 on the Global Peace Index, which means it's pretty peaceful – and shows the general mindset of the country. Even though there are no places with bad reputations in Berlin, you should be aware of the petty thefts, especially for bikes and pickpocketing that can happen in any city.
We hope you found the option with whom you identify yourself the best!
III. Budget for Berlin
Every trip is viewed as an investment in our experience portfolio, therefore you need to spend money in order to customize this experience based on your preferences and expectations. But you need not worry! We are handling the finances and we prepared an estimated budget for a 2-day trip to Berlin, so you can have a clearer picture of the overall costs. This budget includes the basics, which imply the cost of plane tickets to Berlin and return, transportation, accommodation, food (2 meals/day), and entertainment (entrance fees to tourist attractions).
Regarding the flights, we considered the average price of the route from the main European capitals to Berlin, as well as the return flight, with fares comprised between 56 to 170 euros. We recommend searching on Ryanair because this is a low-cost airline, with whom you can travel safely and also, save money for your upcoming trip!
Regarding the transportation costs, from Berlin Brandenburg airport you can take the airport express train that will take you to the central area and you don't have to worry because it is scheduled to run every 30 minutes! The cost of the ticket is 3.30 euros. While you are in the tourist surroundings of Berlin and you want to visit the attractions, you will buy a daily ticket that will allow you to use any means of transport throughout the day and it only costs 8.80 euros.
For accommodation, we have chosen a measurement unit for the average nightly price for an apartment of 2 guests, but the price here can vary depending on the choice that fits you the best! Moving on to food, we took into consideration 2 meals/day and Berlin has a wide range of culinary options for you: pasta or other basic dishes can be priced at 10-15 euros while the steak costs around 23 euros at restaurants. Of course, you also have the cheaper option of fast food, where you can enjoy all sorts of pizzas, kebabs and so on at prices up to 5.50 euros, the Mcdonald's menu averaging about 7 euros. When we calculated the budget for food, we considered a balanced plan, not too much fast food involved, which we also recommend in order to have a healthy lifestyle and enjoy your trip at your maximum potential!
Now, here comes the fun part! We'll talk about how much it costs to visit the landmarks of Berlin. Of course, it depends very much on which tourist attractions you plan to see, but we will provide you the entrance fees for the most iconic ones! Check the following list and decide for yourself how your traveling program will look like:
Berlin Wall - FREE
Berliner Dom - 7 euros
Urban Nation Museum - FREE, but any contribution is welcomed at the end of the tour
Berlin Botanical Garden - 6 euros, reduced for students at 3 euros
Reichstag - FREE
Tiergarten- FREE
Brandenburg Gate - FREE
Alexanderplatz - FREE (if you choose to visit Berlin TV Tower from Alexanderplatz - 16.5 euros)
Checkpoint Charlie - FREE (if you choose to visit Checkpoint Charlie Museum - 14.5 euros, reduced for students at 9.50 euros)
Moreover, you can opt-out for a combo ticket that grants you passage at Madame Tussauds, AquaDom Sea Life, Legoland playground, and Berlin Dungeon that costs only 32 euros if you buy it online, compared to 102.95 euros, which is the cost if you choose to pay the entrance fees separately for the attractions mentioned above. This combo ticket is very nice for travelers of any age, but particularly special if you are visiting Berlin with your kids!
All of these being said, take a closer look below at the 'balance sheet' of your trip to Berlin! The total costs are between 233.2 - 488.2 euros and here you can add an extra amount for shopping, especially buying gifts and souvenirs for your loved ones! A magnet in Berlin costs around 3 euros!
However, take into account that these are just estimations of the prices and the real values are subject to the preferences and spending patterns of each traveler. We hope that you have a clearer picture now of the overall investment you need to make and we assure you, it's totally worth it!
Plane Tickets

to Berlin and return flight- Average

117 euros/person

Transportation

24.20 euros

Airport Express train x2

(arrival & departure)

Daily Ticket for Transportation x 2 days




6.60 euros




17.60 euros

Accommodation

Considering an average apartment for 2 people x 1 night

52 - 191

euros

Food

Average price for 2 meals/day x 2 days

40 - 80 euros

Entertainment

Depending on the tourist attractions you decide to visit

0 - 76 euros

Total Cost of a 2-day trip for one person

233.2 - 488.2 euros
IV. Where and what to eat in Berlin
Traveling on an empty stomach is not as fun as it would be if you had tasted some of the most delicious German dishes! We prepared a list of the top 3 culinary experiences you must try on your trip to Berlin in order to feel like a true local! We hope you will not get hungry by eye-savoring these delicious, exquisite meals!
1. Currywurst - this is a plate of chopped up sausages and fries, having at the base a ketchup sauce with spices and being topped by a curry sauce that offers its distinct taste. Not very healthy, but tasty indeed, it is an incredibly popular German food, especially after a few pilsners and you can find it literally at every corner.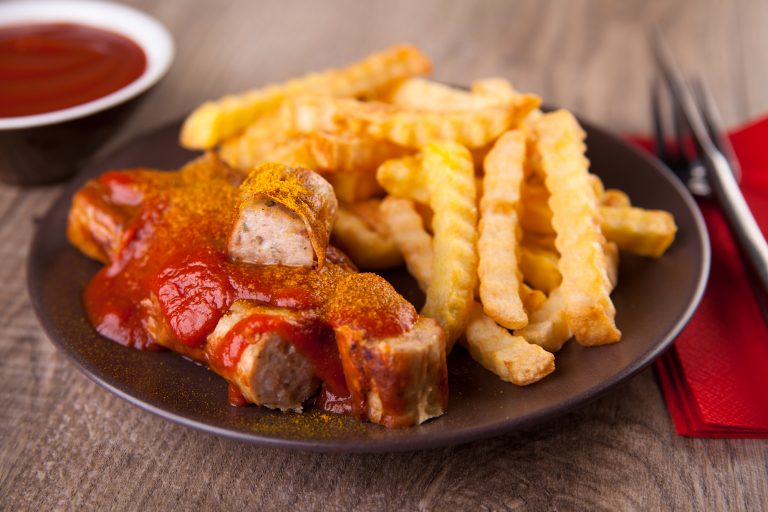 ©Jan Sommer | Dreamstime
2. Spätzle or Käsespätzle - some sort of Germany's own interpretation of Macaroni with cheese: it is made from layering small Spätzle pasta with grated cheese and topping with fried onion. Sounds delicious and you can try this Swabian specialty originally from the area around Stuttgart at local restaurants from Berlin!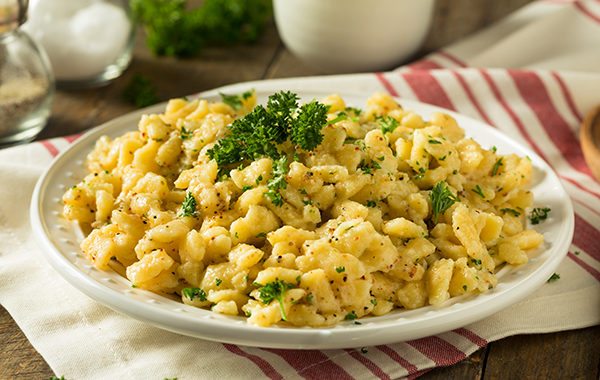 © https://prostprost.com/77/
3. Brezel - the German 'pretzel', a Brezel is made with a long strip of dough which is folded into a knot and then boiled before being baked, resulting in a chewy crust and a soft interior. It is available at bakeries and on street stalls and typically, is seasoned with salt or cheese and a mustard dip.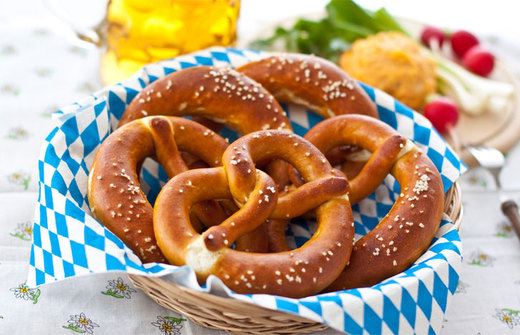 ©DANK Haus.Kulturküche: Authentic German brezels
Sounds yummy already! We know that when traveling abroad, choosing a place where to eat is a difficult decision to make, especially when there is a foreign language involved and many options available, that could lead to satisfaction or disappointment. We want you to have the best culinary experience, so allow us to present the top 3 restaurants from Berlin, with the highest rating on Tripadvisor, where you can enjoy a select atmosphere, polite and friendly service, as well as mouth-watering delights.
1. Clubrestaurant am Wannsee - You may enjoy the water view, sitting at the pier and drinking a glass of wine while you order a beef roulade, a salmon fillet or maybe a surprise dessert? Are you already curious? Enjoy the classics - reinterpreted! This describes best the style of this restaurant and you can be sure that they have prepared everything for your culinary enjoyment.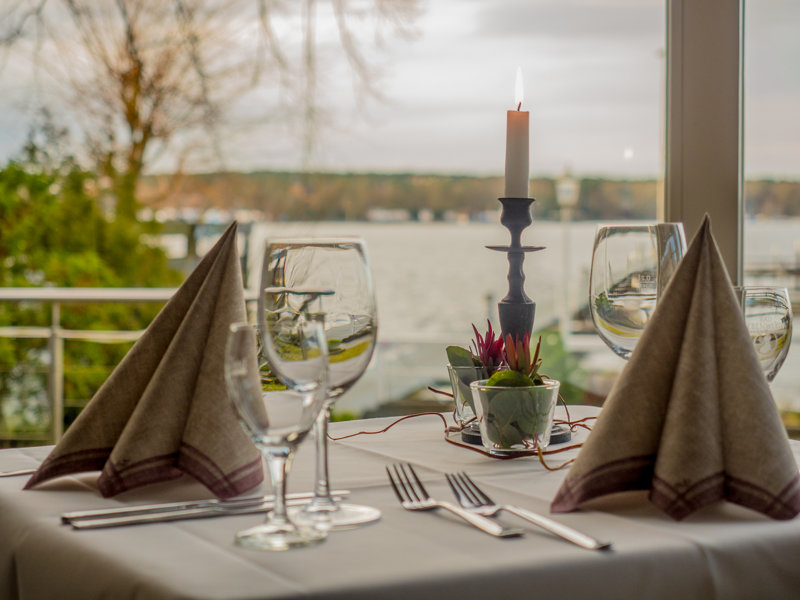 © https://www.speisekarte.de/file/1139/1139125.93c96845bb9578bc2cb1691aefeebd15.jpg
2. Happies - This is definitely something you didn't see before: savory fluffy dumplings with delicious fillings from fresh organic apricot to curry-tofu, a smile on everyone's faces, and food that is one of a kind in Berlin. Enjoy these happy and for sure, the rest of the day will be the happiest!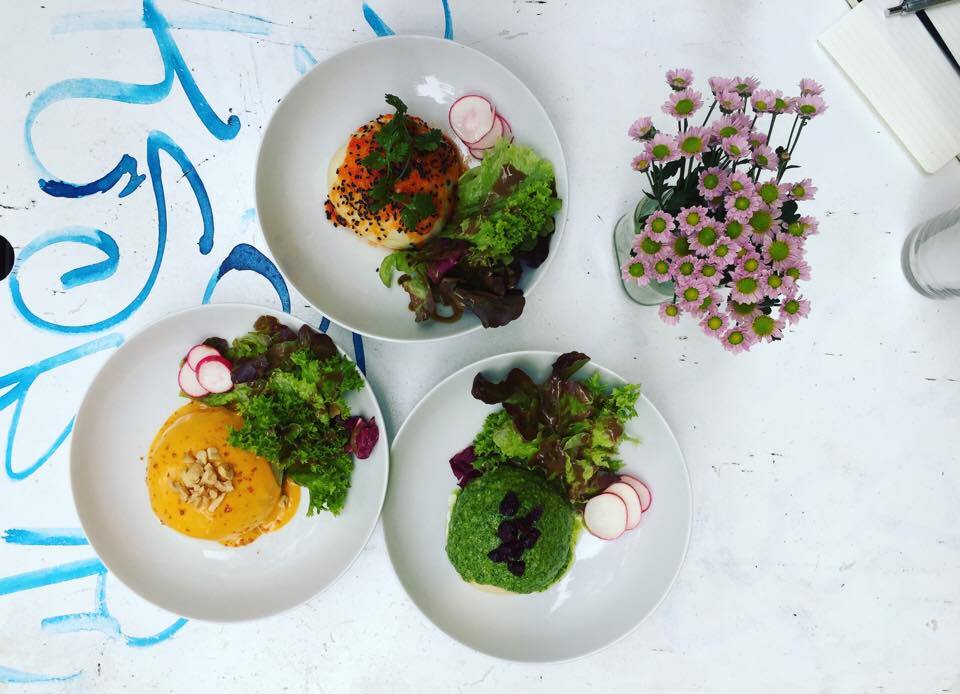 © https://forkandwalktoursmunich.com/wp-content/uploads/2015/10/Haeppies-Dumplings.jpg
3. Restaurant Buschbeck's - This family-owned restaurant is the meat-lovers' meeting point. And what accompanies better a well-done steak than an ice-cold, pure German beer? Indeed, "food and drink hold the body together in this world", as their motto states, therefore, you need to give it a try before returning home!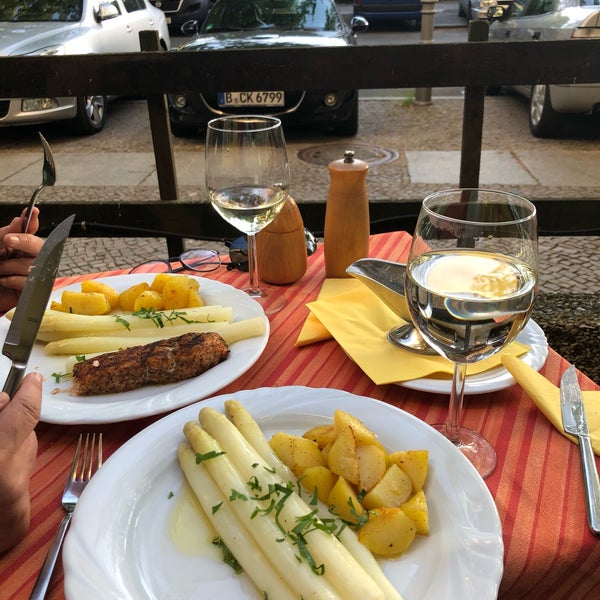 © Foursquare City Guide
V. Transportation
Berlin is such a large city, having an area of 891.8 km², so you can imagine that German people could not live without a proper system of transportation. Fortunately, they have one, which is very comprehensive and easy to get by, so take into account the following tips because you will certainly need them: Berlin's tourist attractions are quite spread throughout the city.
The first thing you need to know is that Berlin has an all-in system, which includes U-Bahn, S-Bahn, buses, and trams. Therefore, if you buy a ticket, you can use it for all means of transport within the city's boundaries. This is helpful for travelers because they don't need to worry about not buying the proper ticket or overspending if you bought the wrong one. (it can be pretty misleading, especially if there is a foreign language involved).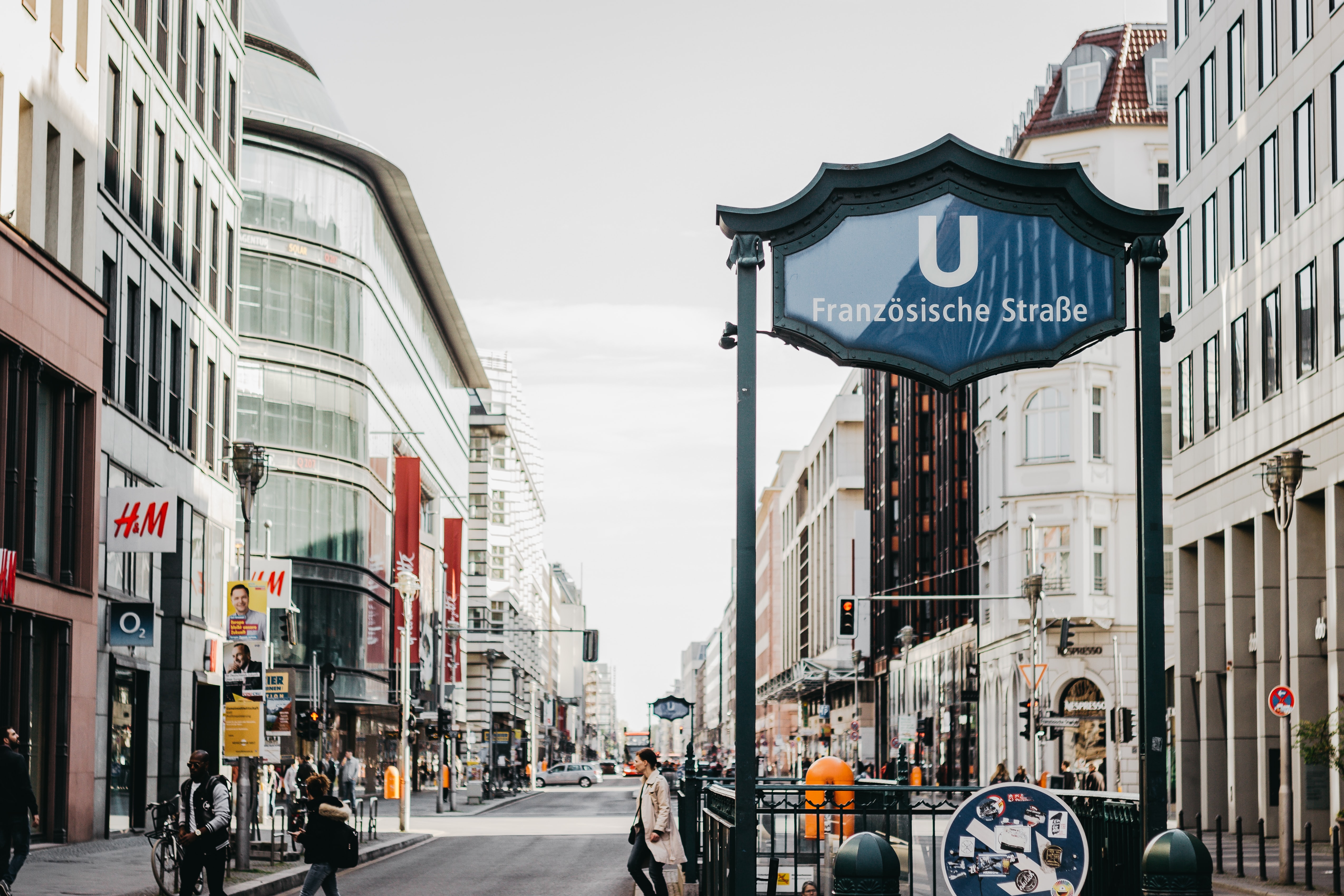 U-Bahn refers to the Underground or subway. You should not confuse the U-bahn with the S-Bahn, which refers to trains only and can be identified by the green and white "S" symbol. The train would be your first acquaintance with the German transportation system, as you will travel by train from the airport to the city center, using the airport express train that leaves every 30 minutes. Make sure you use Google Maps, Moovit, or Citymapper because they will show you precisely which route to take and which type of transportation is the best. Also, here is a map that can also save you!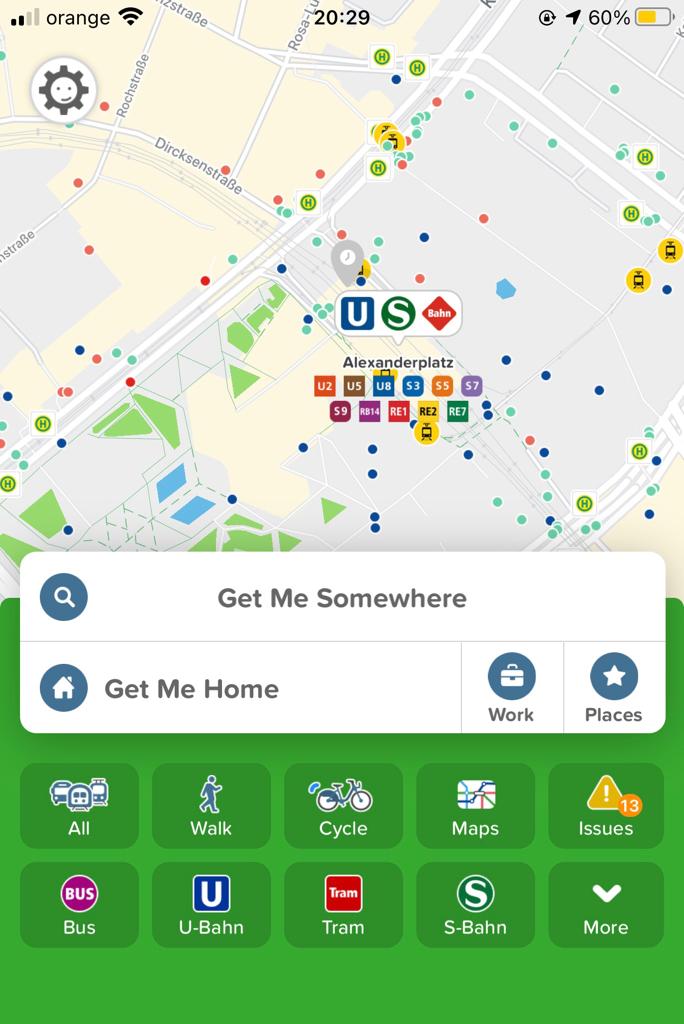 Secondly, be aware of the fact that Berlin is divided into tariff zones: AB, BC, and ABC. You will only need to buy tickets for the AB zone, as it includes the city's main area up to its outskirts. The C also extends to the surrounding area of Berlin, such as Potsdam and Oranienburg. The price of a single ticket AB for any type of transport is 2,90 euros, with the reduced fare of 1,80 euros (for instance, for students). However, since you will be traveling a lot, we recommend you buy upfront an all-day ticket, which amounts to 8,60 euros, with the reduced fare of 5,50 euros. You can buy the tickets from the many BVG and S-Bahn Berlin retail outlets, at the ticket machines positioned right in the station or if you are more tech-savvy, you can buy them directly from the BVG app.
Also, there are other ways to get around Berlin: if you are a very active and sporty person, then you need to opt-out for a ride with the bike. German people take great pride in their propensity towards physical activity and being environmentally friendly. You can rent a bike through the many bike-sharing apps, such as Mobike, Nextbike, or Sacoora, with fares of 0.50-1 euro/ 30 minutes. On the other hand, if you prefer to be cozy and arrive immediately at the destination, you can also try the more expensive option: the taxi. For short routes of up to 2 kilometers, there is a standard fare of 6 euros, while longer journeys are priced at 2 euros/km.
All of these being said, we hope you will successfully get around Berlin without being lost. But even if you get lost, you don't need to worry! Just ask the people around you to give you directions because the vast majority of German people are very polite and have a good command of the English language.
VI. Best month to visit Berlin
The award for the most season-friendly city goes to … Berlin! Germany has a temperate continental climate, so the summers are hot (weather average: 22°C), the autumn and spring tend to be warm, sometimes rainy (weather average for both: 14°C) and the winters are mild (weather average: 3,6°C). However, the best time to visit it would be during summer because then you will fully enjoy the bewildering buzz of Berlin: artists performing on the streets, people riding their bikes and going for a picnic in the wonderful array of city parks while enjoying the summer breeze.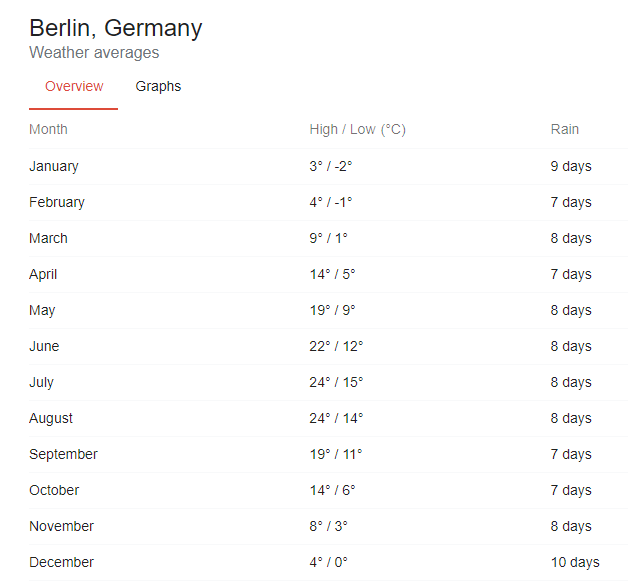 However, there are certain events throughout the year that may have a big impact on your decision. During winter, besides enjoying a cup of mulled wine and a grilled sausage at the Christmas market and the very Christmassy lights decorating the city, in February, you can be part of Berlinale - one of the largest public film festivals in the world, that attracts thousands of filmthusiasts from around the world. Grab some popcorn and choose from a variety of 400 movies of all genres, lengths, and formats.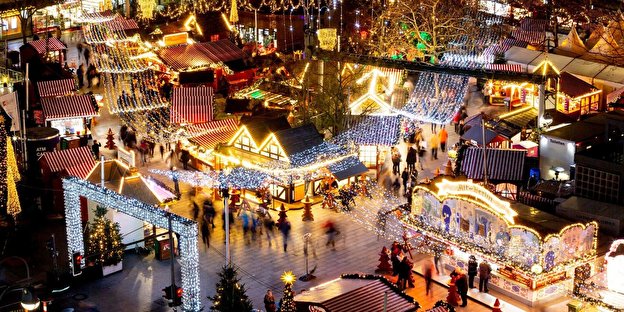 © https://www.berlin.de/en/christmas-markets/
If you decide to visit Berlin in autumn, in September you can either participate in the six-day Berlin Art Week, held annually in order to showcase the artistic side of German culture: contemporary, disruptive art on display….or you can dance and rave at Lollapalooza, which is one of Berlin's main electronic music festivals, that featured headliners such as Martin Garrix, Twenty One Pilots and many more. In October, you can be the guest of the Festival of Lights, which gained in popularity worldwide but here, Berlin takes it to another level: get ready to be enlightened at the Brandenburg Gate, the TV Tower on Alexanderplatz, the Berliner Dom, and the Gendarmenmarkt and witness how they are transformed into a sea of color and light via creative projections, 3D artworks, and installations.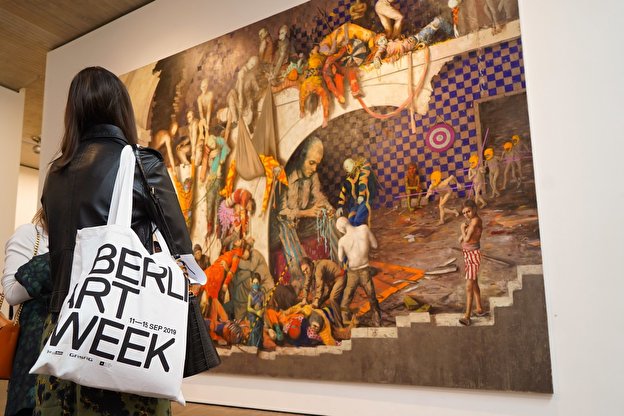 © https://www.berlin.de/en/events/2773012-2842498-berlin-art-week.en.html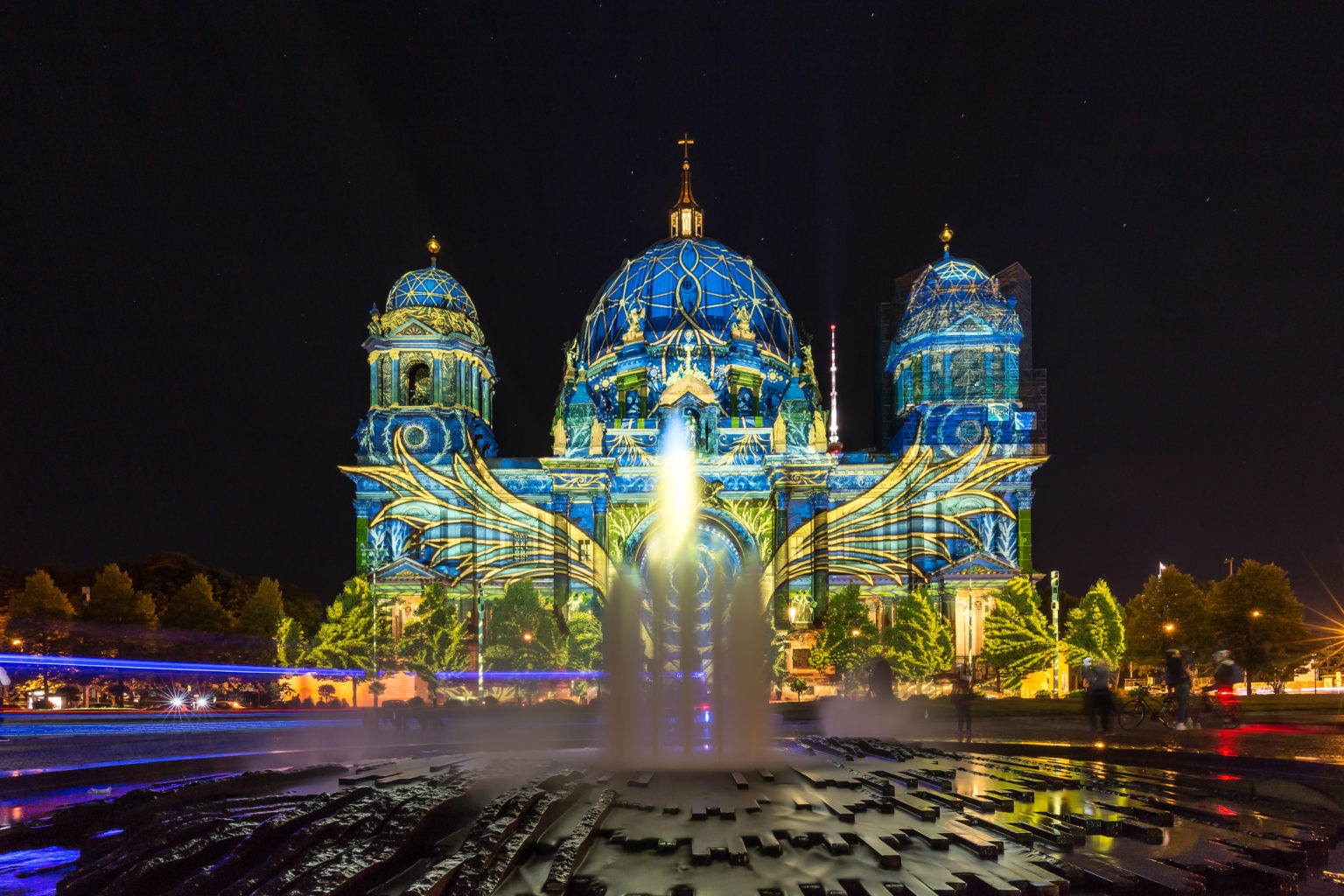 © https://festival-of-lights.de/en/galerie-berliner-dom/
Also, summer has some surprises in store for the travelers: June presents the Carnival of Cultures, celebrating the city's ethnic diversity. One in 7 residents is a foreigner, therefore the streets of Berlin start to look like a live rainbow: with colorful parades and costumes on display, being accompanied by joyful music. In July, you will be presented with yet another form of German colourful entertainment: the pride parade on Christopher Street Day, celebrating the LGBTQ+ community. August brings about something we all expected from the beginning: Berlin International Beer Festival, where travelers and residents alike are lured annually to taste one (or more) of the 2000 types of beers that are available. Not quite at the level of Oktoberfest from Munich, but this festival has everything it needs to turn a summer night into a memorable one!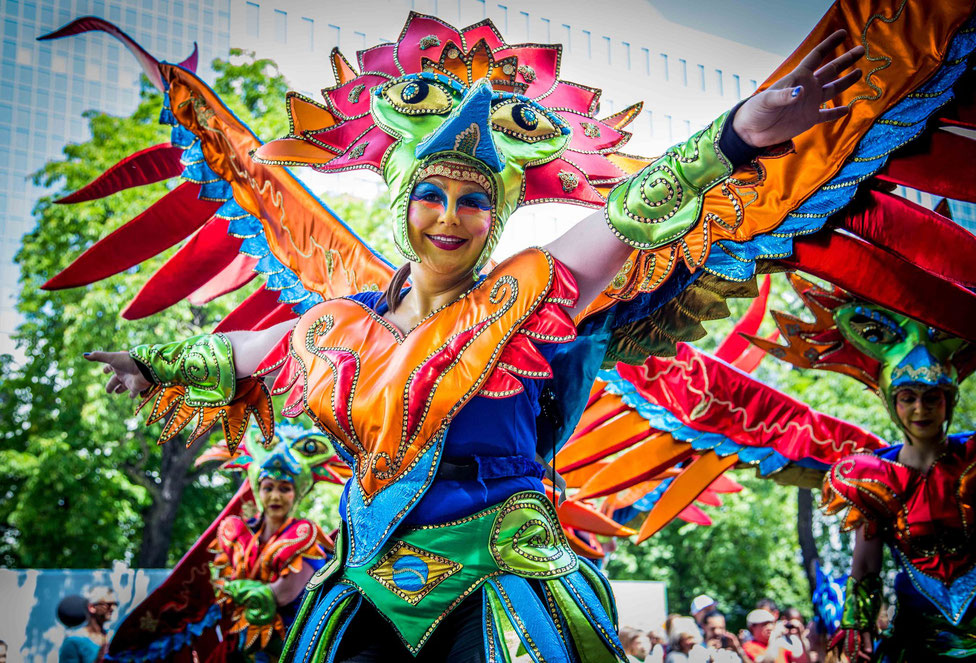 © In a Faraway Land - Carnival of Cultures, Berlin 2014 - Photo Essay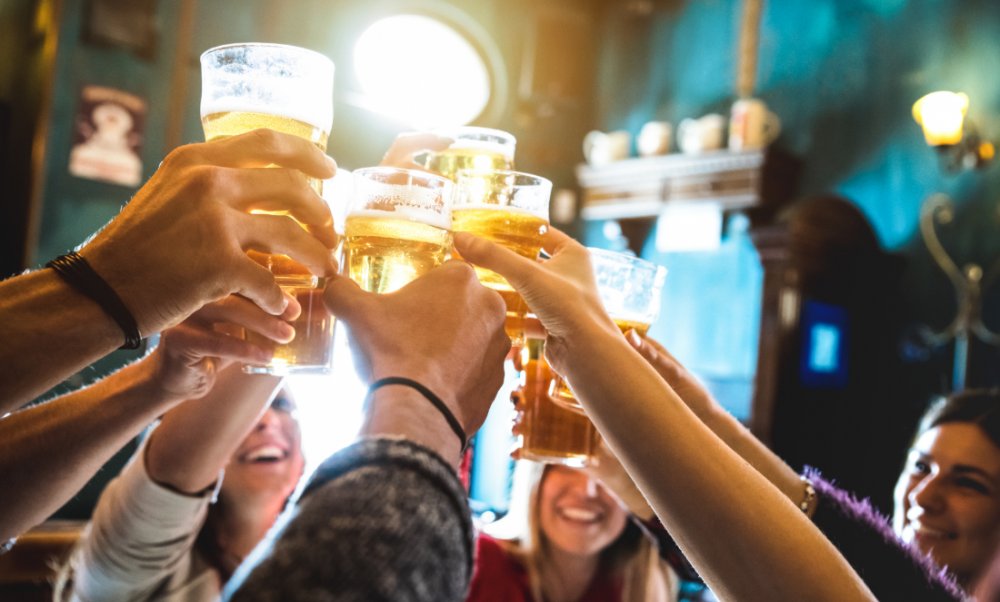 © I am Expat - International Berlin Beer Festival.
All these being said, we consider that the best month to visit Berlin is August because besides being the generally known month of holiday, you can enjoy the good weather and also participate in the "Oktoberfest" of Berlin, where you can fully immerse yourself into the German experience. Coming second in the top, the month of September is very promising for a holiday in Berlin, mainly because the weather is a little more tempered and if you are not particularly a fan of hot weather, then this might be the perfect month for you! Moreover, you can participate in Berlin's Art Week, as well as music festivals! Another good month to plan your holiday in Berlin is December. Despite the chilly weather, you can enjoy all the holiday atmosphere by visiting the Christmas market and admiring how the city gets alive through the lights and decorations surrounding it. These would be our top 3 suggestions, however, each month has its own flair and color and each of them could offer you great experiences!
We hope we gave you some valuable insights into when it is the most appropriate time to visit Berlin. Wait no more, take a look on your calendar and book the best trip of your life!
VII. The main attractions of Berlin
Berlin is one of the most spectacular cities in Europe, having so many attractions to display, all wrapped up in a diversity of culture and each having its particular story to be told. We prepared a list of the must-see attractions of Berlin and certainly a 2-day trip is not enough to fully savour the beauty of this city. Therefore, get enchanted by:
1. Berliner Dom - the largest Protestant church in Germany. Right next to the "Lustgarten", which is a marvelous park with fountains where you can have a picnic with your friends, you see this outstanding high-renaissance baroque monument with its green cupola, crowned by a gilded cross. The inside will not disappoint you either: you can gaze at the variety of works of art that transmit the love of grand gestures and display. Berlin's Cathedral is an attraction situated in the heart of the city, so it will be easy for you to go there and the entrance fee is 7 euros, but you can just as well admire it from the outside. Within walking distance from Berliner Dom, you can visit the wax museum Madame Tussauds, the aquarium with a built-in transparent elevator AquaDom Sealife or the interactive theatre of Berlin's dark history: Berlin Dungeon. All of these are fun, innovative attractions suitable for all ages, through which you can see other facets of the city.
Ticket price: 7 euros
Where to buy: available on-site or online in order to avoid queues: https://www.berlinerdom.de/en/dates/tickets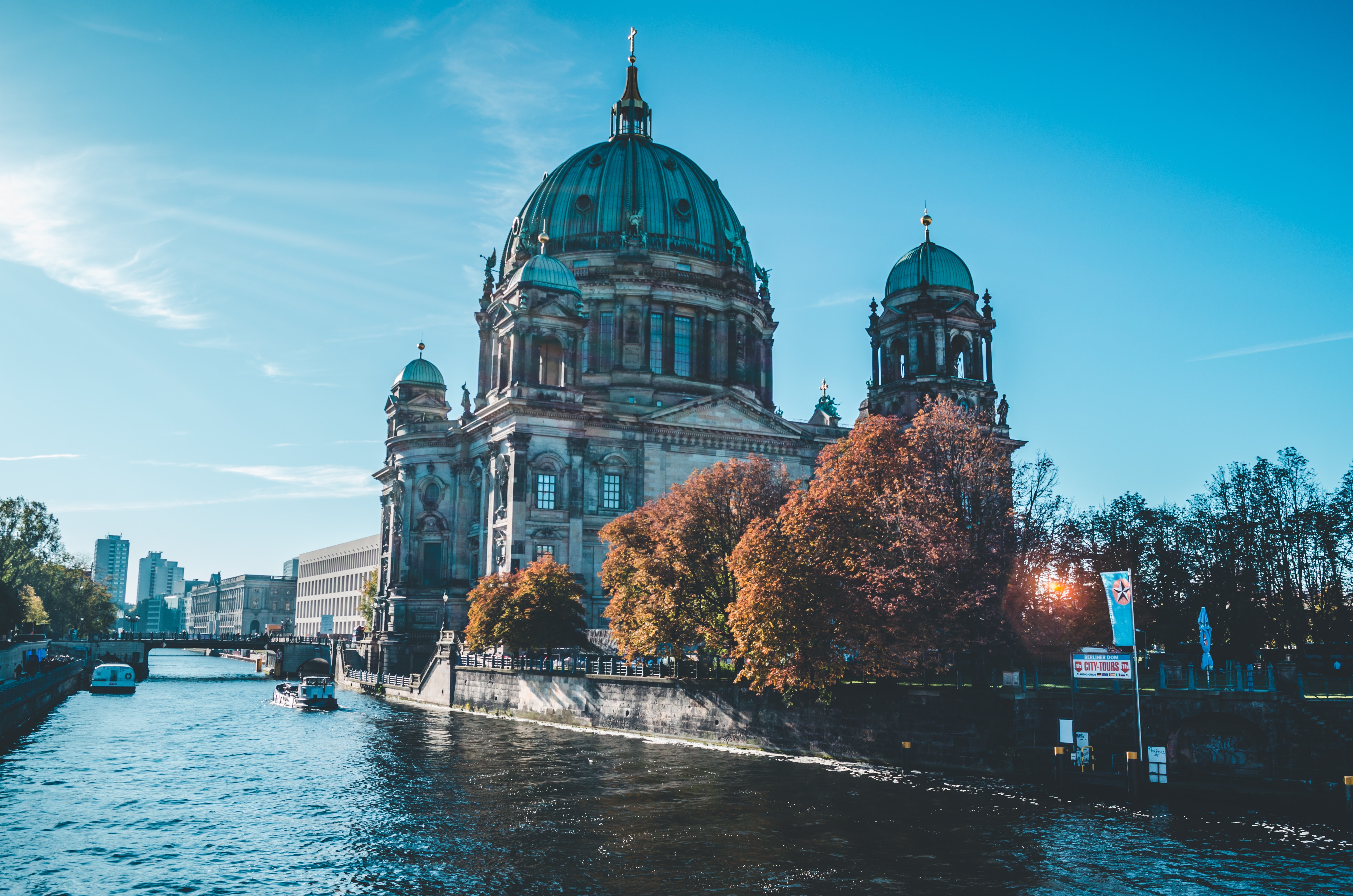 2. Reichstag - the building risen from the ashes. What makes the Reichstag so well-known is not merely its architecture, nor the fact that is the current seat of the German Parliament (the Bundestag). What gathers curious onlookers from around the world has more to do with the dramatic events of its past, including the 'sparking' role it played in the rise of the Nazi regime. Find out more about it on a guided tour to Reichstag, which is free, but it needs to be booked at least 2 hours in advance. The opening times are daily between 8 AM and 12 PM, the last entrance being at 10 PM. After the tour ends, don't forget to climb up to the dome and the roof to enjoy the landscape of Berlin.
Ticket price: FREE
Where to book your guided tour: https://visite.bundestag.de/BAPWeb/pages/createBookingRequest/viewBasicInformation.jsf?lang=en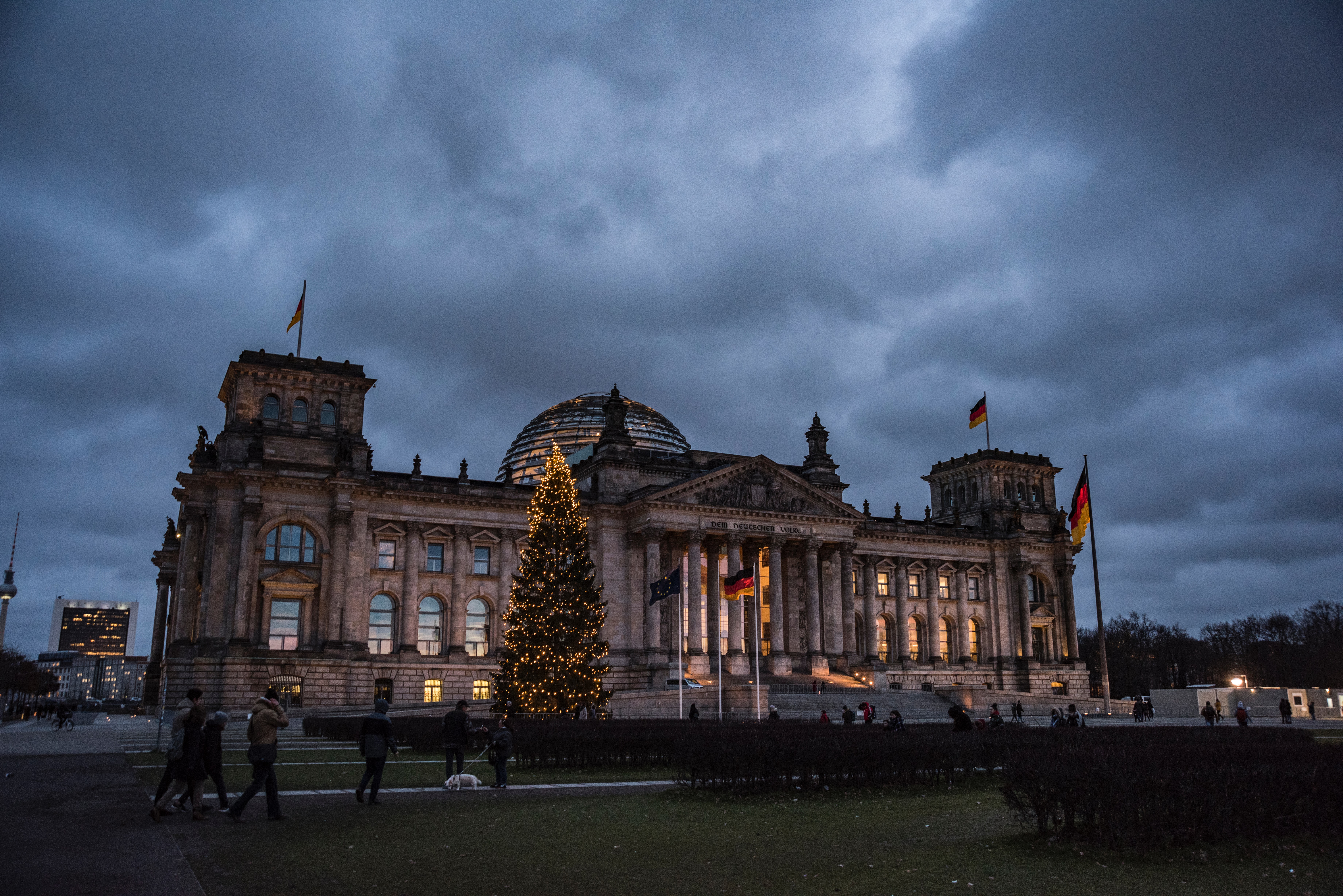 3. Brandenburg Gate - the monument that symbolizes a reunited Germany. It survived throughout the cold times of the German division and now it embraces the expression of freedom and unity, being visited by lots of travellers from all over the world. During the years of France and Prussia's military competition for imperial rule, the Quadriga, the sculpture representing the Goddess of Triumph, which can be spotted from a long distance, was held captive in France as a Napoleonic trophy. There is no admission fee to visit the Brandenburg Gate, so you can spend as much time as you wish in the square, admiring this magnificent monument. Within walking distance, you can reach Tiergarten, Berlin's most popular inner-city park or the city's 'green lung', as the locals name it. It is the perfect spot for a stroll or a picnic with your family or friends.
Ticket price: FREE
No need to book in advance.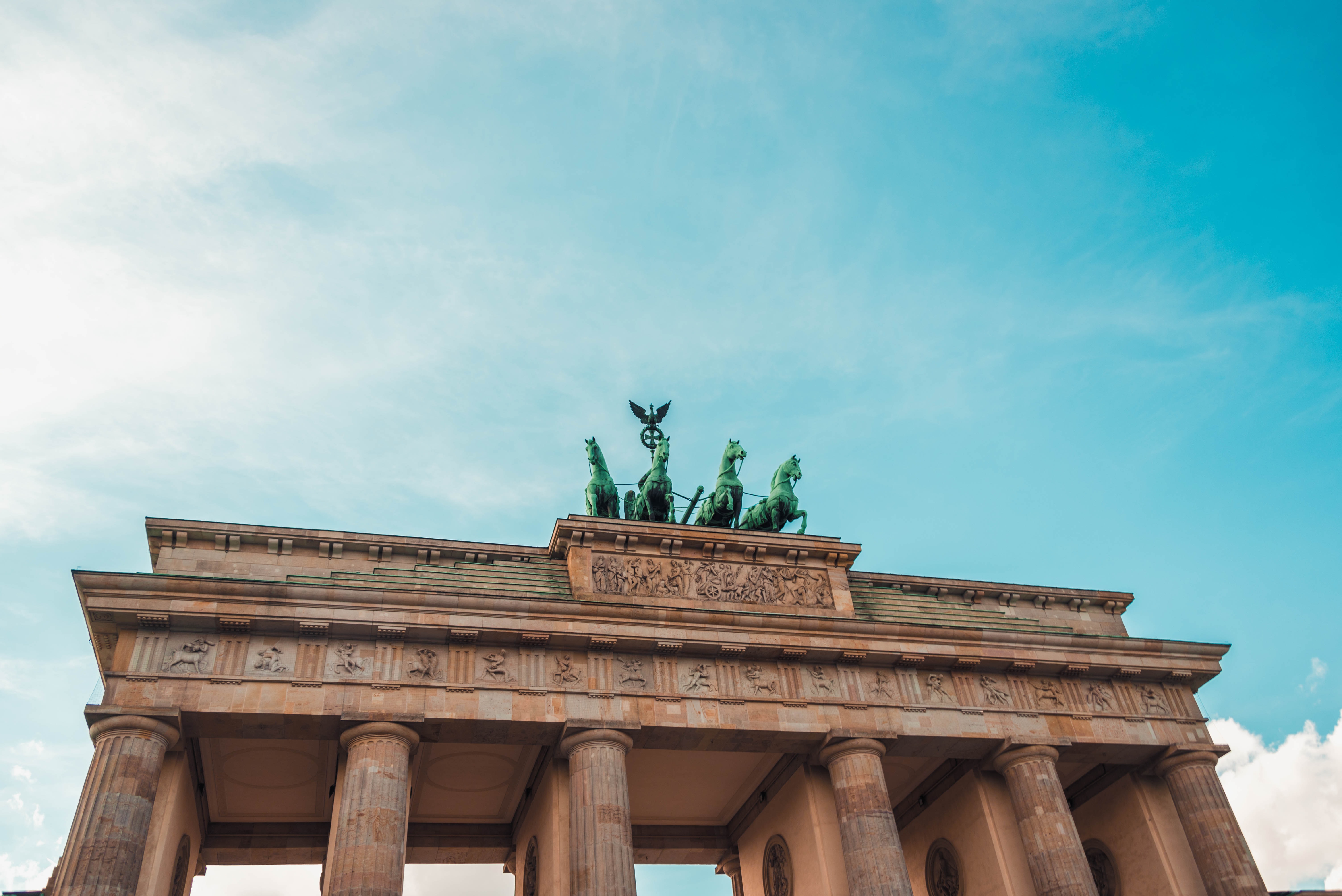 4. Berlin Wall - the most 'concrete' expression of the Iron Curtain. Berlin was a divided city for nearly thirty years – a city with a wall running through its very heart. From 13 August 1961 until 9 November 1989, Berlin was a tale of two cities in one: on one side the free expression of the open society of West Berlin, while on the other were the blank walls of the repressed society that was East Berlin. Nowadays, this wall is a lively gallery, displaying 120 paintings alongside a busy road. This is a must-see when visiting Berlin, not just for the powerful images, but also as a reminder of one of the city's darkest chapters. In order to get here from the central area, you can take the underground line U8, which leaves every 5 minutes.
Ticket price: FREE
No need to book in advance.
5. Alexanderplatz - the cosmopolitan, modern square of Berlin. Alexanderplatz has become incredibly popular for people of all ages because it offers a variety of attractions, including shopping, food, and a well-connected center point for Berlin's transportation system. Evolving from a cattle market in the Middle Ages, it became one of the most remarkable squares in Germany, receiving its name as a tribute to Alexander I, Tsar of Prussia, on his visit to Berlin in 1805. While in Alexanderplatz, you can choose to visit the most iconic and the tallest structure from the city: Berlin TV Tower and in exchange for an entrance fee of 16.5 euros, you can see the location of a few radio and television broadcasting stations, as well as dine almost near the clouds, at the restaurant from the Tower.
Ticket price Berlin TV Tower: 16.5 euros
Where to buy: available on-site, at the box office / at the ticket machine / online from here: https://tv-turm.de/en/ticket-purchase-on-site/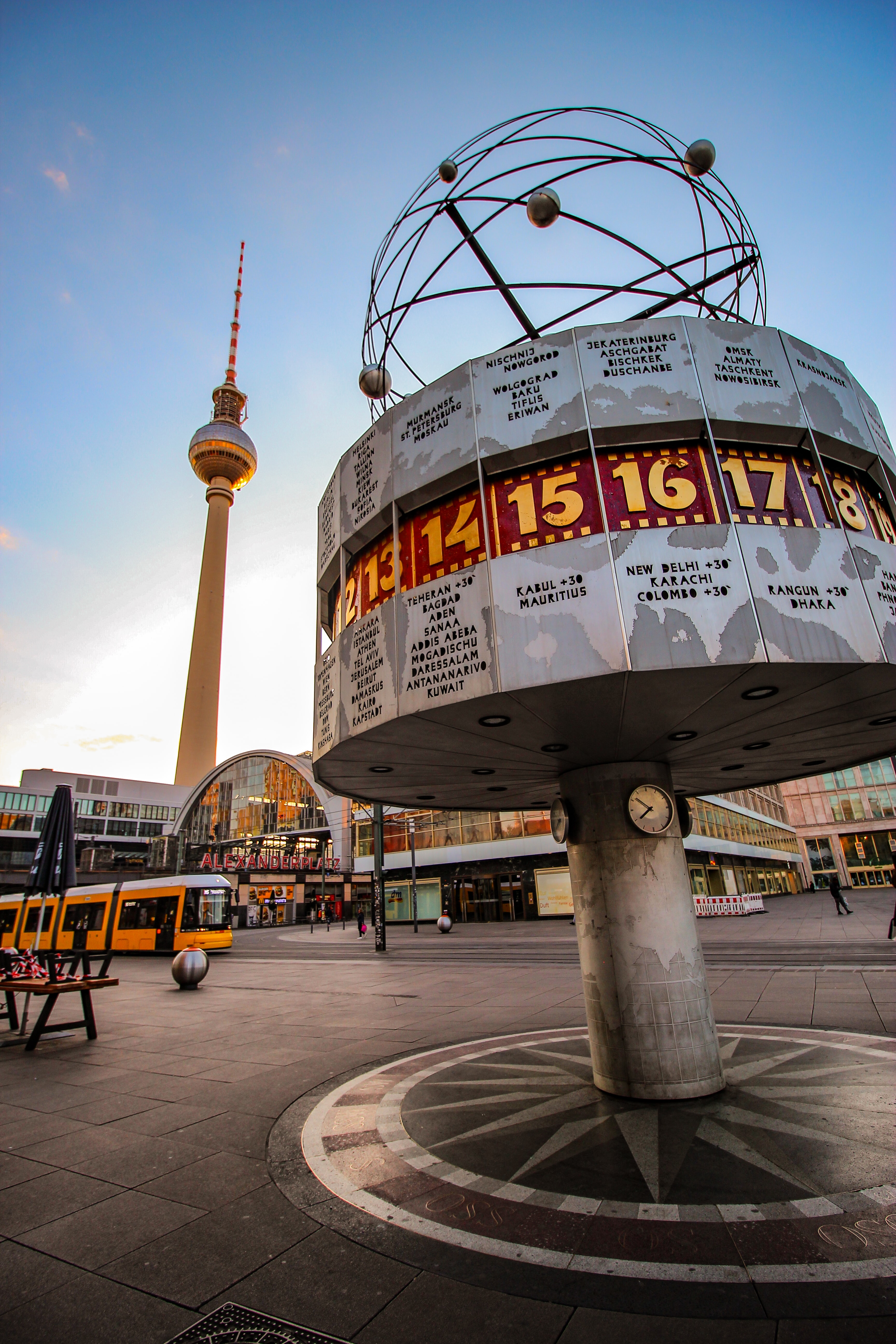 6. Checkpoint Charlie - an iconic marker of territorial boundaries. It is a must-see sight in Berlin with huge historical and emotional resonance, depicting the former border crossing between East Berlin and West Germany. In 1961, this place was witness to the tank confrontation between the American and the Soviet forces and thereafter, a witness to the many attempts of people crossing from the East to the West: some successfully completed, others not. Nowadays, it is mainly a memorial site, where you can take pictures with the soldiers that are wearing the official uniforms and observe the surroundings. However, you can feel the traces that the Cold War has left on this place, as well as the emotions attached to them. For a more detailed perspective, you can choose to visit the Checkpoint Charlie Museum in exchange for an entrance fee of 14.5 euros or a reduced ticket for 9.5 euros (for students, retired people, etc.)
Ticket price Checkpoint Charlie Museum: 14.5 euros or reduced 9.5 euros
Where to buy: available on-site or online: https://shop.mauermuseum.de/shop/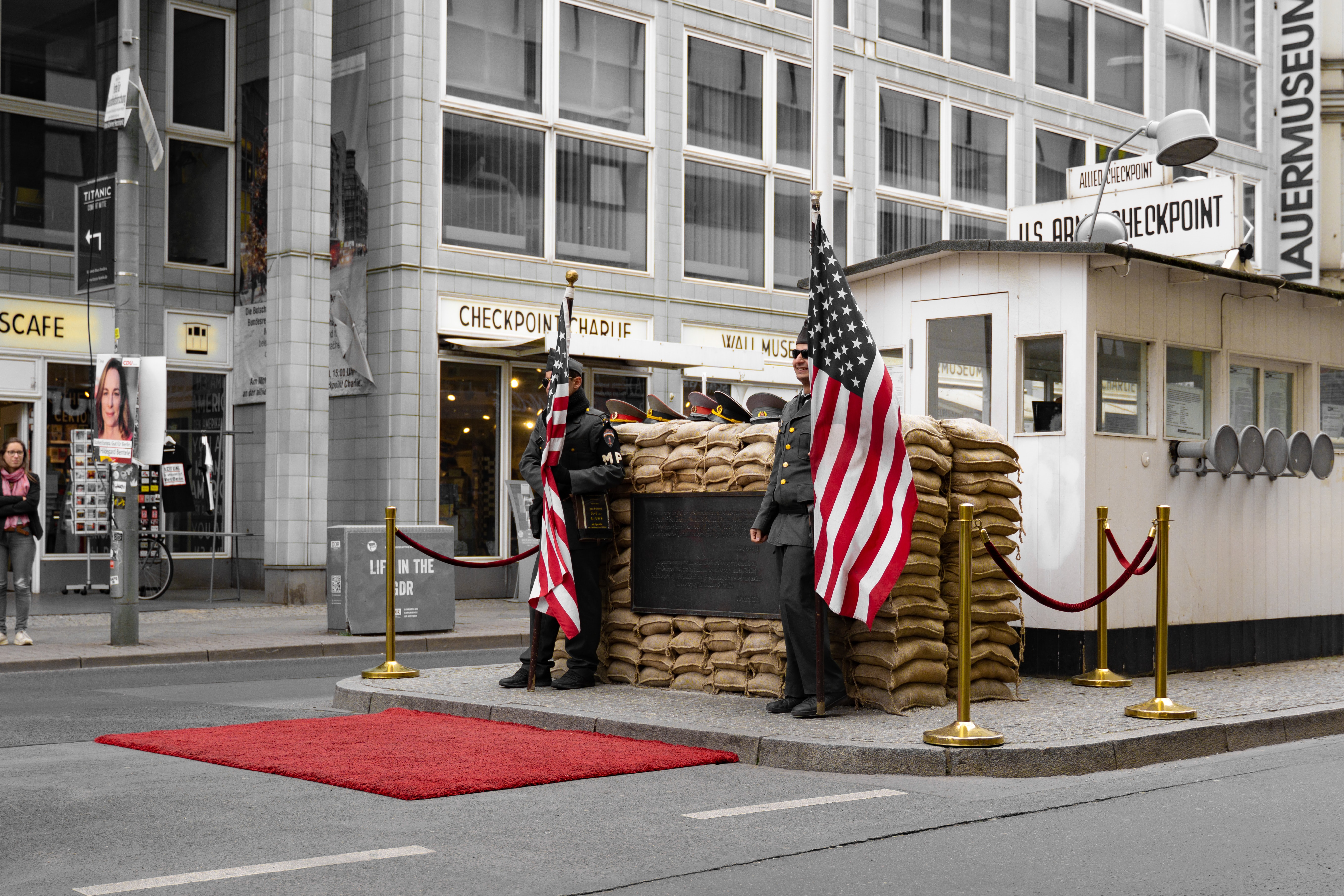 These would be the main tourist attractions from Berlin that you need to make time for during your trip. We hoped we sparked your interest and get prepared to immerse yourself into the Berliner experience just like a local!
Conclusion
The city of culture, art and… currywurst has rebuilt itself since the fall of the Wall to become one of the most promising and welcoming cities of Europe, with sights and experiences catered for all types of travellers, whether you are an adventurer, an artist, a nightlife enthusiast or you are travelling with your family! Having a clearer picture about the budgeting of your trip, how to get around the city, where to savour the best German delicacies, when to attend to the most promising events and festivals, as well as which tourist attractions to pin on your travelling map, it is high time you took action: start planning your trip in Berlin! So, this brings our informative guide to an end. Hopefully, you find these trips and tricks useful for your upcoming trip to Berlin and Questo wishes you endless travelling days, having the fun of your lifetime!