Best Ramen in Tokyo- Top 5 Tokyo Ramen Shops
Posted by Rick Wilder
Japanese Ramen Shops - an Introduction
Whether you're a journeyman, an expert or just a budding newbie of Japanese food in general, everyone eventually runs into this problematic question on their cultural flavour trip: 'where do I find the best Japanese ramen?'.
Of course, many choose to settle for the best instant ramen (such as Ichiran ramen, Machiran tsuta ramen and Nissin Soba as solid examples) with some even deciding to try their own hand at cooking ramen. This always starts with Googling 'ichiran ramen ingredients' and ends with searching for 'local ramen near me' on UberEats. We've been there!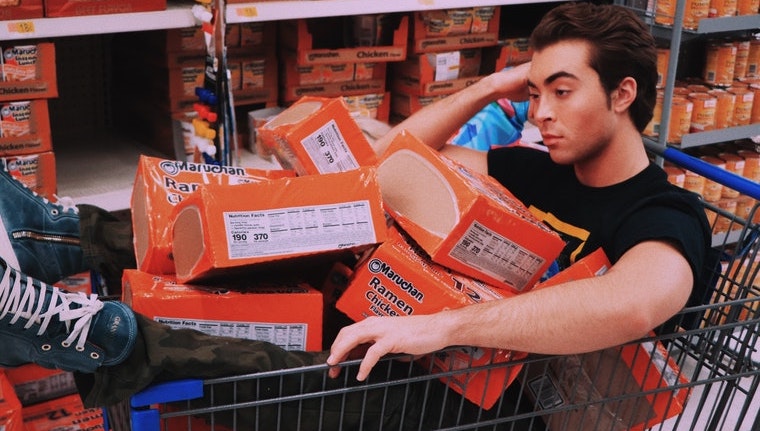 However, no one does Japanese ramen quite like the Japanese* do, unsurprisingly (*or the Chinese but that's an article for another day). So, if you're passionate about ramen, then the real question you should be asking yourself is 'Where can I find the best Japanese ramen shops in Japan?'
From their painstakingly fine-tuned Dashi (soup/broth base) to the meticulous methods behind the noodles themselves, there are people in Japan who have dedicated their lives to perfecting every aspect of ramen.
That should make it easy to walk into any old ramen shop and eat your way into a happy food coma, right? Not so. Tourist traps exist everywhere and sometimes the unwary end up paying extortionate prices for average quality. Well, we already scoured the place for hidden gems so there's no need to empty your pockets!
You might be wondering if you'll ever travel to Japan or it might be that you're considering booking tickets in another tab. For all of the above and those in-between, this article's for you! As for those who are already there: what are you waiting for? It's ramen time! For all the ramen lovers out there, either at home or in Japan, here's our list of the best ramen in Tokyo, focussing on all the tastes Tokyo has to offer.
Best Ramen in Tokyo #5 - Rairaiken (Yokohama)
Pricing: $$
Hear us out on this one because we couldn't not include it! Rairaiken is hands down the oldest ramen shop in all of Japan, first opening in Tokyo's Asakusa neighbourhood in 1910. Let that age sink in for a moment.
On the one hand, the restaurant is still open! On the other hand, it was closed for a period of forty-four years and reopened just recently - that second part isn't common knowledge. It's also not in Tokyo anymore, but believe us when we say it's worth a twenty-minute Shinkansen ride to the Shin-Yokohama Ramen Museum, who with the help of the original restaurant's grandchildren, reconstructed its original 1910 menu including its ingredients and methods! That's no small feat.
Being over a century old, we can't even begin to explain how polished the ramen is here. It's the platinum standard of traditional ramen— one of the best Japanese ramen shops in Tokyo and, dare we say it: the world.
We recommend Rairaiken for an unforgettable slurp of history.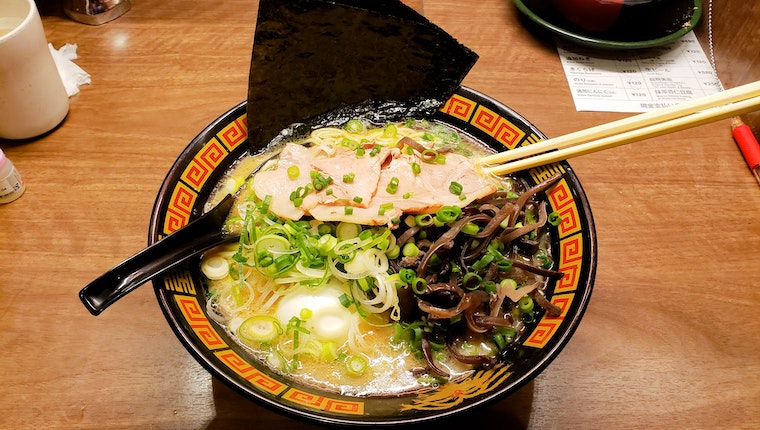 Best Ramen in Tokyo #4 - Nakiryu (Toshima)
Pricing: $$
Nakiryu has been dubbed 'one of the cheapest Michelin Star experiences on the planet' and you can take note of the word 'experience' rather than 'restaurant'. Despite the image this wording may conjure up, Nakiryu itself is just a modern ramen shop with nothing show-stopping about its appearance or atmosphere (No offence, Nikiryu!).
You'll find the 'experience' part sprinkled in the most important place: their piping hot bowls of ramen. From handmade noodles to roast pork toppings and even subtle hints of oyster in their broth: we recommend the spicy tantanmen or the shoyu ramen for those who don't appreciate the hot kick.
We recommend Nakiryu for its complex flavours and minimalistic approach.
Questo tips: The queue time is up to two hours! Use Google to calculate Nakiryu's quietest hours.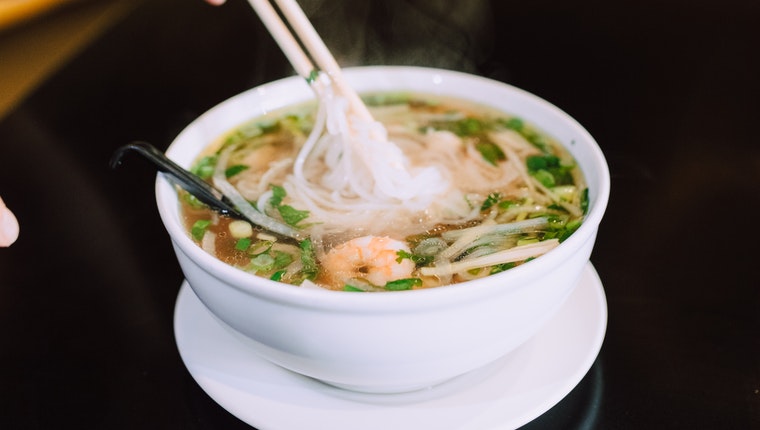 Best Ramen in Tokyo #3 - Shichisai (Ginza/Nihombashi Area)
Pricing: $-$$
Shichisai is just a short walk away from Hatchobori station and is known for three things: using no machines in their noodle-making process, dropping MSG (before anyone else!) and, above all else, maintaining its reputation for making some of the best ramen in Tokyo and even Japan.
If you're feeling skeptical, imagine ditching a powerful flavour enhancer in such a competitive market and still rising above the rest! Bold move, Shichisai!
Many ramen joints attempted to do the same, influenced by this trend-setting move. However, hardly any of them were successful. Shichisai's continued resistance against machine-made noodles means some are lucky enough to sit near the noodle-maker and watch the process unfold (quite literally) before their eyes.
We recommend Shichisai for some simple, hearty, soulful ramen.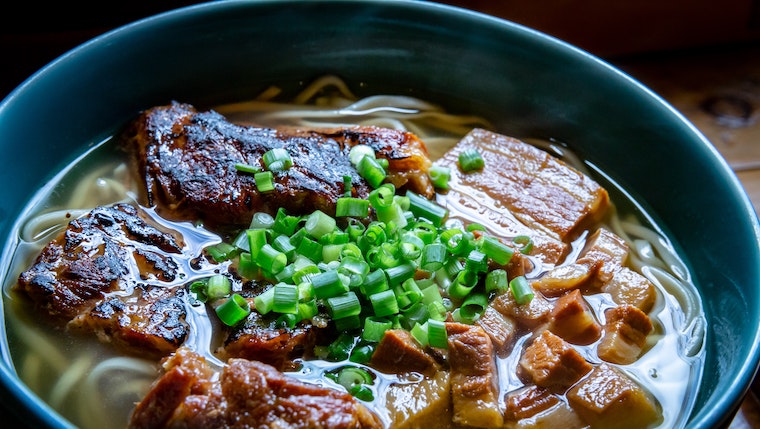 Best Ramen in Tokyo #2 - Kujukuri Niboshi Tsukemen Shinada (Akihabara)
Pricing: $
This one's a wildcard! Surfing restaurant owner Master Tanaka-san has quite the unique approach to his ramen, even going so far as to draw direct inspiration from Italian cuisine! The homemade noodles are flat here and are served with a rich salty soup, almost like tagliatelle with a twist.
Connoisseurs from far and wide have described Tanaka-san's ramen as the most flavorful they've ever eaten, which is high praise. Pair that with the restaurant's Thick Broth Niboshi Tsukemen noodles starting at under 900yen (incl. tax) and you've got yourself a winning combination.
Even the ingredients from Tanaka-san's ramen are a labour of love, with the Niboshi he uses found at Kujukuri (a famous surfing spot).
We recommend Kujukuri Niboshi Tsukemen Shinada for its unique Italian/Japanese flavour fusion.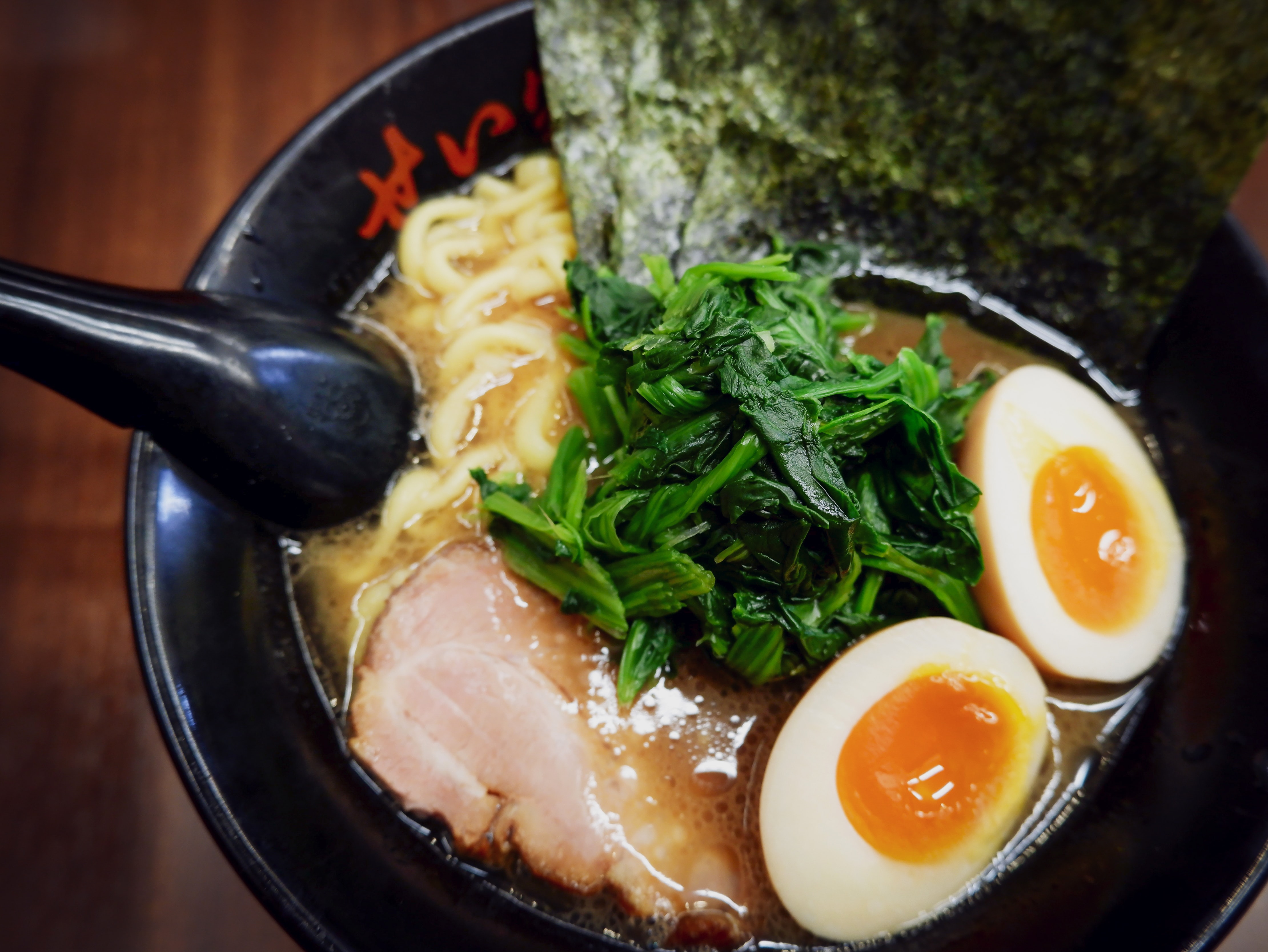 Our Top Pick - Best Japanese Ramen Shop #1 - Mensho (Kasuga)
Pricing: $-$$
Like the other four in our list, Mensho had the right idea of how to stand out for its ramen in Tokyo. Shono-san, the master at Mensho, decided that he would personally travel all around Japan looking for the best fresh ingredients from small family farms to use in his cooking.
The result is nothing short of some of the healthiest, tastiest, most beautiful ramen dishes you've ever witnessed. If there's anything to take away from this article: Mensho nailed ramen. The pricing is really good considering the extra mile Mensho goes! Make sure to check out the Mensho menu.
For a farm to plate experience with a master chef's touch, Mensho is our top pick for the best ramen in Tokyo, doubling up as our top pick for the best ramen in Tokyo!
Questo tips: Expect to queue for a while. Use Google to calculate Mensho's quiet hours!

This concludes our Top 5 list of best ramen in Tokyo. As always, remember to keep our tips handy and, if you're looking for more fun things to do in Japan, try any one of our on-location exploration games where you can learn all sorts of interesting Japanese facts! If Japanese food culture is your jam, make sure to play the Tokyo's Kitchen: Tsukiji quest, for a chance to learn more about it and have a chance to taste some of Japan's most well-known dishes.
We promise to egg you on the whole time! 🍥🍜